With only a week to go until Halloween, there's been more mischief in the air than usual in the tails.com office. Our pumpkin carving was interrupted as we had to solve the mystery of the missing biscuits… Could it be witchcraft? We've got a sneaky feeling that it may have been Monty, up to his old tricks again.
This Halloween, our #tailstricks competition is the perfect opportunity for you to show us your dog's tricks, in order to win a treat; a Halloween hamper plus 3 months of free tails.com food. A winner will be picked at random at the stroke of midnight on October 31st.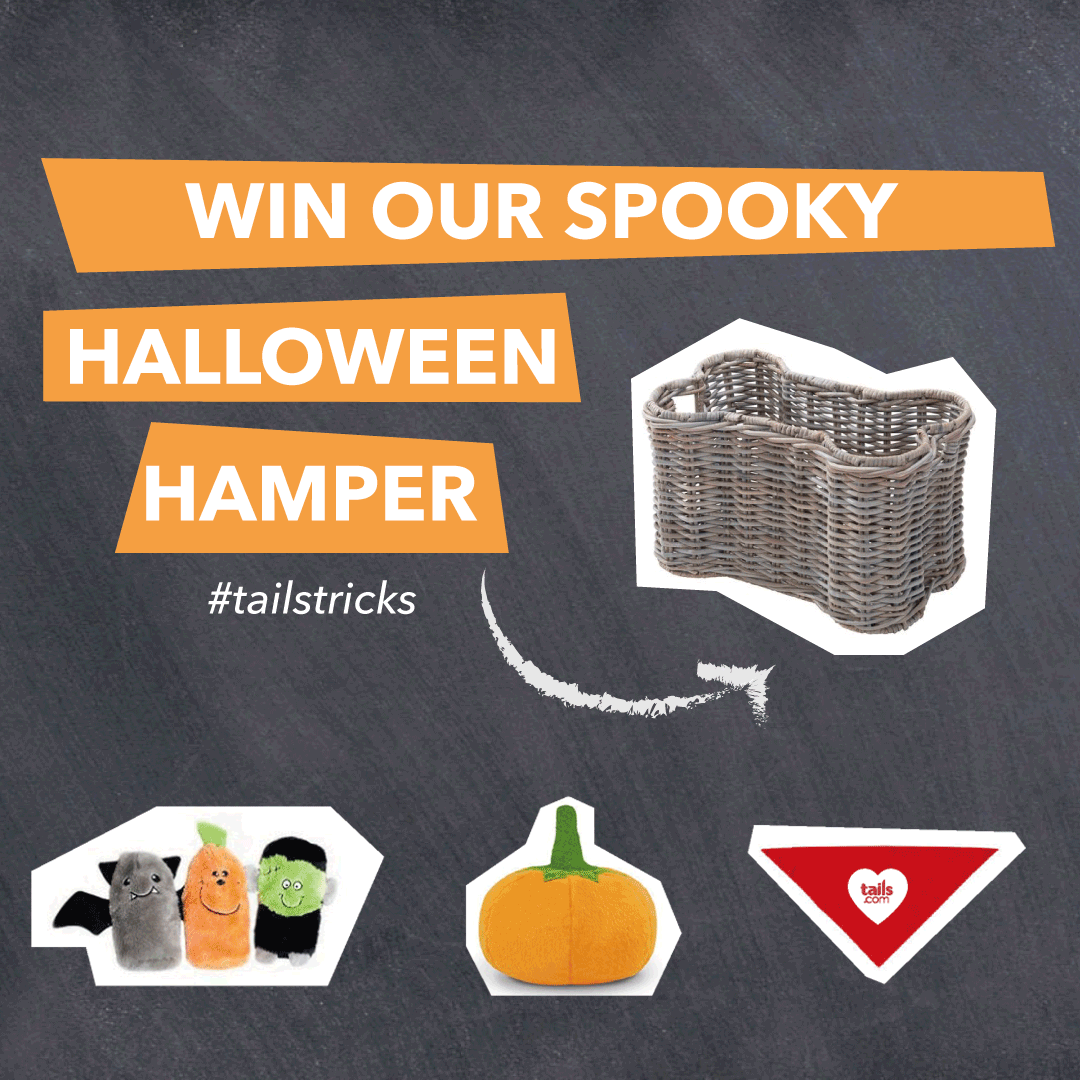 To enter, simply upload a photo or video of your dog performing a trick to your Facebook or Instagram feed and caption it with our hashtag #tailstricks.
Unsure of how to teach your dog a trick? Do not fear, here's our Head Vet Sean teaching Monty how to roll over. You can follow this step-by-step process yourself at home.
Teaching your dog to roll over can seem like a difficult trick, but in reality all it requires is repetition. As with many tricks, the more you practice, the easier it will get!
STEP 1: SIT
Holding a treat near your dog's face to engage interest, give your dog the command to 'sit'.
STEP 2: LIE DOWN
Bring the treat down towards you and give the command to 'lie down'.
STEP 3: ROLL OVER
Using your hand, gesture the motion to roll over whilst giving the command "roll over." Move the treat with your hand. 
STEP 4: GOOD BOY
Praise and reward your dog for achievements! Continue practising until your dog can do the trick without help, and then until he no longer needs a treat.
What are you waiting for? Start practising those #tailstricks now! 
Terms and Conditions:
How it works
∙
HOW TO PARTICIPATE: Simply share a video or image of your dog performing a trick on Instagram or Facebook, using the hashtag #tailstricks and you will gain one entry to our prize draw
∙
START DATE: Monday 24th October
∙
END DATE: Midnight Monday 31st October
∙
PRIZE: tails.com Halloween Hamper plus 3 months of tails.com food including:
| | |
| --- | --- |
| Toy Basket | Dog Towel |
| Dental Dailies (x1 pack of 7 chew sticks) | Green Treat and Chew Ball |
| Tails.com Bandana | Treats Jar |
| Tails.com Poo Bag Holder | Spider Rubber Toy |
| Halloween Buddies 3 Pack of Toys | Pumpkin Toy |
Contents may vary.
∙
Prizes are non-transferable and there are no cash alternatives
∙ One winner will be chosen at random
* Winner will be notified by email and prizes will be available upon confirmation of acceptance
* You do not need to be a tails.com customer in order to enter the competition
Your data 
∙
Tails.com is a subscription service and all participants must comply with
standard account T's & C's
∙
Joining this competition and participating in #tailstricks indicates your consent to receive follow-up emails from 
tails.com
. You can opt out of these emails at any time via the unsubscribe instructions in the emails you are sent
∙
Your details will not be shared with any third parties
∙
t
ails.com
 reserves the right to use the names and any user-submitted images or videos of winners publicly, both online and in print in perpetuity and without compensation
Additional conditions and liabilities
∙
The contest is free to enter
∙
Prizes will be awarded at the discretion of 
tails.com
∙
You must be 18 years or over to enter and a resident of the UK (excl. Channel Islands) to win. The delivery address for the prize must be within the UK
∙
Tails.com cannot accept responsibility for damage, loss, or injury to you or your pet as a result of entering the competition or accepting a prize
∙
Tails.com full name and business address: Tailsco LTD, 51a George Street, Richmond TW9 1HJ.
∙
These Terms and Conditions are to be interpreted in accordance with English law and any dispute arising out of these Terms or their subject matter is subject to the exclusive jurisdiction of the English Courts.