If you're anything like us, you know that there's no better feeling than giving your dog a special treat. And seeing as office dog Zeus was celebrating his birthday, we decided to find him a special treat he could enjoy in the office with some of his best friends – a birthday cake in a mug!
The best thing about this mug cake is that you can pretty much make it anywhere, and with little time needed – not like the hour or more you need to prep and bake a traditional birthday cake. Just find about 5 minutes (or less), grab the ingredients from your cupboard and get ready to make a tasty treat that even you could share (you might want to miss off the dog treat on top!).
Ingredients: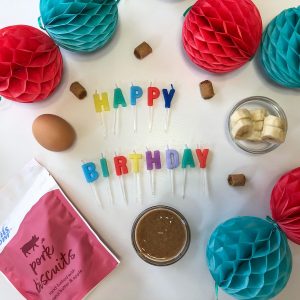 Instructions:
Mix the banana, egg and peanut butter into a bowl, mushing the banana as much as you can (it's ok if it's a bit lumpy).

Pour half of the mixture into a microwave-safe mug and cook in the microwave for 30 seconds. Check after 30 seconds and cook at 10 second intervals if it's not fully cooked.

Slide the mug cake out of the mug onto a plate or bowl.

Add the rest of the batter to the mug and cook as before.

Once both halves are cooked and have cooled down, drizzle with peanut butter (diluted with warm water) and place a treat on top.

Serve to your dog and their BFF.
Zeus loved his mug cake and shared the other half with office dog Sega. And while it was a delicious birthday treat, you can of course surprise your dog with this recipe for any occasion – because, when you think about it, every day is a reason to celebrate when you're a dog!
We hope your dog enjoys this tasty treat too, and don't forget to tag us on social media if you make this magnificent mug cake using our hashtag #tailsdotcom
You can find us on:
Facebook: @tailsUK
Instagram: @tails.com_uk
Remember: all treats count, so if you do serve up these pooch-friendly eggs, balance the extra calories out with a longer walk or a bit more play.