Dogs love a LickiMat. It's such a great way to give them mental stimulation as they eat, a bit like playtime and treatime all in one go.
Having one in your home makes mealtimes more fun for you to make too – and tasty for them with different textures and flavours to lick up. It also serves to slow down the greedy ones who like to wolf their food up in one big gulp.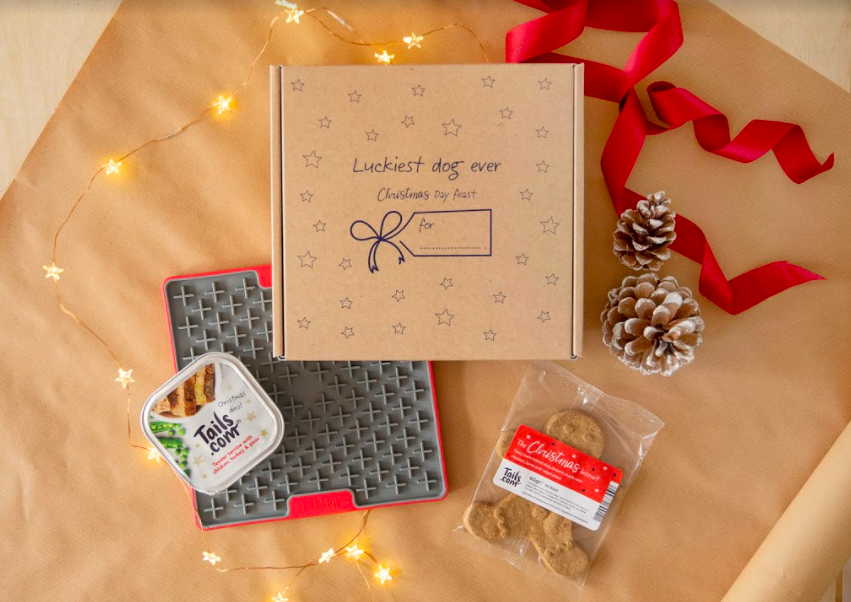 This year we included our favourite dinnertime accessory into two gifts in our Christmas range, ready to serve up the big dinner itself, and beyond. And if you've got one of these gifts already (or are planning to make your dog part of the Luckiest Dog Ever gang this Christmas), you'll be pleased to hear they come with their own set of festive recipes.
But this is the season of goodwill after all, so start start 'spreading the chews' with these firm favourites:
Their favourite wet food (we love the tails.com lamb hotpot)
Their tails.com kibble recipe
Banana
Peanut butter (xylitol-free)
Sweet potato
Carrots (grated, chopped or cooked)
Suede
Cucumber
Peas
Kale
Red pepper
Dairy-free yoghurt
Dog-friendly fruit like blueberries
Watermelon
Low-fat cream cheese
Apple (peeled and de-pipped)
Blackberries
Broccoli
Butternut squash
Cranberries
Green beans – raw, or cooked
Raspberries
Spinach
Strawberries
LickiMat no-no's
Before you reach for your favourite spreadable snacks, make sure they're not on this list of foods you should never feed your dog.
Here's our current healthy LickiMat recipe favourites to chop, grate, whisk, spread and serve at home.
Banana milkshake
This gets our vote any day – whisk a banana with a bit of natural yoghurt (dairy-free if your dog doesn't suit the real thing) and a little bit honey.
Watermelon slushie
Any dog-friendly fruit works on here, but this is great and works well frozen, too – a good one to remember when the weather perks up – simply spread watermelon, top with blueberries and pop in the freezer to firm up.
Red pepper cheeto
Grate ½ a small eating apple (peeled and minus the pips please), add diced red pepper, a bit of grated carrot and a smear of cream cheese (dairy-free), and finally a few kibbles for crunch.
Share your favourite spreads with #luckiestdogever – we'd love to see them.