Hypoallergenic dog food made easy
A unique recipe for your dog's allergies and intolerances
The right sources of protein to support easy digestion
Cuts out common allergens and problem ingredients
What makes the best hypoallergenic dog food?
Tell us about your dog's allergies, intolerances or conditions and we'll create a hypoallergenic dog food recipe just for them. We'll leave out common allergens and work with you to make it right for life.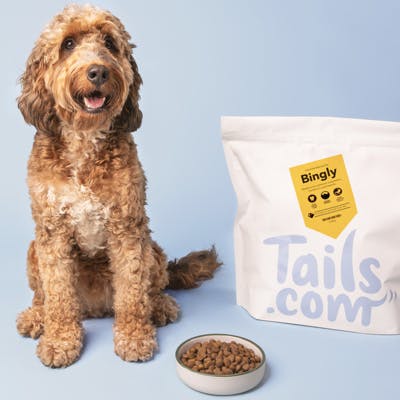 Common conditions
Our hypoallergenic dog food recipes cut out the ingredients your dog can't stomach, or use hypoallergenic kibbles to help relieve the symptoms of common conditions:
Itchy skin, dermatitis and other sensitive skin conditions
Colitis and inflammatory bowel disease (IBD)
Dog food allergies and intolerances
What's different about our hypoallergenic food?

Steer clear of the 'big five'
The five ingredients most likely to cause an allergic reaction: beef, eggs, dairy, soya, and wheat. We can leave out any or all of them to suit your dog.

Easy to digest proteins
We use lots of fish, lamb, and chicken – sources of protein that are easy on the tummy and great for sensitive digestion.

Hydrolysed proteins
We use hydrolysed salmon protein, which splits the protein strands into smaller ones so they're less likely to trigger an immune response.
Hypoallergenic food not quite what you need? If your dog has digestion problems without the big allergies, you might be better with a recipe for a sensitive tummy.