Dog food for healthy weight management
A recipe tailored to maintain a healthy weight
Exact portions made easy, with no guesswork
Suitable for underweight and  overweight dogs
Helping your dog hit their ideal weight for good
"How much should I feed my dog?" is a question that gets asked a lot – and there's no easy answer because every dog is different. But whether you have an underweight or overweight dog, we can create a unique recipe to get them into shape for good.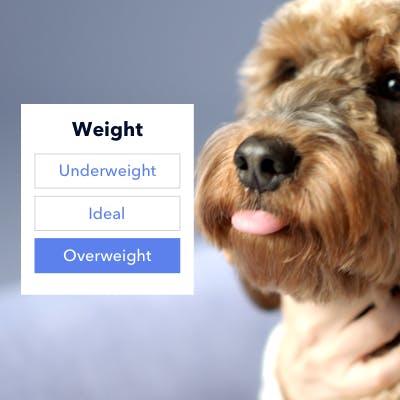 Tell us about your dog
We use everything you tell us to create the best diet for your dog, from age, breed and weight to health conditions that might affect their activity or metabolism. Keep your dog's profile updated as their weight changes and we'll adjust their portions, helping them stay healthy for life.
Healthy weight, healthy dog
Overweight dogs
With a recipe that's high in slow-release carbohydrates, your dog can lose weight and still feel full – because we know the look they give you when you try to serve diet dog food or smaller portions.

Underweight dogs
We can create a recipe that supports healthy digestion and steady weight gain. We'll include the right proteins, and if they're a fussy eater we'll use their favourite flavours so they look forward to meal time, every time.

Puppies
Puppies grow fast – so keep their weight updated online and we'll adapt their recipe to keep them a healthy weight at every stage of their development. Because healthy pups grow up to be healthy dogs.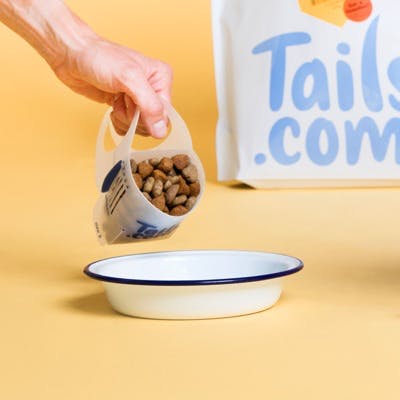 Weight management made easy
Your dog's unique recipe comes with recommended portion sizes to help keep your dog at a healthy weight. And our adjustable portion scoop makes it easy to serve up the right amount of food every time. All the goodness your dog needs, with no guesswork.
Get started
We're so confident you'll see the benefits of your dog's unique recipe, you can get your first box for free. After your first box, you'll get a delivery each month. Cancel any time.