My tails journey
My name is Yvette and I have just finished a placement as veterinary intern at tails.com. In this post I'll be sharing everything I've experienced during my time at their Head Office.
It all started with a spontaneous message to the Head Vet, Sean McCormack, to ask about the company and whether there were any opportunities for work experience. Being a qualified vet working in private practice for the last 4 years, I really felt curious to explore other development areas. With a long-term interest in nutrition and not intending to leave the veterinary industry behind, I rapidly concluded that this was the right move for me. My aim was to get a better insight on how a successful business works and specifically learning about marketing. This is when I contacted tails.com and I quickly got a positive response.
First visit to the Head Office
Things moved fast so I was invited to meet at the Head Office to discuss my application for an internship in more detail. My first impression of the office and the team was extremely positive. I immediately noticed how dog friendly the office is and how welcoming all employees were.
That day I was given a tour of the office and I got the chance to meet the Head Nurse Amy and also some of the office dogs! My favourite feature of the office is the dog's "play room", I think this really reflects the company's passion for dogs.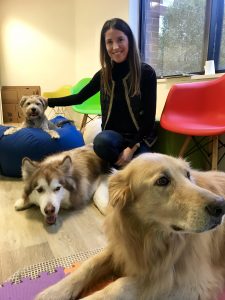 The internship
During my internship I took part in an exciting project with the Marketing team. I officially started mid-September and was automatically included with the new employees' induction training, also called "InDogtion". It was great to obtain this level of training, to meet employees from different departments and to learn more about their unique, tailor-made nutrition.
Although I had seen the TV advert and was aware that every diet is unique to each dog, I was not sure how tails.com could make this happen. Therefore, it was fascinating to discover what happens behind the scenes and see how technologically advanced tails.com is.
The diet is formulated by starting with a quick online consultation and based on this information, the nutritional algorithm calculates a unique blend. Can you believe there are over a million possibilities? This means that each recipe is totally different and exclusively made for that individual dog.
Award winning customer experience team
Whilst shadowing the customer service team, I noticed that the diet can easily be adjusted if necessary. A very good example is a client that requested increased fibre levels due to anal gland problems. I have never seen any other nutrition that provides this degree of detail. One of my favourite features is that the diet evolves with the dog's age, meaning that the diet changes automatically as its nutritional needs change. The client can also adjust the dog's weight online so that the daily recommended dose and ingredients are adapted if needed.
Every Thursday afternoon there is one hour where Sean does a "Vet Clinic". At this time, employees can come in with their pet or simply ask for veterinary advice. It didn't stop there, there was so much more I had the privilege to learn while I've been here.
The power of data and technology
Beside being science and IT led, the company is highly data driven. Based on the collated metrics, tails.com is constantly improving their work. This enables them to direct full attention to the customer experience which is taken very seriously.
Constant improvements are made on every step of the customer's journey to guarantee it is clear and easy. On the other hand, regular palatability tests are performed to ensure their four-legged customers are happy too. All this seems very simple from the outside world but coming into the office I've realised it involves much more complexity and a lot of dedication.
What I learned
During my time at tails.com, I obtained a much better understanding on how a business runs, particularly the marketing department. It was amazing to see what Sean and other employees' day-to-day looks like, which was very different to clinical vet life. This is a fast-paced environment and the whole team is contributing towards constant improvements. Their passion for dogs goes beyond what I had imagined and everyone is working towards the same goal – improving the lives of dogs and their owners for the better, and changing the world of pet food for good.