We love snappy titles. For whatever reason, we often prefer quick and easy summaries to more complex explanations. But when it comes to behaviour problems with dogs, trying to keep it simple can often actually be really unhelpful. A key example of this is 'separation anxiety' – but what actually is it? And how do you know if your dog has it, or if they have FOMO or something else entirely?
Separation anxiety is a name often given to all kinds of behaviours that happen when a dog is left home alone. These can include:
Barking (or other vocalisations)
Chewing and/or destructive behaviours
Loss of toilet training
Scratching or digging at doors
Pacing
Panting
Escapology attempts
Self-mutilation (licking or chewing paws etc)
Clinginess
Over-enthusiastic greetings
Increased anxiety at other times
Inability to settle
Aggression (on being left, on return, or at other unrelated times)
If your dog routinely shows any of these behaviours when left, it's often automatically labelled as 'separation anxiety'. But actually that can be misleading and prevent you getting to the heart of the matter.
It's far better to first call it 'separation related behaviour issues'. Before you do anything else, have a think about if it could be something other than anxiety. And if it has a simpler answer than a full-on behaviour modification programme.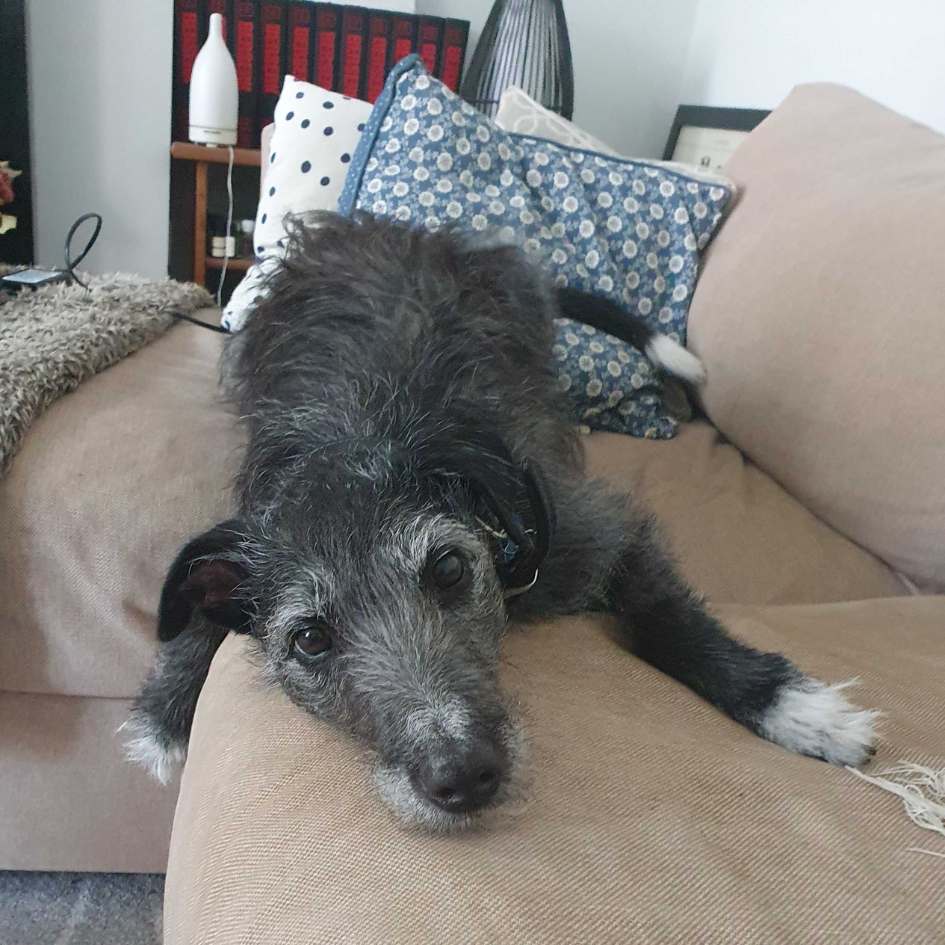 If my dog doesn't have separation anxiety, what could it be?
A dog who barks or howls when left alone can often be bored. They could be on their own for too long, under-exercised, under-enriched, or have too little social contact.
A dog who pees or poos in the house when the owner is gone may need a little more work on their toilet training. Or if they're usually reliable in the house, this might be a sign they're being left for too long or need more frequent toilet trips before being left.
A dog who paces and won't settle when left might have been overexcited from a energetic walk. While we hope these will make them tired enough they'll sleep while we're away, our dogs need the chance to relax before being left so they're not still buzzing.
A 'velcro dog' who follows you everywhere in the house might need teaching how to chill out.
A dog who chews thing when home alone could be bored or frustrated, or make them feel relaxed. They might need a toy or more enrichment when their human is away.
A dog who's over-joyed to see you when you get back may just be showing their affection. But this can be exacerbated by being left for too long.
None of these alone are necessarily 'separation anxiety' in your dog, but they are 'separation related behaviour issues' – and they still need dealing with appropriately. Unfortunately a lot of advice online, on social media or in older books, can actually makes things worse. That's why it's always best to get advice from an accredited behaviourist.
Find more tips and info on boredom in dogs, toilet training, teaching your dog to be alone, and how to stop your dog chewing things.
Can dogs have FOMO?
As an example, you'll find advice that says you should stop your puppy or dog following you around at home as this'll teach them they don't always have access to you and help them have more confidence at being left. However, in a dog that's closely bonded to their person, who's been encouraged to want to watch them and be with them, and who's learned we're fun to be around – it's more likely to cause frustration and FOMO (Fear of Missing Out).
If they don't know what we're doing, it could be something wildly exciting! It's far better they learn by experience that most of the things we do when we leave the room are really boring. And that despite their view we're some kind of a god, we're actually often really dull, so not worth following all the time – and it's much better just to lie down and chew something tasty that's meant for them.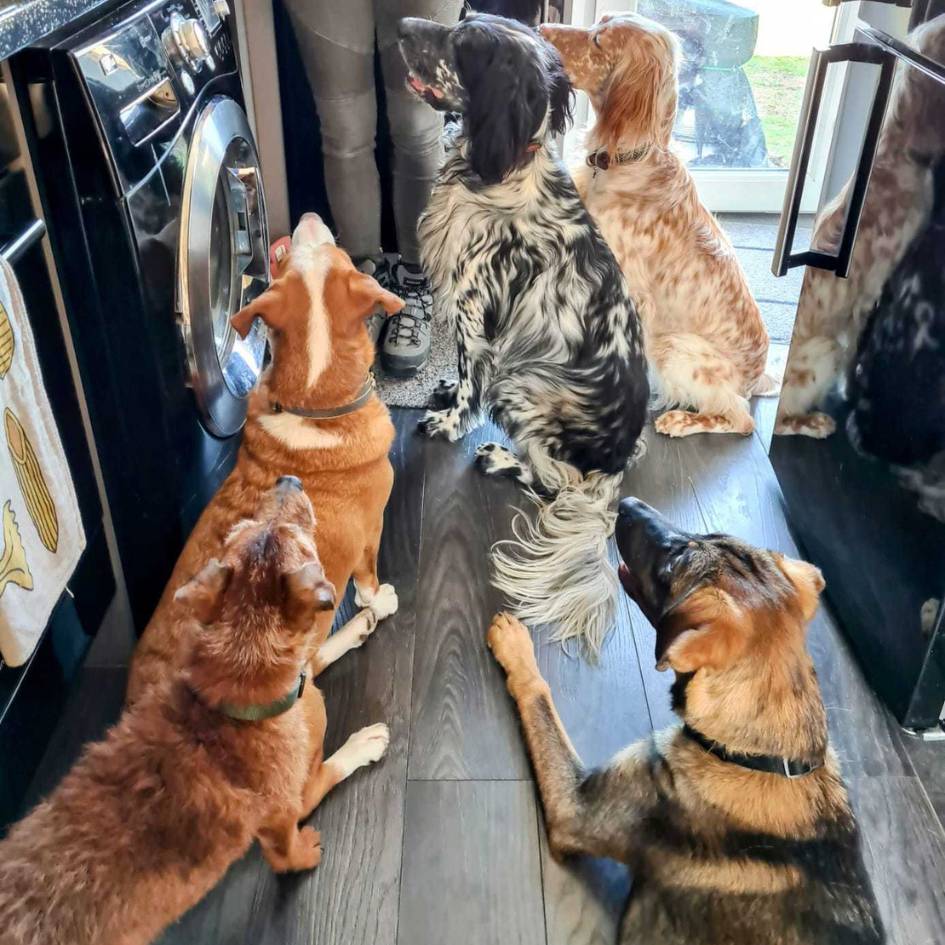 What to look at before separation anxiety in dogs
Before you jump to a separation anxiety label, run through this checklist – and address these issues first.
1. What does your dog actually do when you leave them?
Few people actually know what their dog does when they leave – because (obviously) they aren't there to witness it. Maybe they mostly rest, or maybe they get really distressed. You need to know.
Solution: Use technology. Set up a webcam so you can see what's happening when you aren't there. If your dog is obviously distressed – constantly panting, pacing, barking, howling, digging etc – skip the rest of this blog and go straight to the last paragraph. You need behaviourist help now.
2. Is your dog getting enough exercise?
All dogs need daily exercise. Some can manage with as little as half an hour a day (every single day!), but most need more. Working breeds (gundogs, working dogs, herding dogs, terriers, many hounds – any dogs who are bred to have a job) need far more. Not only do they need physical exercise, but many need mental challenges too and a chance to succeed – so reward-based training, interactive toys, games etc. This will prevent boredom, frustration and too much pent-up energy, which can result in barking, chewing and destruction when left.
Solution: If you think your dog isn't getting enough exercise, you need to address this yourself. And consider a dog walker if you're going to be out any length of time. Consider dog sports too if you've got an active breed to give them a 'job'.
No matter what time you start work, walk your dog before you leave them – and then give them at least half an hour to de-buzz and settle from the excitement of a walk before you go.
Find out more about how much exercise your dog needs and enrichment ideas.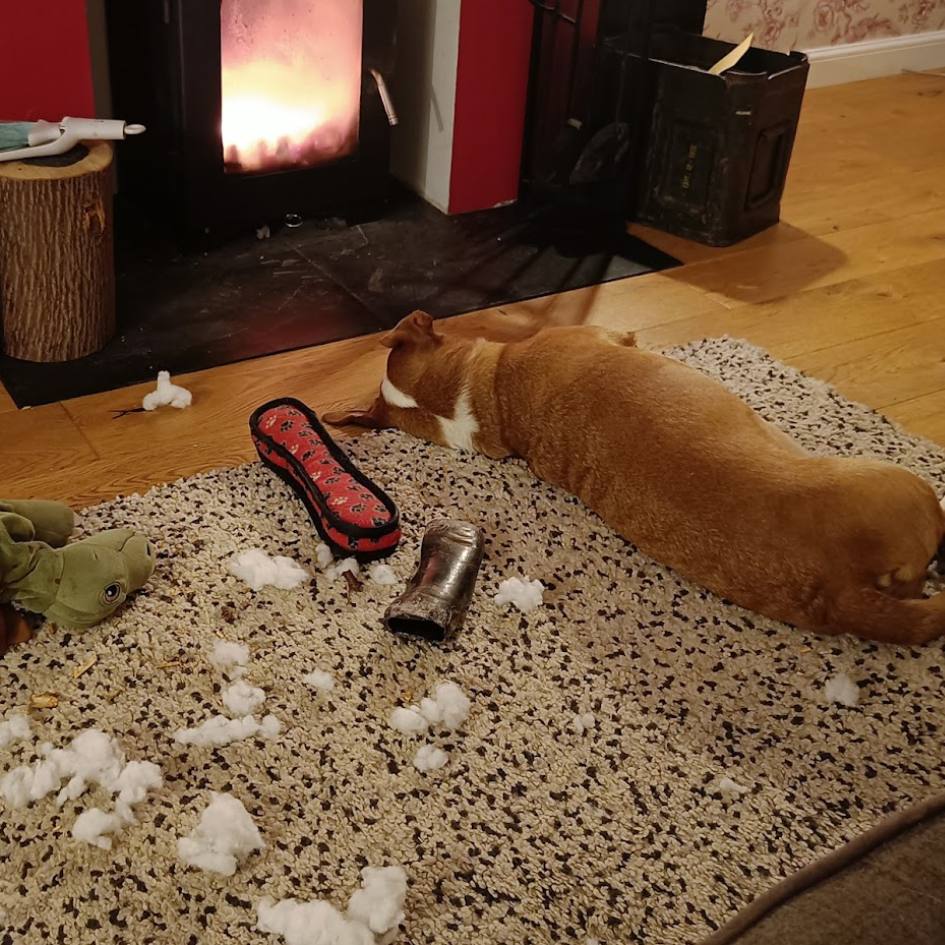 3. Is your dog properly toilet trained? Or (more commonly seen) are you leaving them for too long?
If you regularly come back to pee or poo, you may need to rethink your toilet training, but more likely (if they're reliable the rest of the time), rethink the length of time you're leaving them. Small dogs especially can't hold on for very long.
Solution: Don't leave your adult dog alone for longer than four hours, less in small breeds, puppies and older dogs. And if necessary, get someone to come in to take them out – or consider day care.
4. Does your dog have things to do when you're away?
Being left alone is boring for dogs. We're their life and without us there's absolutely nothing to do. Can you imagine how bored you'd be sitting alone in a room with absolutely nothing for hours? They don't have Netflix, books etc so what can a dog do…? Chew stuff.
Solution: While dogs don't generally play on their own, leaving safe toys they can chew and gnaw on might well save your furniture. Far better, if you're going to be away for any length of time, find someone who can come in and keep them company, play games or take them for a walk.
Remove temptation… Tidy up things you don't want them to chew or could be dangerous and use baby gates if necessary to keep them in a secure, comfortable, quiet part of the house. Don't use a crate – as that extreme confinement can cause more anxiety, frustration and stress.
5. Are there strange noises or disruptions, or people constantly passing the window that mean your dog can't settle and feel they need to bark at them?
Solution: Find a quieter area of the house to leave them, use curtains, and leave a radio or TV on to make noises less obvious.
Find out more about why dogs bark and how to help.
6. And the number one cause… Are you leaving your dog for too long too often?
Solution: Dogs are social creatures – they have quite literally evolved that way. They don't do well on their own, and while you might be able to train your dog to tolerate it, hardly any enjoy it. If this is a regular thing, you need to look at management options.
Can you take your dog to work? Or could you work from home? Can you find a family member or friend who will look after your dog while you're away? Or is there a good day care or dog walker service nearby?
Always look for the cause
Very often what we label as separation anxiety is actually our problem in expecting a dog not to behave like a dog – and making it their problem when they do.
Having said all of that, separation anxiety is a serious behaviour condition in a dog and one that needs help from an experienced, accredited behaviourist who specialises in separation related behaviour issues. This is one of those problems where remote consults work well so you don't always need a behaviourist who lives close to you.