February 14th is the annual designated date for celebrating with a loved one or romantic interest, but for those of you who can't bear to be without your furry friend on Valentine's Day, here are some of our favourite ideas for a dog-friendly date.
A stroll along the beach
If you're lucky enough to have a beach nearby, this can be the perfect setting for long walks and thoughtful talks out in the fresh air while your dog runs along beside you. The beach is a great open space for your dog to burn off energy and who knows, maybe your dog will meet their someone special along the sandy shores too…
The perfect puppy play date
If your romantic interest also happens to have a dog, they're probably a keeper (although we can't promise anything). Set up a playdate for your furry four-legged friends at either of your houses if they've met before and sip tea or coffee as you both swap stories about your lives and everything in it. If it's their first time meeting, parks can be a great place and who knows, your dogs might even find love too…
A wander around the city
In the city, there are often so many hidden gems just waiting to be discovered and sometimes the best way to find them is on foot. Get your walking boots on, grab your dog's lead and set out to explore a part of the city (or town) that you've never ventured to before. Having a wagging tail with you will make sure you're never short of conversation topics to chat about along the way.
A day in the park
If you're fortunate enough to live somewhere that gets sunshine (or at least stays dry), a picnic in the park is the ultimate romantic setting. Pack yourselves a selection of your favourite snacks and settle down on the grass or a park bench for an afternoon of fresh air and conversation. Be careful though, if you can't take your eyes off each other you might not notice a sneaky dog trying to steal a sausage roll or two…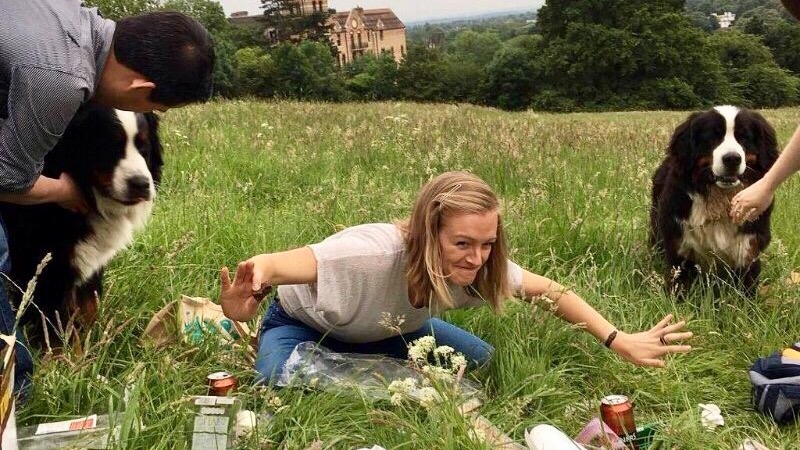 A trip to the pub
More and more pubs are becoming dog-friendly, with some often providing water and treats for your furry friend too. The pub's a great place to sit back, unwind and enjoy long conversation over a comforting cooked meal and a drink. Who knows, by the end of the night you might be toasting to your futures together… If you are staying for a good while, make sure you know your limits, so you can keep your dog safe.
Lots of public places (like beaches and parks) will have regulations in place for dogs and their owners. Make sure you know what the rules are before you head out so that you, your dog and your significant other (or soon to be) can have a wonderful worry-free date.