From January 17th-19th 2017, dogs and their owners can experience the sights of London like never before. Back in the summer, insurance company More Than launched the world's first art exhibition for dogs and now they're back with a new canine centred activity: the world's first city bus tour for dogs.
To promote their pet care and protection service, More Than's London Bus Tour for Dogs will transport canines and their owners around some of the city's best dog walking locations, with drop off points for owners to disembark with their dogs to peruse the local parks including:
Hyde Park Corner

Hyde Park Place

Kensington Palace Green

Green Park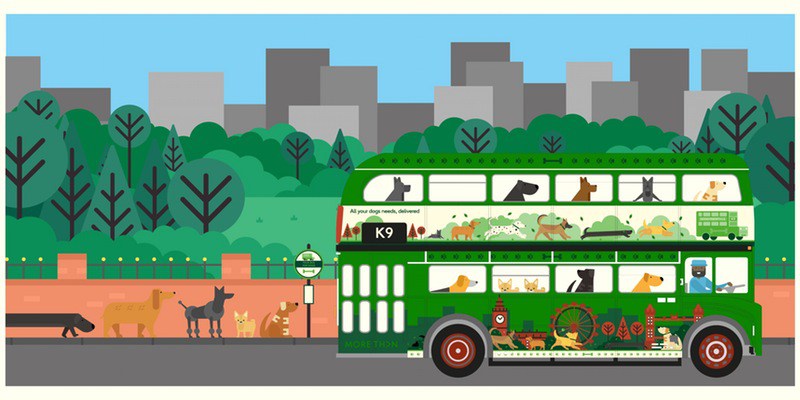 Onboard, passengers will discover London's rich canine history, including the lives of ministerial dogs of Downing Street, the Corgi companions of the Queen and the location of the city's only dog cemetery. The tour's points of interest include:
Victoria Tower Garden: Site of the Annual Parliament Dog Show

Houses of Parliament: The Home of UK Canine Legislature

Buckingham Palace: Corgis Are A Monarch's Best Friend

Hyde Park: London's Most Famous Dog Walking Hotspot

Kensington Palace & Gardens: A New Breed of Royal Canine Obsession

The Kennel Club: Europe's Largest Collection of Dog Paintings

10 Downing Street: Famous Prime Minister Pooches
The 90-minute tour picks up passengers at Lambeth Bridge (North side) 3 times a day at 10am, 12pm and 2pm from January 17th-19th.
Tickets are free and allow entry for two people plus one large dog, or two people and two small dogs. Owners will also receive a handy leaflet detailing the best dog-friendly pubs, bars and restaurants in the area for a spot of relaxation after the event.
You can get your free tickets and find out the terms and conditions here: https://billetto.co.uk/worlds-first-tour-bus-for-dogs