Wondering how to teach your dog to sit? Not sure how to tell them they've done something naughty? It's easier than you might think, with our top tips for getting your puppy's training off to a great start.
Why is dog training important?
Regular training is an important part of raising a well-behaved dog. It's not about showing your dog who's boss – it's about having fun together and deepening your bond. Being able to guide your dog's behaviour also helps you keep them, and others, safe.
[tails-cta-by-id id="4216″]
When should I start training my dog?
The rules you set for a puppy will be the rules they'll follow into adulthood, so it's best to start as you mean to go on. But it's never too late – despite what they say, you can teach an old dog new tricks. Training can be more of a challenge if your dog wasn't socialised as a puppy. But with lots of repetition and patience you can still make great progress.
Related blog: How to socialise a new puppy
How often should I train my dog?
Little and often is best, as this keeps training fast and fun. Grab a few moments when you can throughout the day and run through two or three tricks together. Before meals is ideal – your dog will be more inclined to work hard for their treats when they're hungry.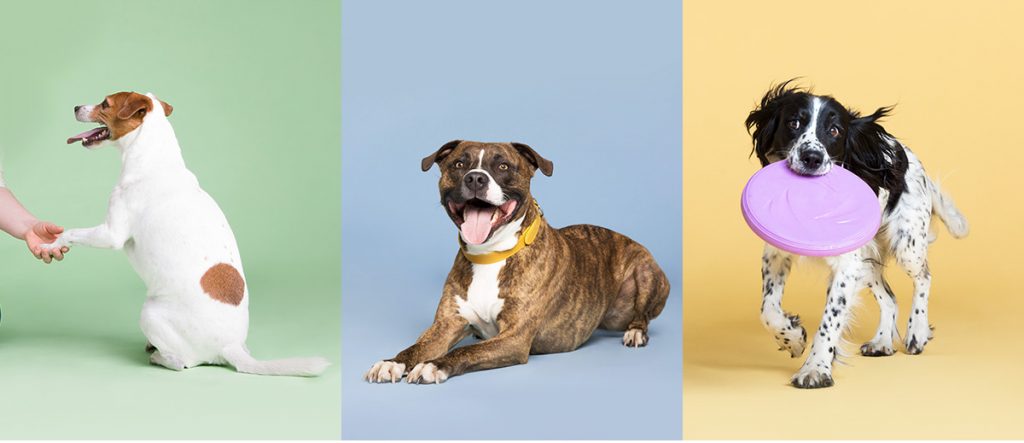 Top tips for training
Positivity, consistency and repetition are the secrets to success when it comes to puppy training.
Start simple
Your dog doesn't understand long sentences, so stick to commands that are just one or two syllables long. 'No' and 'sit' are good starting points. Over time, you can combine these commands to master more complex tricks.
Be consistent
Chopping and changing commands will confuse your dog, so settle on a word or phrase for each action and stick with it. Make sure everyone who looks after your dog uses the same commands, otherwise all your hard work could go unrewarded.
Praise, don't punish
Forget the old-school advice about reprimanding your dog when they do something 'wrong' – this just teaches them to be fearful. Instead, ignore behaviour you don't want to see and reward your dog when they get something right. This creates positive experiences that strengthen your bond and teach good manners. Win-win.
React at the right moment
Let your dog know exactly what they did well by rewarding them the instant they do it. At first this can mean always having a treat ready. In time, you can switch to clicker training instead – where you train your dog to recognise a 'click' as a reward so you're not so reliant on treats.
Repeat
Dogs learn by repetition, so practice really does make perfect.
Know when to stop
If your dog seems reluctant, leave their training until later. They're unlikely to make progress if they're distracted and that can lead to frustration – something that's not fun for either of you.
Some basic dog commands to try
These commands are all useful in everyday life, so they make a great starting point in your puppy's training journey.
'No'
Important in your puppy's early days to help cut out bad habits like nibbling or biting.
Related blog: Basic rules and biting play
'Sit'
Useful for getting your dog's attention and a good distraction if they're jumping up – or doing something else you'd rather they didn't. Resist the urge to push their bottom down, it's better if they find the right position on their own. You can help by holding a treat in front of them, then slowly moving this towards their face and over their head. As they watch the treat, they'll naturally move into a sitting pose. As soon as their bottom touches the floor, they've earned the treat. Good dog!
'Down'
Once your dog's mastered sitting, you can build up to lying down – another command that's great for getting their attention and imparting a sense of calm. Again you can help by holding a treat in front of them, then slowly moving this towards the floor. As they watch the treat, they'll naturally lie down. As soon as they do they've earned the treat.
'Stay'
Comfortable with 'sit' and 'down'? Next is how to teach your dog to stay while you gradually move away. Set your dog up for success by building the distance a couple of paces at a time.
'Come'
Combine with 'stay' to create a fun game – while also teaching your dog a skill that's important for staying safe off the lead.
'Leave it'
This command is useful to stop your dog eating or playing with something they shouldn't. It's also great for building trust.
'Bed'
Don't use this command as a punishment, but rather to signal to your dog that it's time to have some 'dog time' in their own space. Great for quieter moments, or when you've got visitors who are nervous of dogs.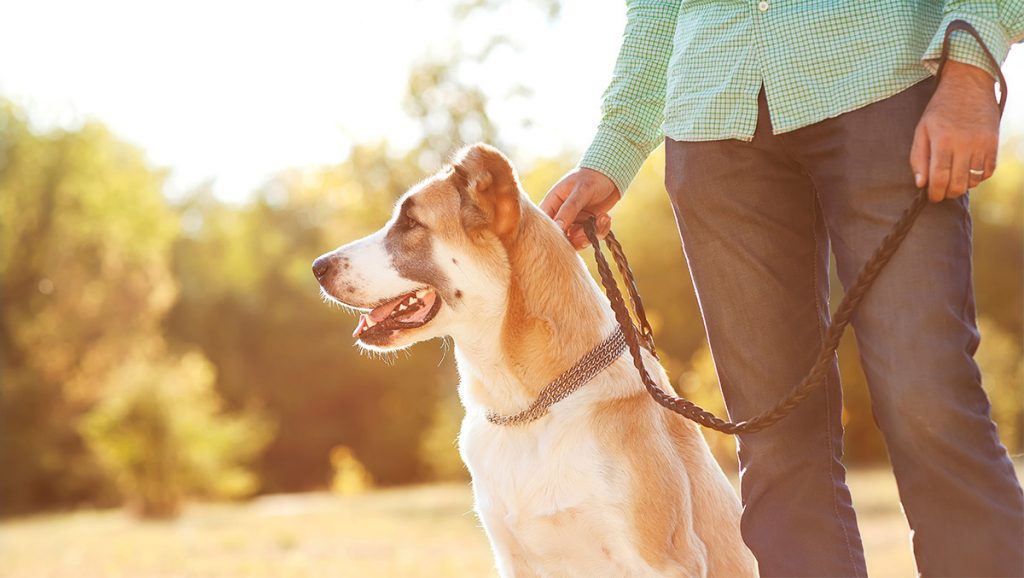 How long does it take to train a dog?
With enough practice and patience, mastering a new trick can take as little as a couple of weeks. But a dog's training is never done – there's always a fancy new trick or instruction to try. Make training part of your dog's daily routine, and have fun mastering new skills together at every stage of their life.
What are some good training rewards for dogs?
Our Good Dog Treats make ideal training rewards – at only three calories each, they won't interfere with your dog's balanced diet. We don't recommend treats for very young puppies but a few kibbles from their daily allowance work just as well. In fact, we include ingredients in our puppy food specifically to help with their training – like DHA omega-3 that supports their mental development.
Find out more about tailor-made dog food for puppies