Hi! My name is Griff, I'm a 3-year-old JRT x Border Collie and I live in South Wales.
I've been a tails.com customer for two years and love all the energy that I get from my yummy food. One of my favourite things to do to burn off all that energy is to explore the hills and valleys around my home in South Wales. I have a few favourite walks that finish conveniently close to some nice dog-friendly venues, and I thought I would share these with you.
Abergavenny
Some of my favourite hills in South Wales are around the market town of Abergavenny. There are a few great hills for those with energy to burn. If you want to take things a little easier, we also have the castle meadows and canal.
When I'm done with walking, I like to pop into the bar at the Angel which is dog friendly. The lovely team there always give me a bowl of water and make a huge fuss of me! Mum can order from the food menu in the bar but usually just gets some tea and cake! The bar is especially cosy in the winter when the fire is lit and is perfect for a post-walk warm up.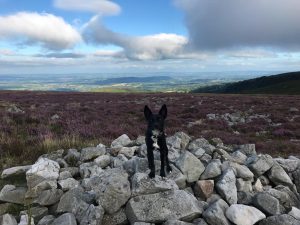 The Blorenge, Abergavenny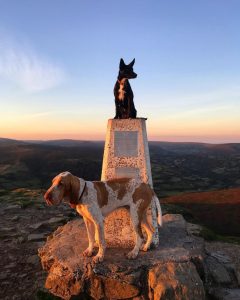 The Sugar Loaf, Abergavenny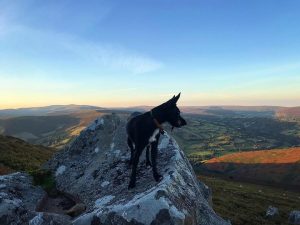 Sugar Loaf, Abergavenny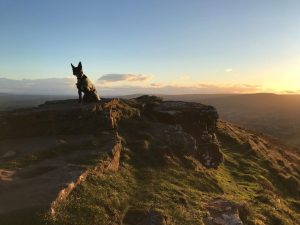 Ysgyryd Fawr or Skirrid Fawr, Abergavenny
Crickhowell
When I'm looking for a longer walk, I'll head further up into the black mountains around Crickhowell. There are some great routes that take you up through the valleys, along the ridges and over multiple peaks. One of my favourites is to walk up passed the Grwyne Fawr reservoir, or up and over Table Mountain.
The Bear in Crickhowell is a great dog friendly pub to finish off in. They have a lovely beer garden, so while mum has lunch with her friends I get to run around and play with mine. There's a great choice of food on the menu and the pub is perfectly placed for a wander around the town when you've finished eating and drinking.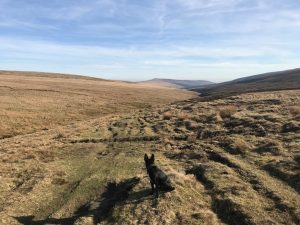 Grwyne Fawr, Black Mountains
Pen Y Gadair Fawr, Black Mountains
Newport
During the week we typically stay closer to home. Good job I love the hills – and thankfully I rarely need to walk along the road as mum loves the open fresh air too. We also like to pop up to Twmbarlwm which has so many good walks that we can do a different route each time! Sometimes we'll go further around the valley to Sirhowy or Cwmcarn and have a wander through the woods and trails.
The Tiny Rebel Brewery Bar is a great stop off for a quick drink, and the menu is updated frequently with some great options. The whole place is dog friendly, which means I can join mum and her friends for a drink in the bar, or even in the restaurant area for some food.
One of my very favourite walks is to go to the National Trust's Tredegar House. The park is dog friendly, and I can be off-lead and play with loads of other dogs. The best part though is that this is where I meet my very favourite person – Nanna! When we've finished enjoying our walk we often pop into the café. I can enjoy a nice doggy froyo and the ladies can get some tea and cake before they have a wander around the shop.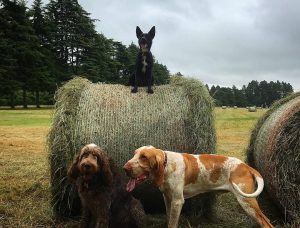 The park at Tredegar House, Newport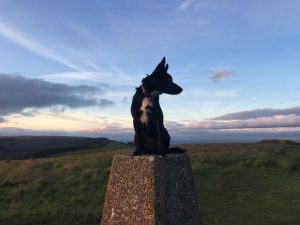 Twmbarlwm, Newport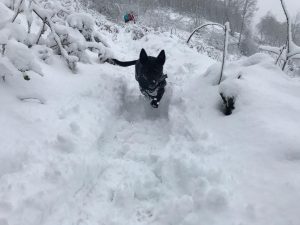 Cwmbarn Forest Drive, Cwmcarn
I hope that you have the best time on your daily explorations – just like me! and if you take up any of my recommended walks (or pubs), have the best time there too!
Griff ?