This month we're delighted to introduce you to Lauren @renovationswithrodg and her rescue dog, Rodg. Here she tells us all about how she and boyfriend Kieran found Rodg and rescued him.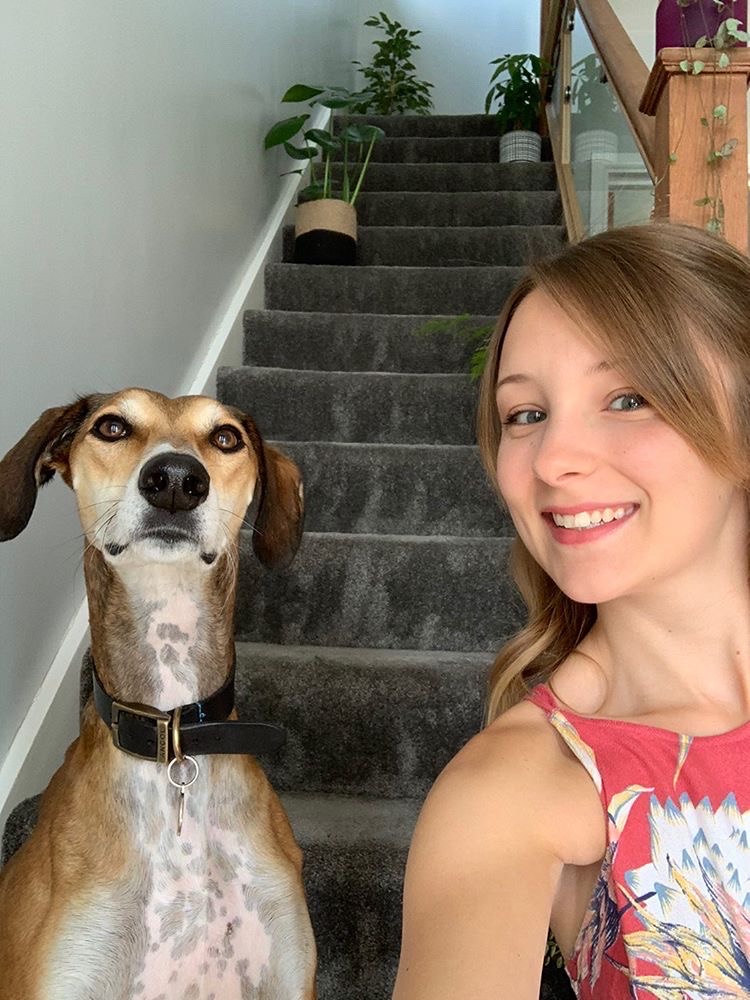 "Rescue is my favourite breed!"
I was delighted when you asked me to share my story after a few months of Rodg trying his tails.com food. When you got in touch about rescues, I just had to get involved. 'Rewarding' is the first word that comes into my head after rescuing Rodg. Although rescue dogs sometimes come with negatives, I have to say that the positives completely outweigh them!
How we found Rodg
In August 2018, Kieran saw Rodg on our local vet's Facebook page and instantly asked if we could meet him. I have to admit, at first, I was against it as I knew that rescues usually come with issues due to their past. However, Kieran got his own way and contacted the rescue centre, Dawg Dogs, and we met him that same day.
Our first meeting – the good and bad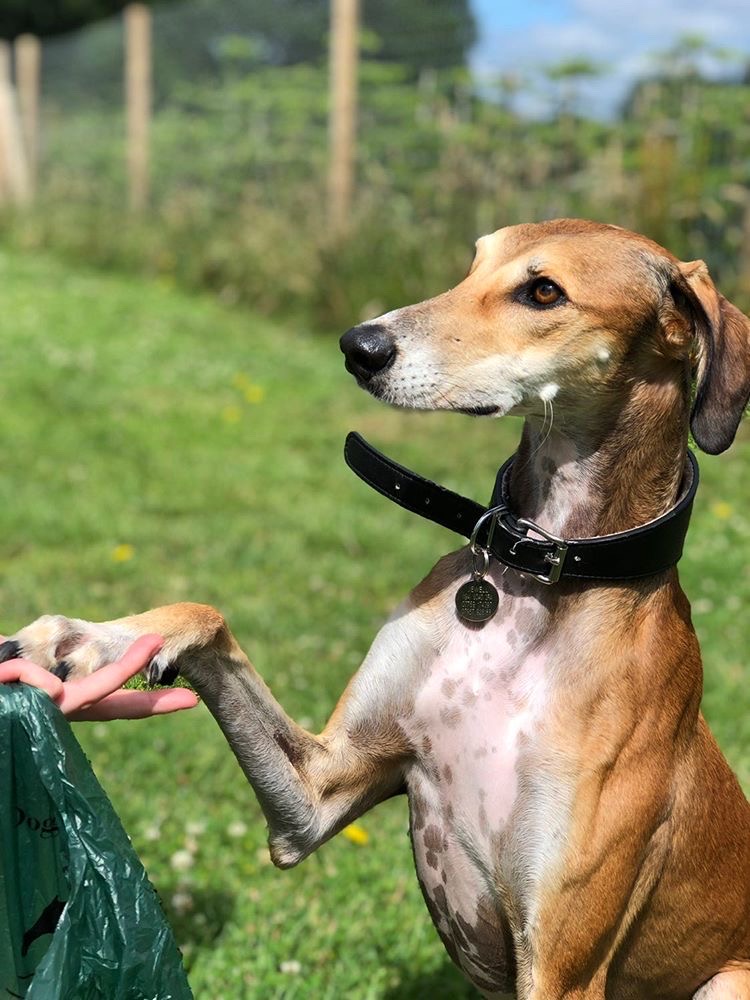 Rodg, known as Rogan to the rescue centre, was extremely timid when he first met us. He was in a pub garden with his foster family that he adored. He would not come anywhere near us, and if we went to go up to him, he just shook.
The foster family thought it would be a good idea for us to walk him without them being there, which we did. Rodg reluctantly walked next to me – but would not go anywhere near Kieran.
It completely broke my heart as he was clearly petrified of men. Kieran still had his heart set on him and deep down, even with my concerns I just wanted to give Rodg a loving home.
Next steps to rehoming
The rescue centre came to Kieran's parents' house, where we were living at the time to check the house and garden were safe for him. Rodg then came and met Kieran's parents' dogs – two huskies, one springer spaniel and one tibetan terrier. Rodg absolutely adored them all and within half an hour he was on his back in the garden letting them all kiss and sniff him!
Adoption day!
On 13th August 2018 we picked Rodg up from his foster family and from that day on I have never felt a love like it! He was still extremely cautious of Kieran and Kieran's dad, so kept his distance from them for a couple of weeks, but slowly started to realise that he was in a safe place.
Within a couple of weeks of having him, he got away with the one thing I said he would never let a dog do…sleep in our bed with us (yes, he is extremely spoilt!)
Learning more about Rodg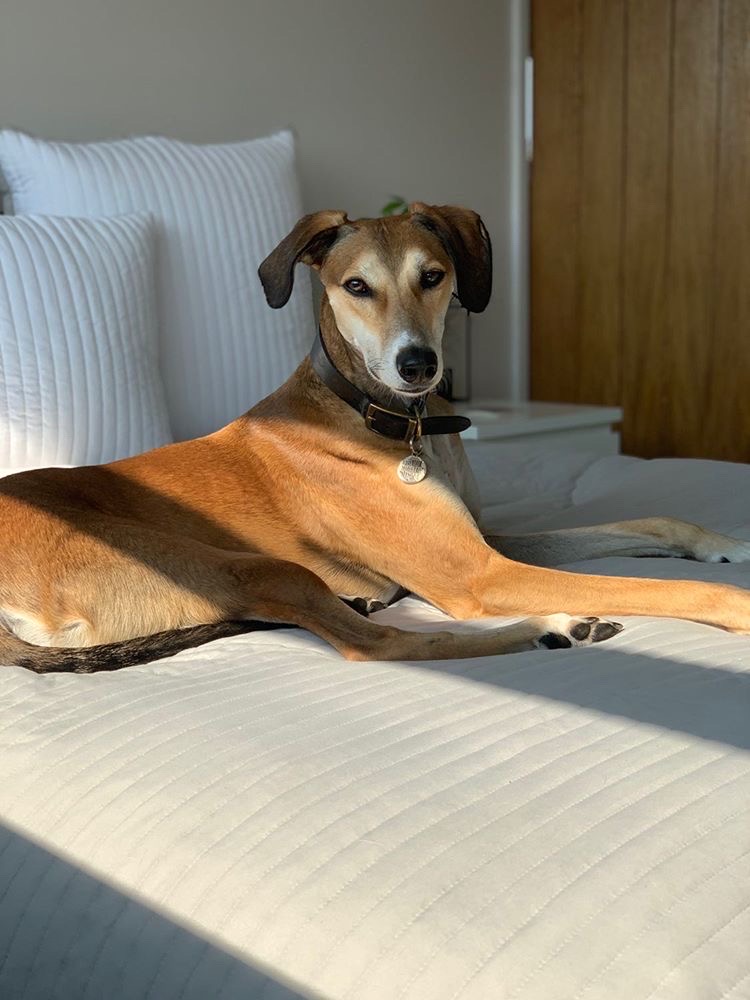 Rodg was anywhere between 1 ½ – 3 years old when we first rescued him, however our vet thought he was closer to 3 due to his teeth being in a bad condition. We will never know Rodg's full back story, but we do know that he was found on the streets with two other lurchers. He is still very wary of men however he has come so far as he no longer shakes or runs out the room if he sees a man now.
Dealing with separation anxiety
The one issue we have had with Rodg is his separation anxiety. When we lived with Kieran's parents, we used to put him in the utility room with the tibetan terrier, so he wasn't alone, but he used to bark and howl within seconds of walking out the door. We tried so many different techniques to help, but he never fully settled. In August 2019 we moved into our own house, just the three of us. We knew we had to try harder to leave him due to us both working full time. When we first started to leave him, we couldn't even leave him for 30 seconds without him pacing, barking, and howling. Since lockdown he has taken a massive leap and we have managed to leave him for 6 ½ hours. This was an exceptionally long process to get him to this stage, but it just shows what time and effort can do!
A new Rodg
When I look at his temperament when we first met him to how he is now, it makes me so happy, he has got so much character now. He is the most loving dog; he gives Kieran and I kisses all the time which he would have never done 2 years ago. He has become so playful too. We would never dream of getting a puppy now as there are too many rescues that need a caring and loving home.
Thanks tails.com!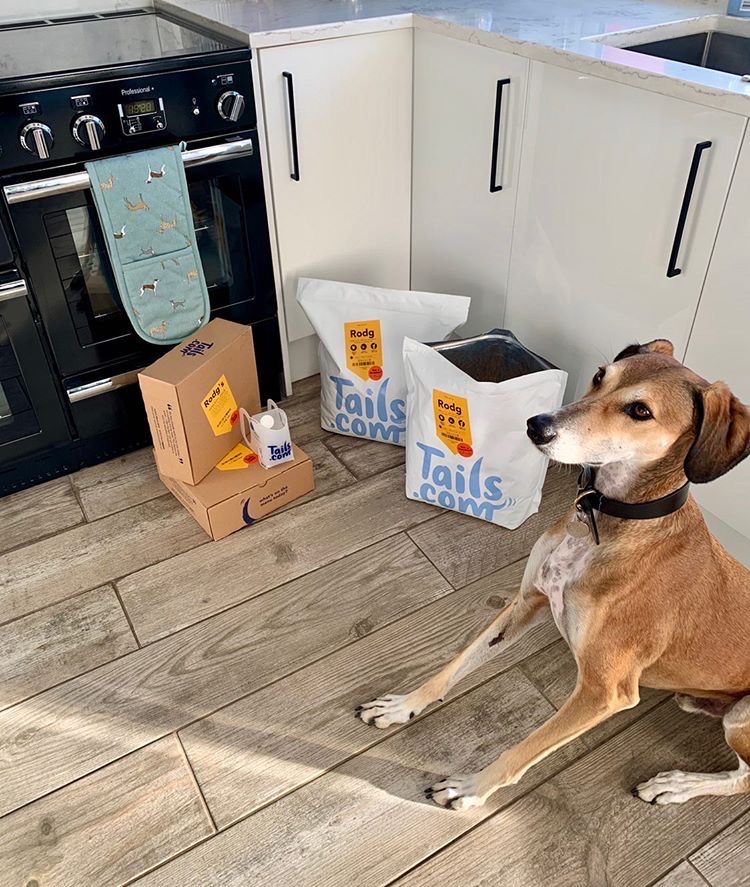 Rodg has been on tails.com food now for a couple of months. He has a mix of dry and wet food…all I have to say is I have never seen him tuck into food like he does with this food. The variety of wet food is amazing, and I have to admit, some of the wet food looks like something I would eat myself. The customer service has been amazing throughout, they have been so helpful with any questions I have thrown their way. We love the fact that the food turns up monthly without having to even think about it. It's also extremely handy to be able to add treats if needed, or even poo bags!
See more adventures of Rodg on Instagram @renovationswithrodg