When it comes to creating a dog-friendly Christmas, let's talk about the big one: the tree. We love them, they smell great, they look inviting strung with twinkling lights and garlands – and even better with a pile of presents underneath.
Most dogs will really, really, really love a tree in the house. From their point of view, you've just given them a very sparkly – and very amazing – new sniff post, wee stop – and climbing frame.
Which means that waggy tails, inquisitive noses and the call of nature can run riot.
No one wants a festive period spent clearing up 'accidents', losing favourite ornaments, or having to hide presents until the big day itself, so here are our tips on how to get your dog used to the tree. 'Tis the season to be Jolly, not to feel like The Grinch Who Stole Christmas.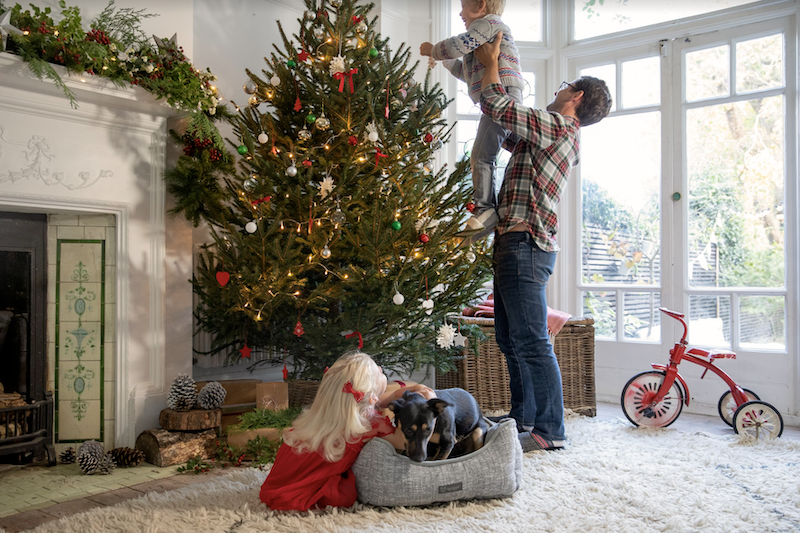 But what do they mean in terms of potential hazards to your dog (and your home)?
Is there such a thing as a dog-friendly tree? Let's get them used to their presence in the house.
Close the door
The best way is to avoid unsupervised contact with the tree, so when you're not in the room where the tree is, make sure your dog can't get to it, either.
Wrap the tree
To avoid any puddles, wrap the base of the tree in paper, and spray an artificial scent around the roots to put them off. Dogs aren't interested in Febreeze (or Chanel No. 5). Also, liquid plus electricity is a big no-no.
No tree water
To keep Christmas trees alive, the trunks are often treated with all manner of artificial things that will be harmful to your dog if ingested. Don't let them lap the water that you pop in the base of your tree.
Clear up needles
It's going to happen when you bring a real tree in your house, but dropped needles hurt if they get stuck into paws (and feet).
Introduce slowly, reward good behaviour
You don't have to shout, but be firm with a no or stop command if their natural curiosity looks like it's taking a turn. Remember to reward good behaviour, especially when they don't take any notice of the tree.
Watch the decorations
If you have to have a chocolate bauble, put any chocolate-wrapped ones up very high. Their packaging is inviting, and the chocolate within is hazardous to dogs. The same applies to breakable decorations like glass baubles that can smash and damage paw pads.
If you think your dog has eaten an ornament, take them to your vet immediately.
If all else fails, you can invest in a tree guard. Or forgo the real tree and fake it. It might not be as traditional, but long-trunked pet safe trees are great for keeping trees upright, your sanity in check and your dog extra safe.