This Christmas season, if you have any leftovers from the Big Day (and what a day we're all hoping it will be), why not treat your dog to their own perfectly dog-friendly version of this festive fave: Bubble & Squeak.
It works whenever you've got leftovers from a roast, just make sure there isn't anything with garlic, onions, or nuts lurking on them.
Bubble & Squeak for dogs is as quick as the human version – just 10 mins prep and 8 minutes in the pan.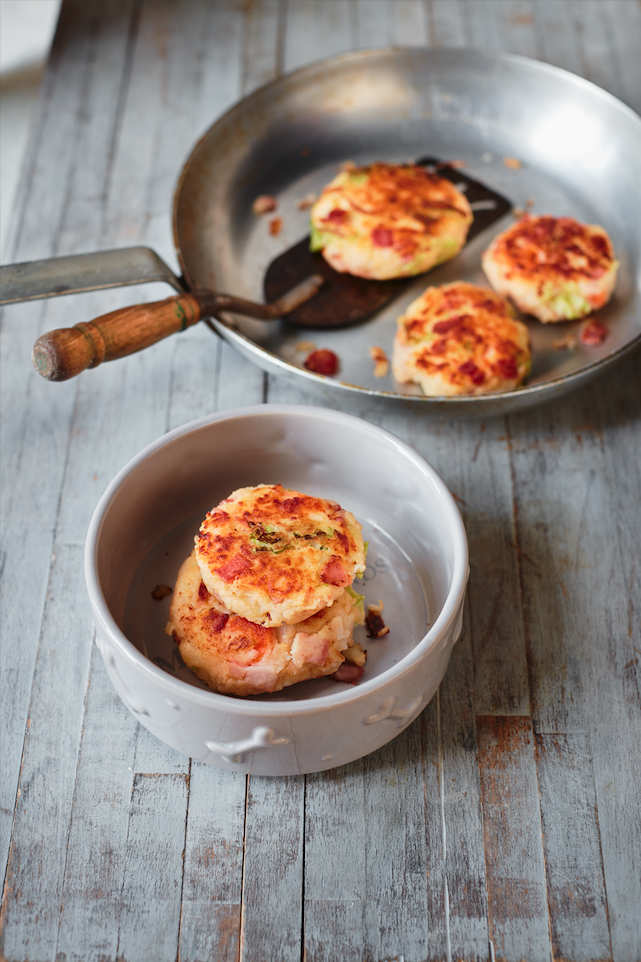 Servings
As many as your leftovers will stretch to – this should replace your dog's main meal and remember to make it size-appropriate!
What you'll need
Leftover potatoes (mashed, boiled or roasted)
Leftover veg – we like carrots, parsnips and cabbage
Leftover turkey and/or ham
1 egg
A little flour
Olive oil, for shallow frying.
Method
Mash your potatoes in a bowl
Add all your leftovers plus the egg, and mash again to combine
Sprinkle in enough flour to firm up your mixture a little and stir – you want to be able to shape them without them falling apart
Roll into dog-size balls and flatten so it looks like a burger
Heat a tiny amount of olive oil in a frying pan over a low heat
When hot, shallow fry a few cakes at a time for 3-4 mins on each side – until golden all over
Allow to cool before serving.
This recipe is one of Head Vet Sean's from our Happy Dog Cookbook. He says these bubble & squeak cakes will last for 5 days in the fridge so pop them in an airtight container. Or freeze for up to 6 months – as if they'll last that long!
We love seeing all your baking creations, so give this Christmas special dog recipe a go and tag us using #tailsdotcom #luckiestdogever