Last year, pet-mad Brits up and down the country spent £125million on presents for their pooches – and this year is set to be even bigger for Santa Paws.
Our research team here at tails.com have dug deep into the data to reveal which pet brands and trends are dominating the market in the lead up to Christmas.
It can be easy to spoil our pups, with so many different toys and trinkets out there. From feeding puzzles to automatic ball throwers, there are even cosy beds and designer brand dog jackets – what will you leave under the tree for your pooch this year?
We have uncovered the top toy brands, furniture, clothing and accessories to gift your dog with this year, plus the top twenty UK cities that splash the most cash on their dogs per month.
Top trending dog toy brands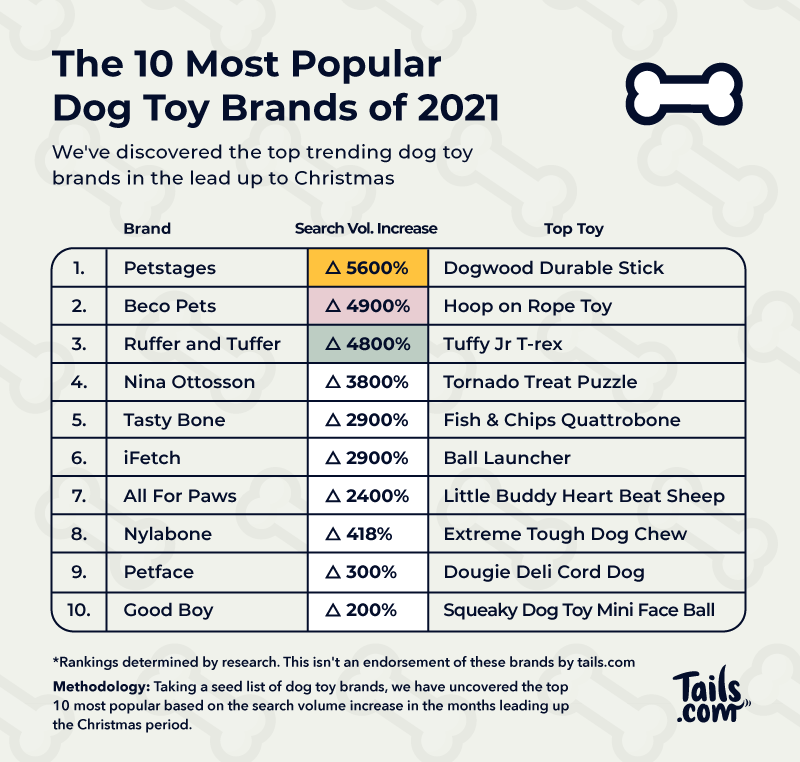 Research reveals that Petstages will be the most popular dog toy brand this Christmas season, with an astounding 5600% search volume increase in the run-up to the festive period. 
The Dogwood Durable Stick is the brand's top trending product and is proof that sometimes the simplest toys are the best. This toy is very similar to a real stick that you may find in an ordinary park, it even contains real wood – the main difference is that it has been enhanced to last much longer than a regular stick and is also safer for pups to play with.
Other brands that are proving popular with pups and pet-owners alike are Beco Pets and Ruffer and Tuffer, which took up the second and third places. These brands experienced a similar surge in search volume, with a 4900% increase for Beco Pets' and a 4800% increase for Ruffer and Tuffer.
Fourth place fell to Nina Ottosson's, with a 3800% search volume increase in the lead up to Christmas. The brands most popular toy is the 'Tornado Treat Puzzle', a colourful toy designed to provide pups with a fun physical and mental challenge as they try to uncover treats from twelve hidden compartments.
More dog toy brands experiencing a surge in popularity in 2021 are Tasty Bone with their top trending product the 'Fish & Chips Quattrobone', a tough and tasty chew toy designed to strengthen your dog's teeth and gums while keeping them entertained. Plus iFetch with their 'Ball Launcher', a battery-operated toy that will throw the ball for your dog so you don't have to. Each of these dog toy brands experienced a 2900% increase in search volume in the run-up to Christmas.
Top 10 dog clothing brands revealed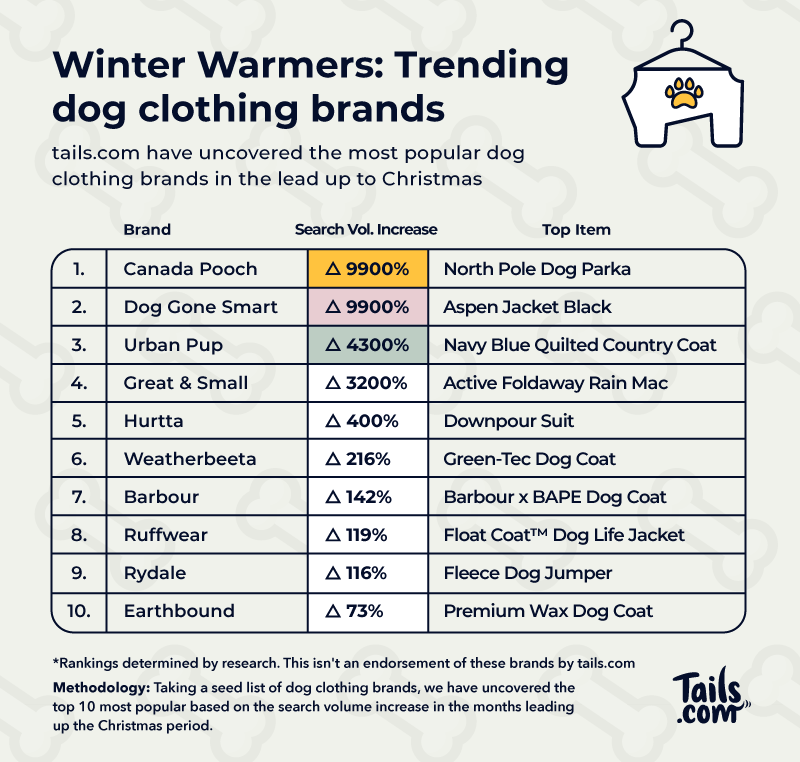 This year's race to win the title of warmest winter clothing for dogs was closely fought with two of the cosiest brands for canines seeing a sensational search volume increase of 9900% in the lead up to Christmas.
Canada Pooch and Dog Gone Smart tied for first place with pet-owners rushing online to pick up their top items for their pups. Canada Pooch is a playful parody of popular luxury winter coat manufacturers Canada Goose, although the dog jackets are available at a fraction of the price. While Dog Gone Smart offer similar products with their own comfortable and waterproof jacket collection.
Chasing in third is Urban Pup with a search volume increase of 4300%. 'Navy Blue Quilted Country Coat' is the brand's top trending product – this classy looking coat is designed to provide your dog with both maximum comfort and outstanding style.
This Christmas has also seen a huge increase in search volume for the brand Great & Small, 3200% increase to be exact. Other brands with considerable increases in search volume are Hurtta (400%) and Weatherbeeta (216%).
Most popular dog accessory brands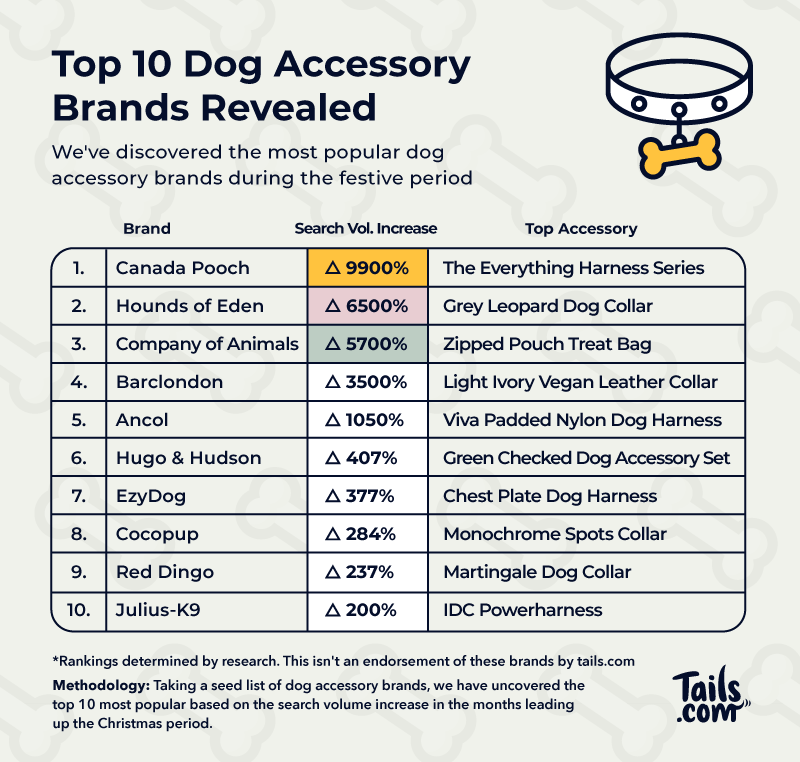 We all appreciate glamming up our look with the odd accessory and our pooches are no different. The top ten dog accessories list is made up of four collars, four harnesses and a treat bag, there's even a 'Green Checked Dog Accessory Set' thrown into the mix by Hugo & Hudson.
Canada Pooch claims another success this Christmas, ranking as the top trending accessory brand, seeing a 9900% increase in search volume. Their 'The Everything Harness Series', dog accessory is the top trending product – it's a specially designed no-pull harness that is also waterproof, and it has certainly caught the eye of the British public this Christmas.
Second place was secured by Hounds of Eden which benefited from a 6500% search volume increase in 2021. 'Grey Leopard Dog Collar' is the brand's top trending product.
Perhaps not every dog will be super pleased about wearing cat print, but the super stylish pooches out there will absolutely love the attention that this fashionable collar brings.
Company of Animals claimed third place with a handsome 5700% increase in search volume.
Overall, the general interest in dog accessory brands has shot up this festive period, with two more brands experiencing over a 1000% increase in search volume. Other accessories brands proving popular with pups and their proud parents are BarcLondon's (3500%) and Ancol's (1050%).
Top dog furniture brands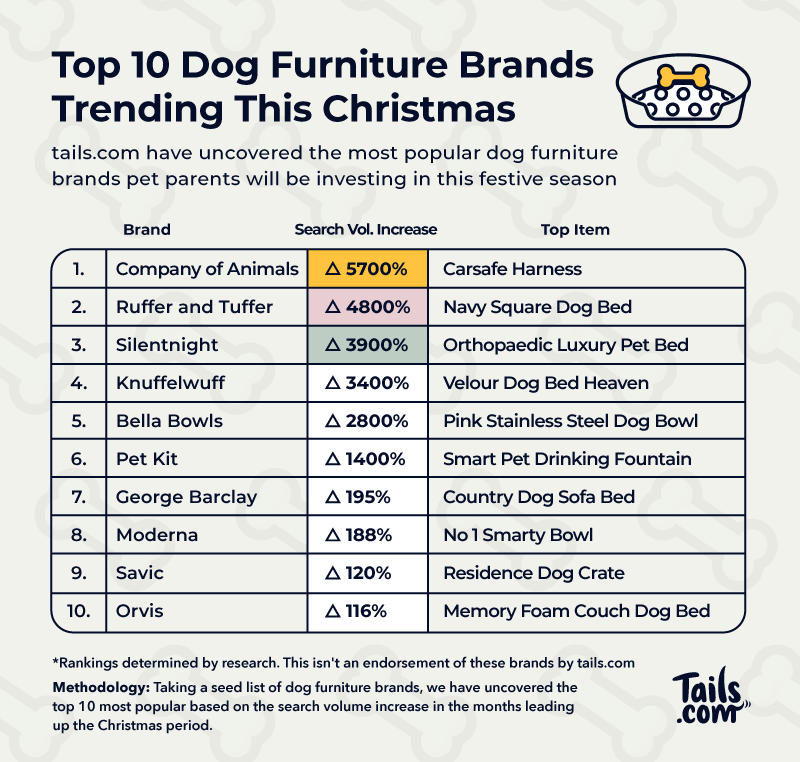 When pups aren't busy playing or eating, they are more than likely to be found cosying up in their basket – or maybe even their owner's bed. With Christmas approaching and the temperatures dropping, our dogs are even keener to sniff out a safe place to sleep. But it's not just beds that pet parents are rushing to buy this festive season, with search volumes shooting up for all kinds of pet furniture from bowls to harnesses.
Research reveals that the top dog furniture brand this Christmas is the Company of Animals which saw a 5700% increase in search volume, aided by their top product the 'Carsafe Harness'. This harness can be used while out walking your dog, as well as in the car thanks to the harness' attachable seat belt function, making it ideal for long road trips.
You snooze and you lose, but neither dog furniture brands, Ruffer and Tuffer nor Knuffelwuff is getting caught sleeping this Christmas with their doggy-bed products helping them to secure a huge surge in search volume. Ruffer and Tuffer saw a 4800% increase in search volume, while Knuffelwuff kept tails wagging with a 3400% search volume increase.
Elsewhere, Silentnight may be better known for producing bedding for us humans, but their venture into doggy-bed territory with their pet range piquing pet-parents interest this Christmas, with a 3900% increase in search volume.
Dog furniture has proved to be a top priority amongst pet parents this Christmas, with six of the top ten brands experiencing over a 1000% surge in search volume. In fifth place is Bella Bowls' (2800%) and coming in at sixth is Pet Kit.
How much is the UK spending on their pets this Christmas?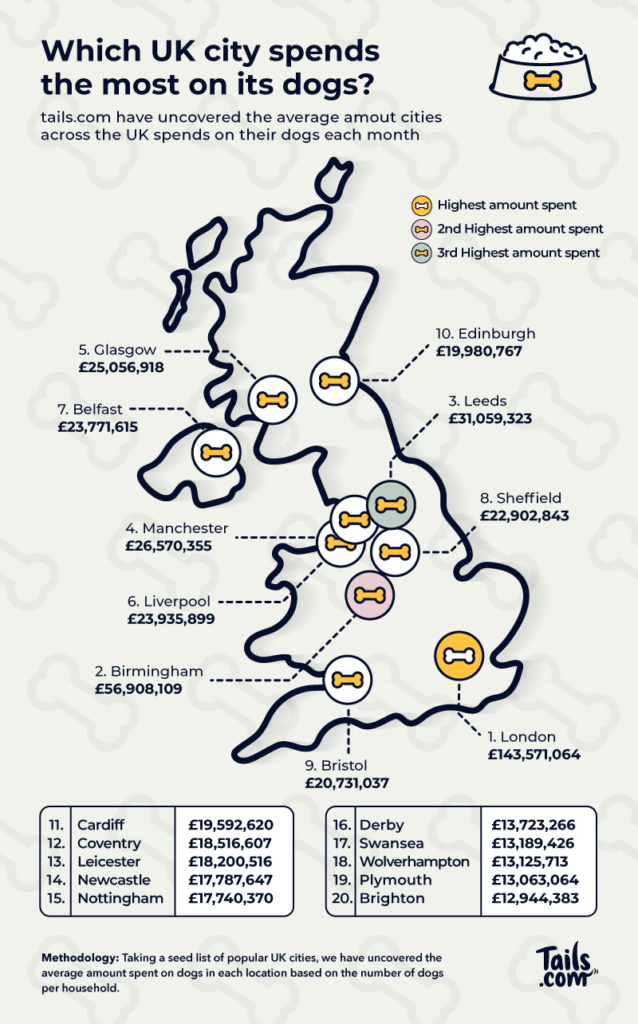 It's safe to say that in Britain, most of us are dog lovers, but in which of our UK cities do we splash the most cash on spoiling our dogs?
Unsurprisingly, our research found that London spends more dough on dogs than any other UK city, with England's capital spending a mind-blowing average sum of £143.5million on its pups per month. With a population of 8.9million people, there are naturally going to be plenty of pooches to match.
Second place was also taken by the UK's second most populated city, Birmingham, with Brummies splashing an average of £56.9m on their dogs per month.
An entry at third that is worthy of making your dog's head tilt. Our findings revealed that Leeds is the highest spending city when it comes to our dogs, with an average of £31m being spent each month. Leeds managed to outspend other major UK cities including Manchester (£26.5m), Glasgow (£25m) and Bristol (£20.7m) despite boasting a smaller population than each of these cities.
Outside of England, Glasgow was found to be the biggest spender on dogs, outdoing the Scottish capital city of Edinburgh, with Glasgow paying out an average of £25m on pooches each month compared to Edinburgh's £19.9m.
Not far behind Glasgow in terms of spending, is Northern Ireland's Belfast, where an average of £23.7m is spent on pups each month, making Belfast the seventh highest spending UK city overall.
Elsewhere the Welsh cities of Cardiff and Swansea each finished outside of the top ten, with Cardiff just missing out in eleventh place with a monthly average spending of £19.5m. While the people of Swansea spent an average of £13.1m on their pooches, placing them at seventeenth.
Methodology: 
Taking a seed list of popular dog toys, clothing, accessory and furniture brands in the UK, we used Google Search volume from October to current (December) to determine which are the most desirable brands in the lead up to Christmas. 
To determine how much money each city across the UK spends on their dogs each month; we found on average how much people in the UK spend on their dogs, how many dogs are in each city and then calculated how much they spend on average each month.