We all love a party – but the type of party we like varies from person to person.
For the extrovert social butterflies amongst us, a huge get-together with an endless source of people to meet, talk to and have fun with, is their idea of heaven. For the more introverted, however, that sounds like a total nightmare, whereas sharing good times with people to whom they are close and with whom they choose to spend their valuable time, is the perfect way to spend a day. For others, nothing beats spending quality time alone with their partner, reconnecting and enjoying that bond without interruptions from the outside world. 
While we recognise that humans are all different in their idea of the perfect party, it's easy to fall into the trap of thinking that it is natural dog behaviour to want to play with all other dogs – and that somehow our dogs are at fault (or under-socialised) if that isn't the case. This couldn't be further from the truth – and it is thinking like that that sets dogs up to fail, puts them in difficult social situations, and causes stress, worry and unwanted behaviour problems.
While most young puppies are generally pretty social and will play with a wide variety of others, when a dog reaches adolescence and on into adulthood, most become selectively social. Exactly like we do. Do you doubt that? Next time you go into a supermarket, are you going to want to interact and play with every single person in there? Err really not (and we tend to avoid like the plague anyone who tries to!). If we see a friend, we will be happy to see them, have a social encounter (whether a conversation, a hug or a slap on the back) and enjoy the interaction but beyond pleasantries, we ignore all the others.
Dogs are the same. Some continue to be fairly extroverted into adulthood but most have their own friends (dogs they know well and enjoy playing with) and their canine family (dogs they live with) but are pretty indifferent to others – or perhaps even unfriendly or worried by them.
We live with our dogs as part of our families however and so it is natural that we want them to enjoy some of the things we do – and a good party for special events can be high on that list as, after all, we want to spoil our dogs on occasions and make them feel special.
So how do you arrange a party for your dog that they will enjoy?
Stress-free parties
First of all, decide if your dog would even want a party! For some, a change to their daily routine – especially if that involves strange dogs and strange people – is hugely stressful.
If you think this would be something your dog would enjoy, think about who to invite. This should be limited to dogs that are in your household and dogs that you know that your dog loves to play with (and who also know all your resident dogs).
When you really think about it, you might well realise that the ideal guest list is very short indeed and it is just you and your dog share a very special day together. For most dogs, this is far better than inviting other canine guests – as the main love of their life and social focus is you! This is often the very best present you can give your dog – and the very best party. Do not underestimate how much your dog will love a party for just you two.
If you are inviting others, consider the venue. Even the most social dog might not be at all happy about having non-resident dogs in their home. If you have a really big garden and your dog isn't territorial, this could possibly work – or you might want to consider a different location like a secure field you could hire.
'A party' could just as easily be a fun, on-lead walk – which will still be social but will take the pressure off the dogs to interact with each other.
Will there be food or treats? This can often be a source of conflict or stress and so needs to be managed cautiously. As can the potential for canine stomach upsets! Parents of small children will know all about the potential fall-out of this one!
Don't even think about dressing up your dog! A birthday bandana is fine but much more than that and your dog can't show natural body language, can't effectively communicate with other dogs – and most just don't like it even if they tolerate it to please their people.
Think carefully about any party games. These could be training exercises and problem-solving tasks, or even games for owners (remind me to tell you all about the raw egg and spoon race that tests whether your dog pulls on the lead sometimes!) – but not food or toy competitions.
Remember that the party is for your dog – not just so you have some share-worthy social media posts. Be realistic about what they will really enjoy and you can guarantee a really special day.
Breed Parties
Some people stay in touch with their dog's breeder – and often with the other people who have dogs from the same litter.
In some cases, they even have annual reunions – often on the litter's birthday – where they get together, re-bond, and enjoy seeing how each puppy has developed and grown. This gives them the chance to have a party and celebrate their amazing dogs – and give them a chance to play (if they want to) with their brothers and sisters – or just go for a walk together.
One breeder who is no stranger to these kinds of parties is Fiona Clarkson, a Golden Retriever breeder from the Borders – whose owners (like their social breed) often stay in touch with each other and get together on occasions for reunion parties. The owners who take their puppies into their families often form social media groups and maintain strong, enduring friendships despite only having met through their dogs.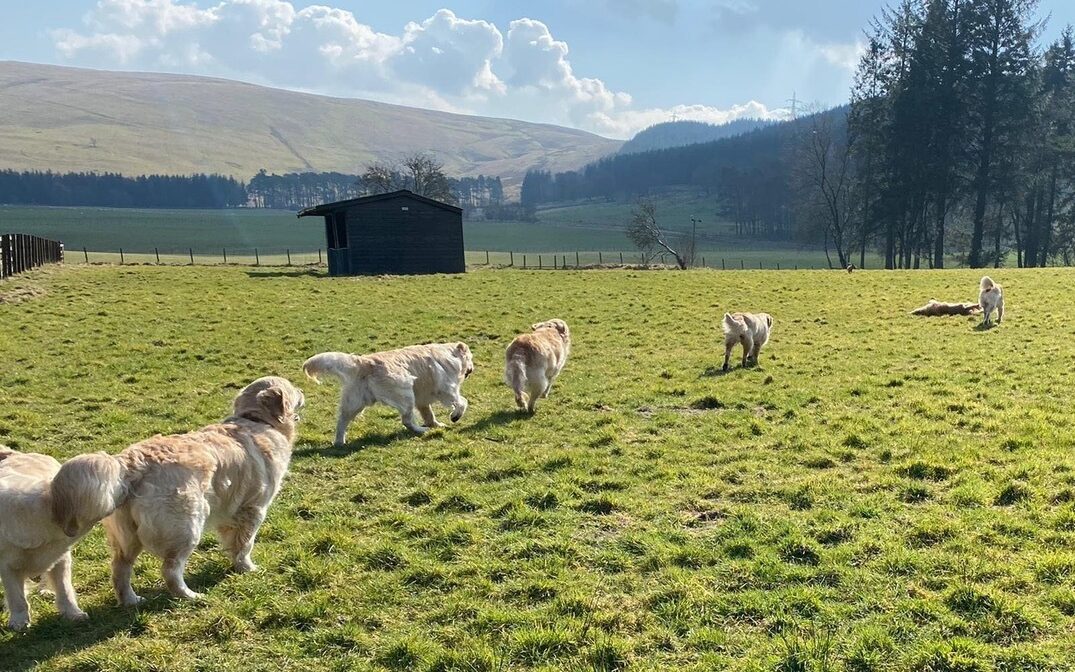 A recent such birthday party was in March this year for one of her bitch's litters from 2021. Mum (Tumshie) couldn't attend as she was in season but Granny Brora and Great Granny Vivi were there to head the family (I can't help but think about Downton here…) – and all but one of the puppies shared in the birthday celebrations which included a walk, a chance to run about together in the stunning countryside they were born in, a splash in the river, and then back for some treats and the official photo!
For such a social breed as Golden Retrievers, this was pretty much the perfect party – but even then, the party was held in a large secure country location with plenty of space to socialise as much or as little as each dog wanted to.
If this sounds like fun, round up your dog's littermates and start making plans!