All Hallows' Eve can be a tricky time for our canine companions. Door knocking, unfamiliar faces and spooky costumes. It can all be a little… well, scary. So we're here to help, with 5 top tips to keep your dog happy on Halloween.
We all like to celebrate spooky season in our own ways. You might be preparing for a big costume party. Or you might be choosing which classic film to curl up on the sofa with.
Our dogs are much the same. Some are the life of the party and will enjoy lapping up the attention of guests and visitors. But many can find the commotion and door knocking a little stressful.
Taking this into consideration, how can you keep your dog happy and calm on Halloween? Here are our top tips.
1. Prepare with a walk
It's a great idea to give your dog the chance to burn off any excess energy before the evening begins. That way they're likely to be in a more relaxed state of mind.
Try letting them lead you on a sniffari walk. Or plan to add in an extra training session to satisfy them mentally too.
2. Create their happy place
If it's likely your dog will find the trick or treating stressful, create a cosy, quiet place for them to relax with you, that's preferably away from busy areas (like that front door!).
You can also play some calming music or white noise, and give them a chew to occupy them. Yakers chews are a great option. All natural and super long-lasting, sure to keep them busy during those peak hours.
If you're hosting a party, it's still a great idea to have somewhere quiet for your dog to go – in case they need a break.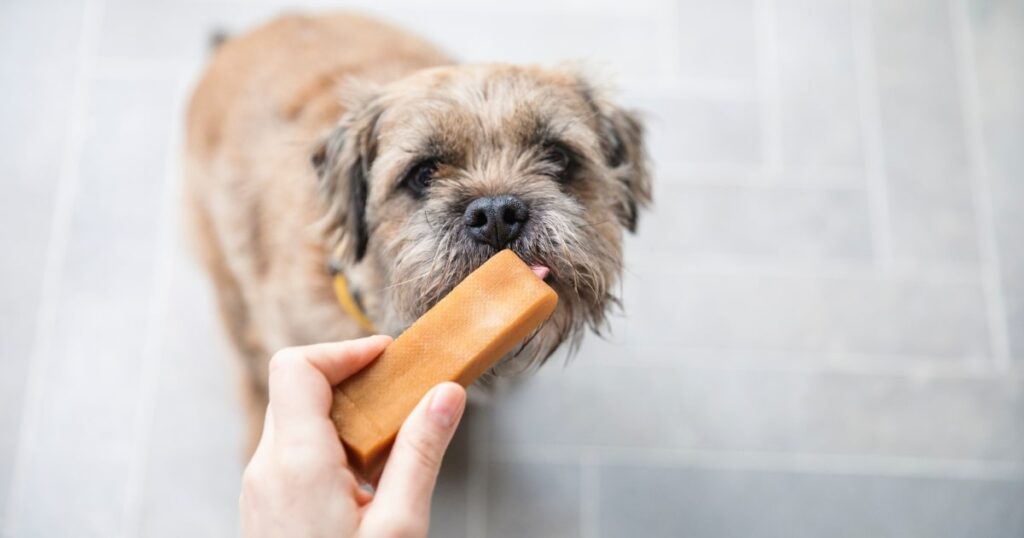 3. Use distraction techniques
If your dog likes to alert bark, be sure to get stocked up on high-reward treats to help distract them from the door.
Try the following:
Set yourself up in a room where your dog won't be able to reach the front door – an appropriately sized baby gate can work well.
Have a treat jar nearby or a treat bag on your waist. You might want to break the treats up into small pieces beforehand.
When that door goes off, immediately scatter a handful of treats.
This way you can hand out some treats to the kids, while your dog will be sniffing around for every last morsel.
If you live in a busy area, you could even use your dog's evening kibble portion. This way you have plenty of distraction material to work with.
4. To costume or not to costume
Is it okay to dress up your dog on Halloween? That's up to you to decide. After all, you know them best.
If your dog is used to wearing functional coats or booties in winter, they may tolerate wearing a costume well. Just make sure they can move freely and aren't showing any signs of stress.
A spooky bandana or bow tie would be our top choice. These are likely to feel much more comfortable and familiar to your dog than a full costume.
Better yet, there are plenty of other ways to get them involved in the festivities. Like trying your hand at some dog Halloween treats recipes for example!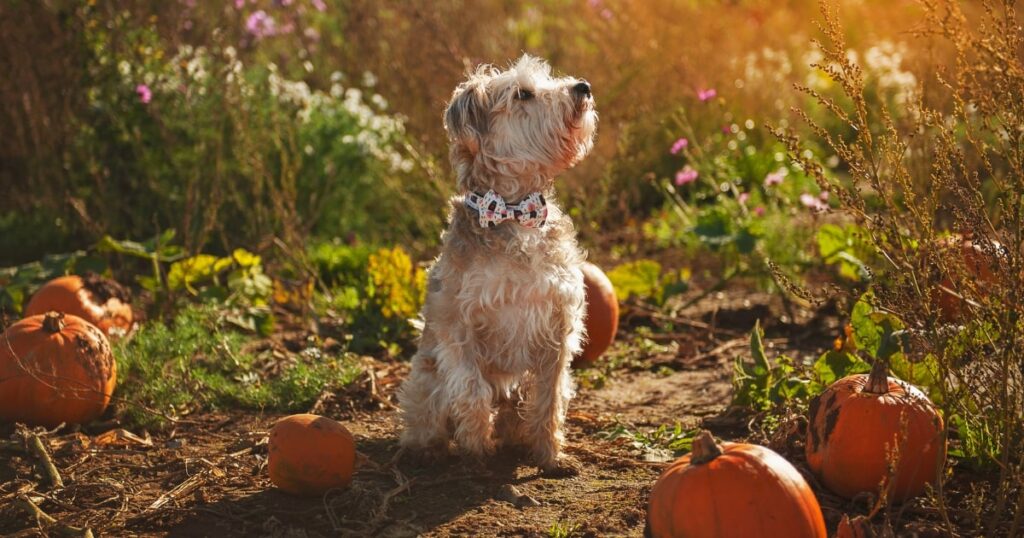 5. Cover the Halloween dog safety basics
A quick reminder, especially if you're hosting a Halloween party of your own:
Swap candles in pumpkins for battery-operated lights to account for wagging tails.
Remind guests that sweets and chocolate need to stay out of your dog's reach.
Keep their collar and tags on at all times – just in case.
If you know your dog is likely to get really stressed by trick-or-treating, then feel free to opt out. You could put a sign on your gate or door and leave a box of treats out for kids to help themselves instead. That way there won't be any interruptions to Hocus Pocus either…
What are your strategies for a happy dog during Halloween? And how do you celebrate together?