Exploring new sights and smells is something many dogs thrive on. Being able to leave the car behind can have its advantages, especially if you don't drive or live in a larger city. So… how to travel on public transport with your dog? Now that's the question! Here's our full guide to car-free travel with your pup.
Which public transport accepts dogs?
Can dogs go on buses? Can I take my dog on a train? You might be surprised to learn that dogs are usually allowed on public transport in the United Kingdom, although the regulations depend on the local authorities.
Here's a handy breakdown of your available options:
| | |
| --- | --- |
| Trains | Usually accept dogs, max 2 per passenger. Must be on a lead for the duration of your journey. |
| Coaches | Usually don't accept dogs, except service dogs. |
| Buses | Usually accept dogs at the driver's discretion. |
| Taxis / ridesharing | Sometimes accept dogs.Check the provider's website, and book ahead to check they allow dogs and if there's an extra charge, so you don't get any surprises.Some apps let you choose a dog-friendly vehicle. Tip: Brush hairy dogs beforehand so they leave as little hair as possible behind. Having a blanket for them to sit on is a good idea. |
| London Underground | Dogs are permitted and need to be carried on escalators. Or use the lift or stairs. Tip: always use the wider accessible gates to enter and exit, giving your dog time and space to get through. |
| City tram services | Varies per city, so it's best to check the local authority or transport network's website ahead of travel. |
Always check with local authorities or service providers before travelling in case of changes.
All aboard! Or is it?
Public transport isn't for every dog, or person for that matter. It can be crowded, noisy and hectic. So think about your dog's personality and whether they might enjoy this new experience or not.
Even if your dog is travel-savvy, there are times when it's still best to avoid public transport, such as travelling home from the vets after an operation or when it's really hot.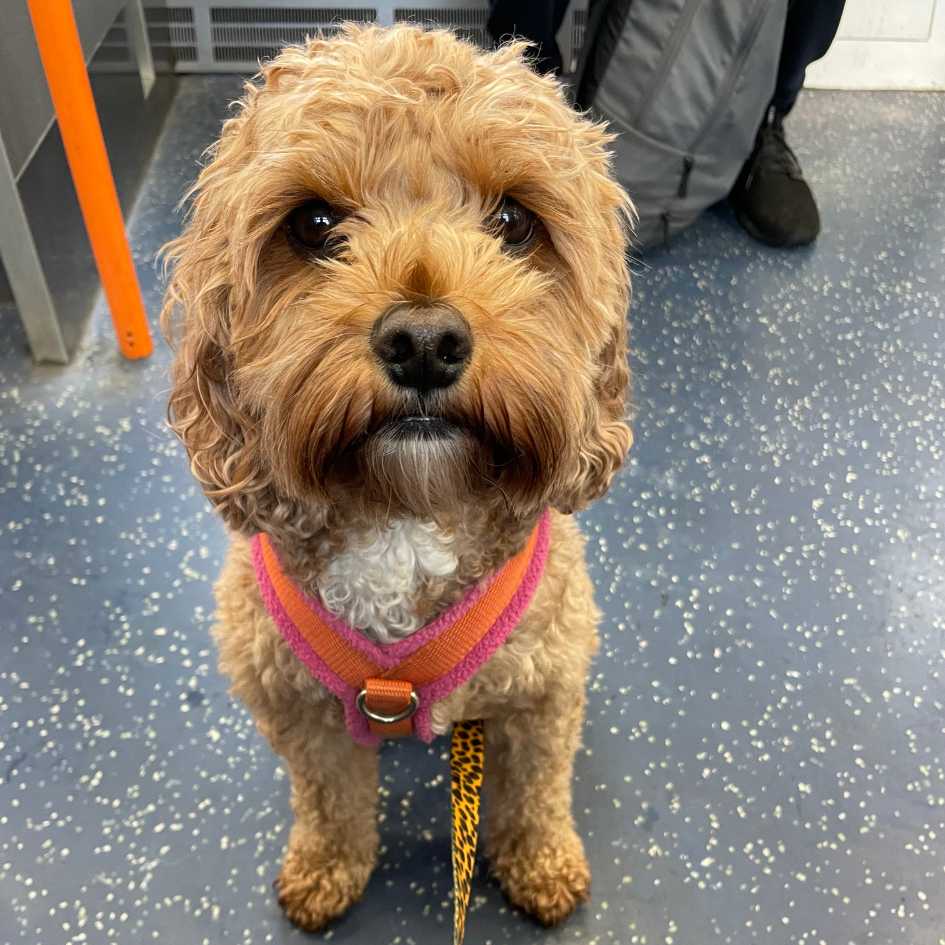 How to introduce your dog to travel on a bus or train
First things first. Your dog will need to get used to the noise. Buses and trains are big, noisy things, so introduce your dog slowly to help desensitise them.
It might take a couple of days or even weeks – slow and steady wins the race. Here's how to take it at their pace:
Getting familiar with the bus
The goal here is small, successful steps. So maybe start by picking out a local bus and hang around nearby with your dog – at a comfortable distance so they can observe the sights and sounds. Reward your dog with a tasty treat every time a bus passes, arrives, opens it's door.
Over the next few weeks, you could build up to standing closer, repeating until your dog is happy to wait at the bus stop with everyone else.
If you're lucky, a dog-loving bus driver might even let you board an empty bus while it's waiting at the station. You can explain you'd like to practise getting in and out of the doors and walking down the bus.
Top tip – keep an eye on your dog in these sessions. If they seem at all stressed or nervous go back a few steps. Don't be afraid to take your time – better to go slow.
Introducing your dog to trains
Take a similar approach here – start by simply rewarding your dog for calm behaviour outside the train station, then move inside, waiting till your dog is settled among all the new sights and sounds.
Then you can move onto the platform, rewarding them every time there's a noise (an announcement, a train braking etc). Eventually, you could build up to riding for one stop – treating your dog regularly as they travel with some very tasty treats.
Tip: You can find train station sounds online and play them quietly at home to introduce your dog to these new noises. Gradually increase the volume to a realistic level over time.
When you start regularly taking your dog on public transport, be sure to start with short journeys (15-20 minutes max is ideal) to fun places, like the beach or a new park. This way they'll create positive associations with this exciting new way of getting around.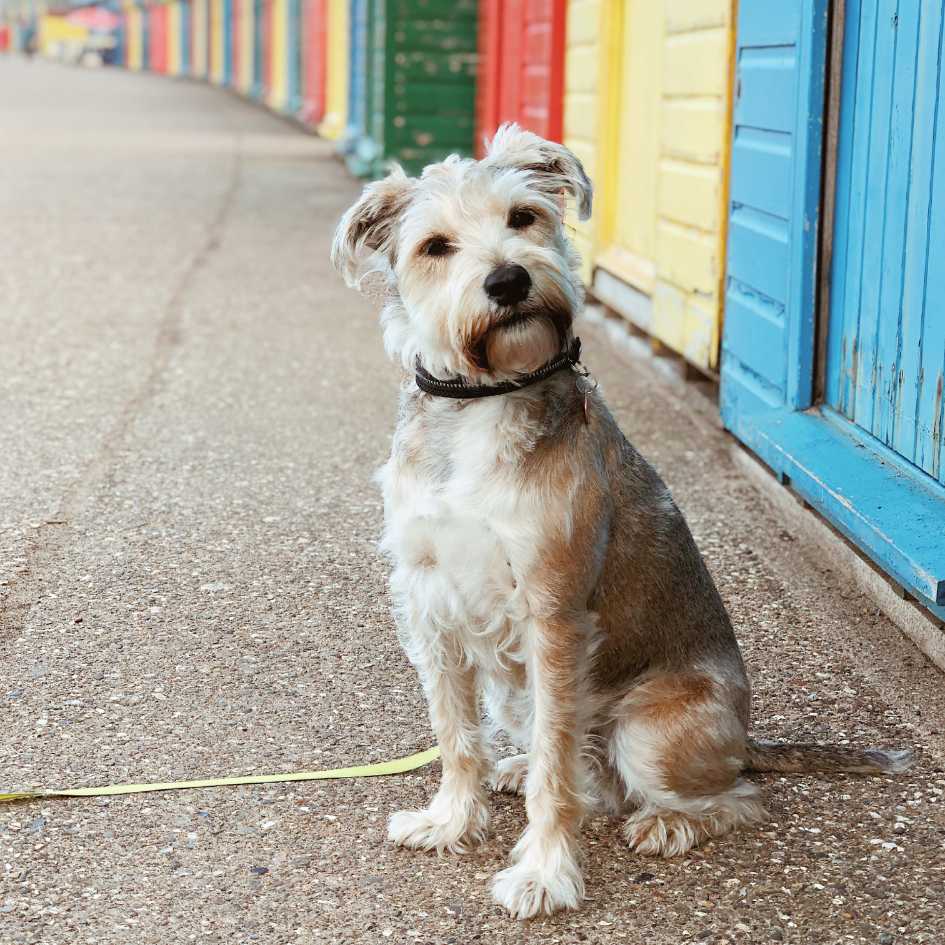 Before you set off
Factor in time to walk your dog briefly before you travel, perhaps for a longer walk if it's a very long journey. This means they'll have a chance to go to the toilet and burn off any excess energy if needed.
To avoid travel sickness, especially if you're taking a taxi or ridesharing vehicle, it's best to feed your dog at least 30 minutes (ideally longer) before you leave home.
Allow plenty of time for travelling on public transport with your dog. Avoid that last-minute sprint for the bus, so they have time to take in their surroundings calmly.
What to take with you
Here are a few things to help keep your journey on track:
A toy or occupier – but not a noisy one ideally!
A bed/blanket/carrier
Treats & water. Meals for longer journeys.
Poo bags. Always.
A-Z of travel etiquette
As with all modes of public transport, there are official codes of conduct, and then there are the unspoken 'rules to ride' that everyone sticks to (eye contact anyone?).
The same applies when travelling with your dog:
Don't let your dog urinate on platforms – make sure it's in an area outside the station before and after your travel.
It's more relaxing to travel when it's not crowded, so avoid rush hour or the end of the school day if you can.
Always ask someone if you and your dog can sit next to them, in case they have allergies or anxiety around dogs.
If your dog LOVES to say hello to people, be mindful that not everyone will love to say hello to them. It's nothing personal.
Sadly, seats are for human passengers only. So stay firm on the puppy dog eyes and keep those paws on the floor, or bring them their own blanket so they feel right at home.
Watch out for your dog's tail and paws. Someone accidentally stepping on them could understandably put them off public transport.
Try to sit away from doors in a quiet place to avoid lots of people coming and going. The first or last train carriages are usually less busy. On the days when that's not possible, your prior training will be invaluable. More on that below.
Top travel tips from tails.com office dogs
With many of our office dogs taking trains, tubes or buses to our dog-friendly office every day, we asked our team for some of their tips…
"Public transport is full of exciting distractions – people eating, smells, litter – it's a sensory festival of doggy delights! So working on a strong 'stay', 'leave it' and settle on a mat at home has worked wonders for us!"
"Ida loves public transport because it's got a ton of positive association for her – she gets a lot of attention from strangers (which I encourage for her, since she eats it up), and she knows she gets to go somewhere fun, like the office or a Big Walk"
"We probably spent 30 mins on the platform watching trains go by before we got on one for the first time. First trip was one stop up the line and he got a constant supply of high value treats for the whole trip!"
"Depending on the size of your dog, it's also useful to teach them to lie under your seat while you're travelling. Try practising this at home with a chair first."
Whatever your destination, getting there on public transport should be part of the enjoyment for you and your dog. So it's ok to accept that it might not be the right choice for you and your dog – especially if they're nervous or anxious. The goal should be for you both to enjoy the journey as much as the destination. Happy training!