There's nothing quite like a beach day, but finding a dog-friendly beach in the spring and summer can be tricky. It's fairly common for some beaches to only allow dogs out of peak season, especially in holiday hot spots like Devon and Cornwall. And some councils have argued in other areas that the ban is to keep people safe from various health hazards.

So which beaches in the UK can you and your four-legged friend visit this summer?

Our research team has analysed Instagram hashtag data to determine the best dog-friendly beaches to visit, if you're looking for inspiration. 
10 dog-friendly beaches to visit this summer:
Fistral Beach – 130,056 posts
Hengistbury Head – 64,379 posts
Formby Beach – 58,010 posts
Saunton Sands – 45,271 posts
Holkham Beach – 35,377 posts
Holywell Bay Beach – 31,734 posts
Rhossili Bay – 26,454 posts
Bamburgh Beach – 22,671 posts
Runswick Bay – 22,221 posts
Cayton Bay – 19,712 posts 
Don't forget to check out our tips for getting your dog ready for the beach and other summer activities.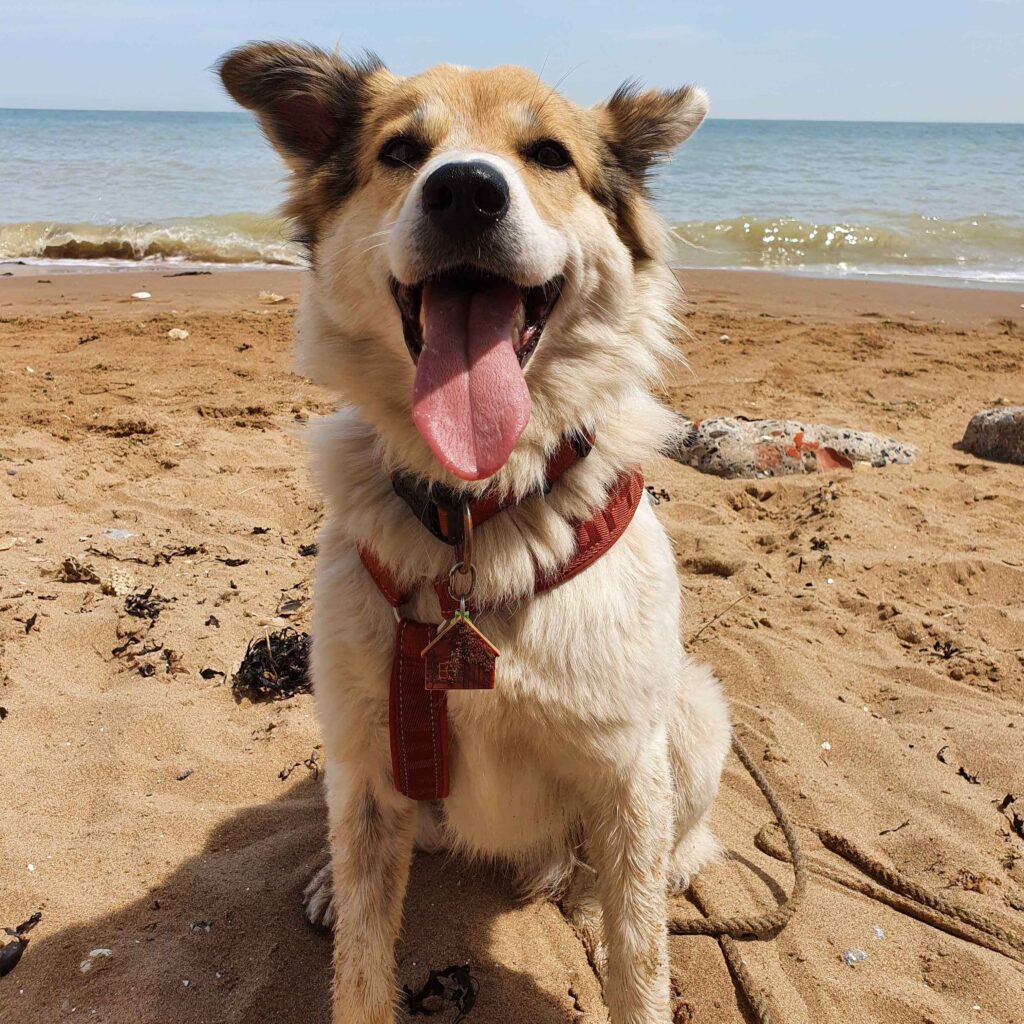 Fistral Beach 
Located in the bustling town of Newquay, Cornwall, Fistral Beach is filled with beautiful stretches of sand, backed by rolling dunes. It's perfect for exploring with your furry friend in tow this summer.

Unlike a lot of beaches in the Cornwall area that have bans in place for dogs due to the high number of tourists, Firstral Beach is a year-round dog-friendly beach. It's surrounded by surf shops, bars and restaurants – many of which are welcoming to our canines. 
Location: Newquay, Cornwall
Hengistbury Head 
If you are thinking about holidaying in Bournemouth this year, why not consider a coastal walk at Hengistbury Head?
The scenic sand and pebble beach has grassland trails, woodland and so much more for you to explore with your dog all year round. This includes a pup-friendly cafe.

Whilst it is preferred dogs are kept on a lead while on the beach, well-behaved dogs, with good recall are permitted to roam freely. 
Location: Dorset
Formby Beach
Formby Beach is one of the Northwest's most loved and well-known coastlines thanks to its iconic sand dunes.
Located between Liverpool and Southport, the beach has managed to retain its surrounding nature. It's one of the few homes left for red squirrels in the UK. 
This does mean it's important for your pup to be on lead in the surrounding pinewood forest area, to protect the squirrels. But well-behaved dogs are free to run around on the beach.
Location: Liverpool
Saunton Sands 
Saunton Sands is one of Devon's most popular dog-friendly beaches and for good reason! It welcomes waggy tails all year round, unlike a lot of other beaches in the area.

The beautiful and scenic coastline is backed by the stunning Braunton Burrows, a UNESCO reserve. The long stretches of sand are perfect for playing fetch with your canine companion. 
For those looking for a more refreshing walk, going up to Crows Point can be perfect to get some exercise in. Plus, the views across the coastline are simply stunning.
Location: North Devon
Holkham Beach
For pooches that love to explore away from bustling tourists, why not take a trip to Holkham Beach this summer?

The sandy walkway stretches for over four miles and has plenty of dog-friendly attractions in the surrounding areas.

Holkham is home to lots of preserved wildlife, which means some areas of the beach require dogs to be on lead. These are clearly signposted for you to follow regulations or avoid.
Location: Norfolk
Holywell Bay Beach
Holywell Beach is a peaceful and quaint cove located in the west end of Eastbourne, with a popular cafe, beach huts and chalets. 
The beach has charming Italian gardens that are full of life. It's also been the backdrop for many shows and films including Eastenders, Angus Thongs and Perfect Snogging and Miss Marple. Though the beach has complete freedom for pets, make sure to keep your dog under control around families and wildlife. 
Location: East Sussex
Rhossili Bay 
If you're looking for a beach where you're treated to spectacular views, Rhossili Bay needs to be on your list. 
Voted the UK's No.1 dog-Friendly beach by The Times, it has plenty of sand for your pup to relax and play all year.

You could even combine your walk with a clifftop hike, to experience the views across the beach that disappear into the horizon. Though it's best to keep your dog on a lead to make sure they stay safe.

Location: Swansea 
Bamburgh Beach  
Located in the beautiful North East area of England, Bamburgh Beach in Northumberland is the perfect place for wind-swept walks.

While the seawater stays relatively cold even during the summer, the beach is popular among dog walkers. This might have something to do with its breathtaking views of Bamburgh Castle, which dominate the skyline as you walk along the sand.

Love surfing? The beach is also great for catching some waves during the summer months, with surfboard hire and lessons available.

Location: Northumberland
Runswick Bay 
Just North of the iconic town of Whitby, Runswick Bay is known as one of the most stunning and beautiful beaches on the east coast. Perfect for dog walkers and families alike.

Nestled under cliffs, Runswick Bay is a mix of sand and pebbles, stretching for miles when the tide washes out.
Not only that, but the beach is home to many fossils, wildlife and nature – including seals, that you may be able to spot when you visit if you're lucky.
Location: North Yorkshire
Cayton Bay
Just south of Scarborough, Cayton Bay is a quiet and peaceful cove, hidden in the Yorkshire countryside. It's perfect for your pup to unleash their zoomies. 
Known for staying quiet all year round, the beach boasts some of the best waves in the region for surfing and is a great spot for fossil hunting. So if you're ready to feel that sea breeze, grab a jacket and get exploring next time you take your dog for a walk. 
Location: North Yorkshire
Top tip: check out this handy map of dog-friendly beaches to find one near you.