Here at tails.com, we're on a mission to improve the world of pet food for good. And minimising our environmental impact is a major part of achieving this goal.
Whether that's the kind of energy we use, the ingredients we source, or the packaging that arrives on your doorstep. In this blog, we'll dig into the work we've done on the packaging for your kibble bags. So you can know more about the positive impact in every scoop!
The journey to improved kibble bags
For the past two and a half years, we've been working closely with our suppliers to develop packaging for your kibble bags that can be recycled at large supermarkets. A simple change, right?
The answer is, no! From tails.com HQ to your door, your kibble bag needs to do a lot of important jobs. So finding the perfect solution comes with its fair share of challenges.
Keeping food fresh and safe
Any new material we use must be of a food-safe grade. Our quality teams conduct extensive shelf-life testing to guarantee the safety and freshness of your dog's food.
Easy resealing and opening
Your bag needs to be sturdy enough to withstand daily use, but easy to open so you can get those dinner bowls down on time! After eight (yes eight!) rounds of testing, we've fine-tuned the production process with our supplier. So you can open and seal our new packaging with ease.
Strong and durable
A big challenge with our new packaging is that it needs to be strong enough to hold up to 10kg — that's the weight of a Westie! It also needs to be durable enough to survive the journey to your home. Keeping that all-important kibble safe and sound.
Where can we improve?
While we've made significant progress so far, we know our new bag isn't perfect. We've heard from you, our customers, that these new bags are appearing to be more easily damaged in transit. And we hear you!
We're continuing to work with our suppliers to refine and enhance the bag's design and functionality. We won't stop until every aspect of our packaging lives up to our high standards.
How to know if your kibble bag is ready to recycle
All our UK bags should now be ready to recycle. But there might be some exceptions to this as we finalise the full transition. To check your bag, just have a peek inside:
Our non-recyclable bags have a shiny aluminium inner lining.
Our bags designed for recycling don't have a shiny lining.
It's as simple as that!
How to recycle your kibble bag at recycling points
Our new bags aren't designed to be recycled at home, so don't put them in your recycling bin!
You can recycle them at large supermarkets or other recycling points. You'll just need to cut the label out, then find your nearest recycling point:
Go to Recycle Now
Select 'plastic bags and wrapping' in the text box
Enter your postcode
By correctly disposing of  your kibble bag, you play a crucial role in reducing waste and preserving the environment. Together, we can work to make the world a better, cleaner place – which means better dog walks for generations to come!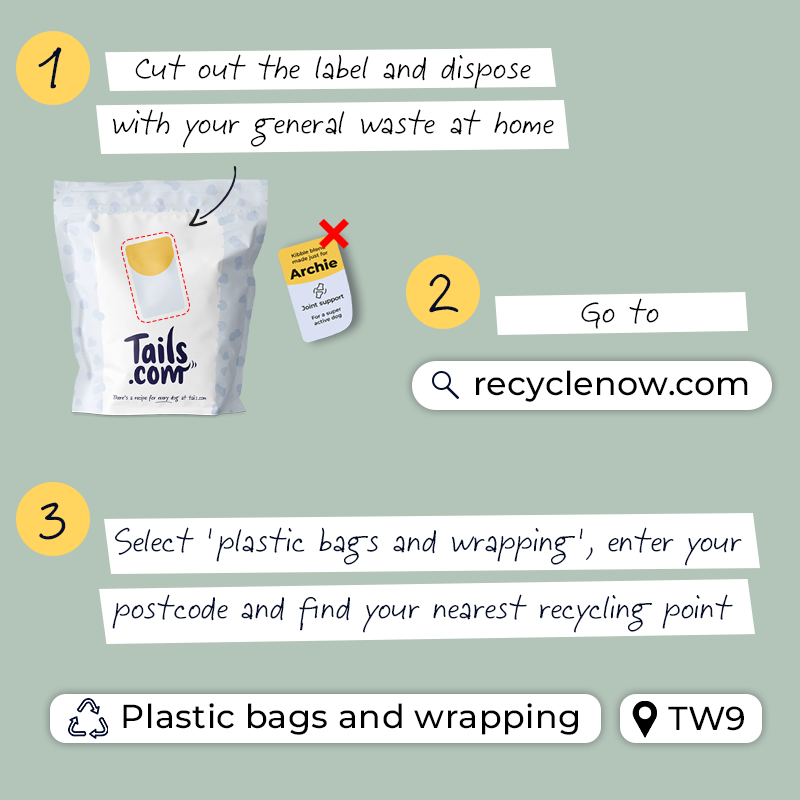 Over to you
As we continue to master our packaging, we need your help! Got feedback on your kibble bag? We'd love to hear it — and we'll do our best to make it right.
Creating sustainable packaging is a team effort. Together — the tails.com team, our suppliers and you — we'll make sure we get it right. We're grateful to have customers who care as much about the environment as we do, and we appreciate your patience as we continue to improve.
If you have any questions or feedback for us, we'd love to hear from you. Send a message to hello@tails.com and we'll get right back to you.
Looking for more help and info? Check out our help centre or read more articles on our blog.