Here at tails.com, it's our mission is to improve the lives of pets and their owners from all walks of life. That's why we deliver tailor-made nutrition to canine companions across the country – and champion dog welfare on their behalf. So, today we are thrilled to announce our continuing support for our charity partner StreetVet. An award-winning charity that delivers free veterinary care to pets and their owners experiencing homelessness across the UK.
The story behind StreetVet
Jade Statt had recently diagnosed her beloved dog Oakley with cancer when she got talking to a dog owner experiencing homelessness.
"He talked to me about his unconditional love for his dog and his fear of losing her… overwhelmingly I kept thinking 'how would I feel if this was Oakley?'"
A few months after Oakley sadly passed away.
A qualified vet, Jade decided to take to the streets with a stethoscope and a backpack of medications. Both as a way to manage her grief and to pay tribute to the unyielding bond she'd had with Oakley.
It soon became clear there was an overwhelming need for this kind of free care. So after meeting like-minded vet Sam Joseph, they founded StreetVet together in 2016. Since then, over 2000 patients have been registered and over 9000 consultations have been performed by StreetVet's team of volunteers.
Building a brighter future for pets on the streets
Around 320,000 people are currently experiencing homelessness in the UK. Anywhere up to 25% of them have a pet. And these numbers are growing.
The bond between owners and their dogs is incredibly strong, and their pets' wellbeing is often a top priority. But life on the streets makes it incredibly tough to access veterinary care.
Alongside their charity registration, StreetVet is a registered practice with the Royal College of Veterinary Surgeons. Their team of dedicated volunteer vets and vet nurses regularly take to the streets to provide free care and support. Creating a brighter future for pets who may otherwise have to go without the care they need and deserve.
#PetsInEveryHostel
Hostels are an essential part of the UK's response to homelessness. A safe, temporary place to stay is a crucial first step towards more permanent accommodation. Providing access to mental health support, training and employment opportunities.
The problem? Only 10% of all UK hostels currently accept pets*. This leaves bonded pet owners in a horrible catch-22. And no one should have to choose between their pet and a roof over their head.
So StreetVet created their Hostel Accreditation Scheme. A programme of training and wrap-around support, designed to provide hostels with the tools they need to begin accepting pets.
The goal? Increase the number of pet-friendly hostels in the UK, keeping more dogs and owners together.
How you're making a difference
We first started working with StreetVet in 2019 and the need for their services has grown – with a 300% increase in demand last year alone.
So this year we formalised our partnership with StreetVet, to ensure we're supporting them in the best way possible. For the next two years, we'll be donating extra resources, time and financial aid to help them continue their amazing work.
As a tails.com customer, you'll be making this support possible – so thank you! Give yourselves (and your dogs) a pat on the back.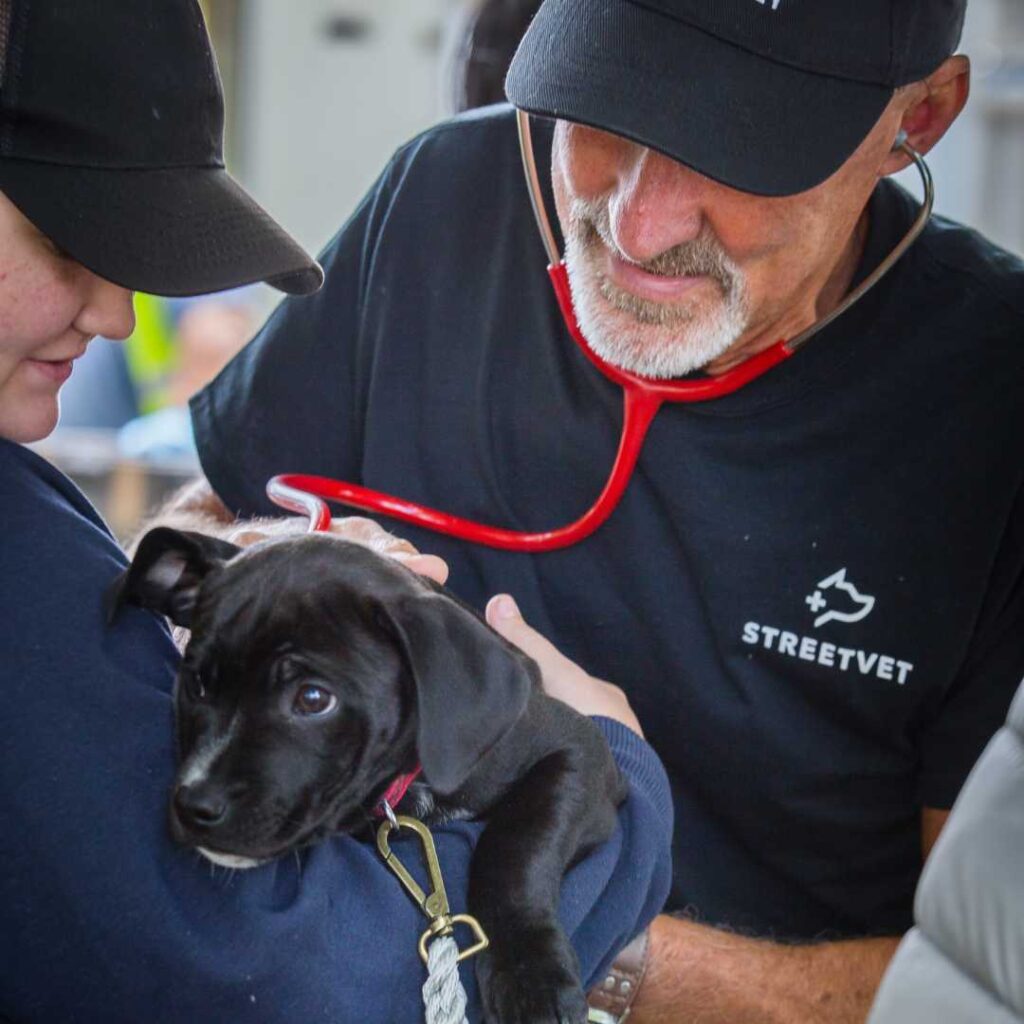 Want to get involved?
Are you as passionate as we are about StreetVet? Then we're excited to share some a new way you can get involved!
Add Good Dog Treats to your box
Whether it's for training, rewarding good behaviour or showing how much you care, our Good Dog Treats get tails wagging every time. We're pleased to announce that we're donating 25p from every pack of Good Dog Treats sold to StreetVet until the end of the year — turning a good choice into an even better one.
So why not add Good Dog Treats to your next box?
Not a tails.com customer? No problem – you can sign up here. Or pop to our one-off shop to get stocked up!
*Source: Dogs Trust's Hope Project and Homeless Link