Crunchy leaves. Dappled sunlight.  Bonfire smoke. Did we mention crunchy leaves already? One of the highlights of autumn are long walks – ideally with a dog by your side. The changing colours make a striking photo backdrop, and it's a great opportunity to take cute dog photos this autumn.
Tips for taking quality dog photos
If you've got a high tech DSLR camera you'll be sure to get some great photos. Nowadays most phone cameras can take high-quality photos, and they're easier to carry on a long walk. 
You'll want to make the most of that golden autumnal light. Aim for natural light and avoid using the flash. For best results watch out for shadows – a good rule of thumb is keeping your subject all in or all out of the shade. You can always adjust brightness by tapping your screen as you're prepping the pic.
Remember your background is as important as your subject. Don't forget to check what's behind your dog! Frame out anything that might be distracting, like other dogs squatting or someone in a colourful jumper that clashes with the scenery. 
Don't be afraid to move around to get the perfect shot. Try taking your pics from different angles. Crouching down to get on the same level as your dog will give you a completely different viewpoint and add more interest. Use the grid setting on your phone to line up your shot and ensure your dog is in the centre of the picture. Or try positioning them to the left or right with pretty scenery around them for a different approach. 
After you've got the perfect snap, make it Instagram-friendly with a filter. We find less is more. A little lightening to make colours pop is fine, but try to avoid heavy filters or editing which can make your photo look less realistic. It's all about capturing the natural beauty of the season and your dog, after all.
Autumn dog photo inspiration
Ready to get creative? Try some of our favourite autumn photo trends – and if you're happy with the results don't forget to share them with us @tails.com_uk.
Leaf ears
This one is probably a 2 person job, but it's totally worth it. Find two good-looking leaves that are big enough to cover your dog's ears. Have one person gently hold the leaves over your dog's ears while the other person takes a close up picture. The result? Your dog looks like they have leaves for ears! Experiment with leaf colours and textures – here's a handy guide. Some of our favourite leaves are oak (bright yellow, frilly shape) and sycamore (varied reds, oranges and browns, larger leaves which are ideal for bigger dogs). We also rate elm leaves which appear in vivid colours and are long and pointy: great for dogs with longer or upright ears.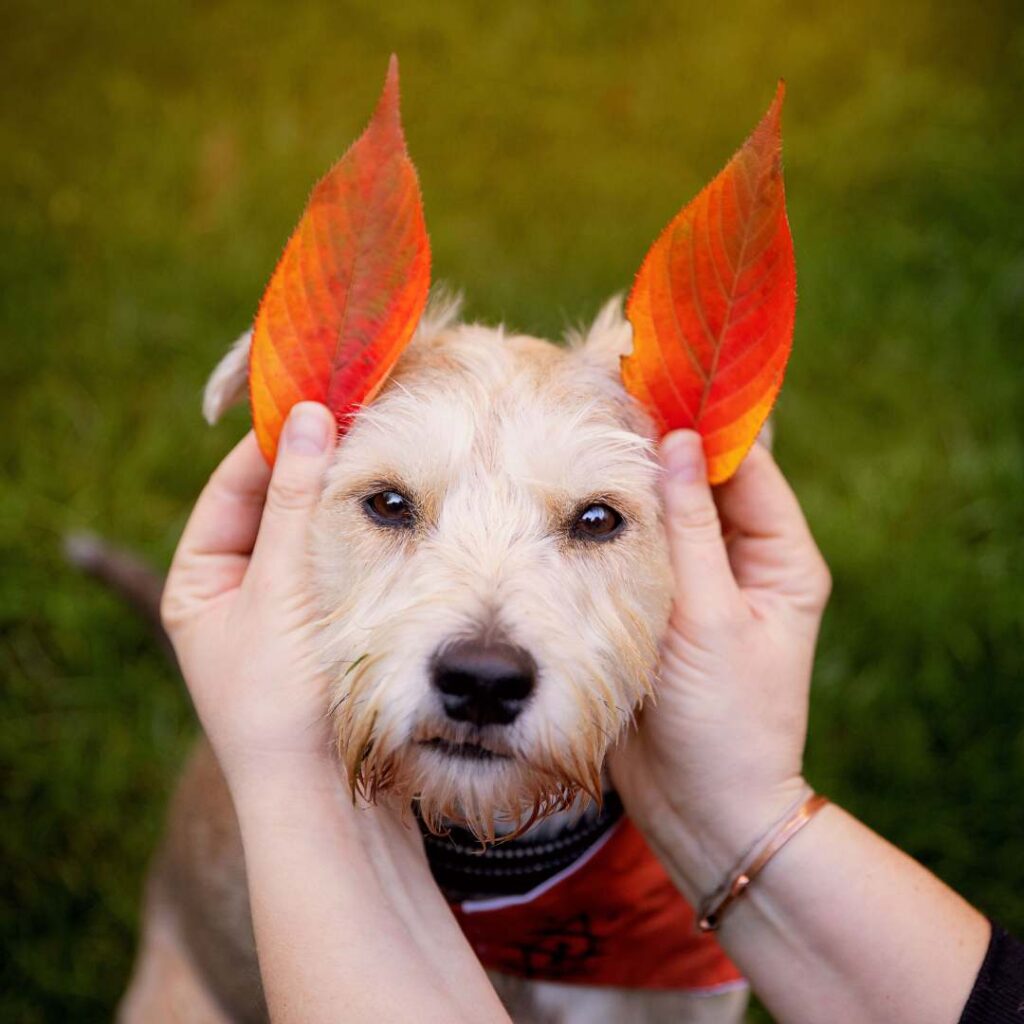 Pumpkin season photos
Bright orange pumpkins are the ultimate autumnal decoration. Research dog-friendly pumpkin patches and take some snaps of your dog helping you pick out a pumpkin. Bonus points for cute poses! Or buy your own pumpkin from the supermarket – there are plenty in stock at this time of year – and use your garden as a backdrop. Even more bonus points if you carve a decorative design or spooky symbol into your pumpkin for Halloween-themed photos.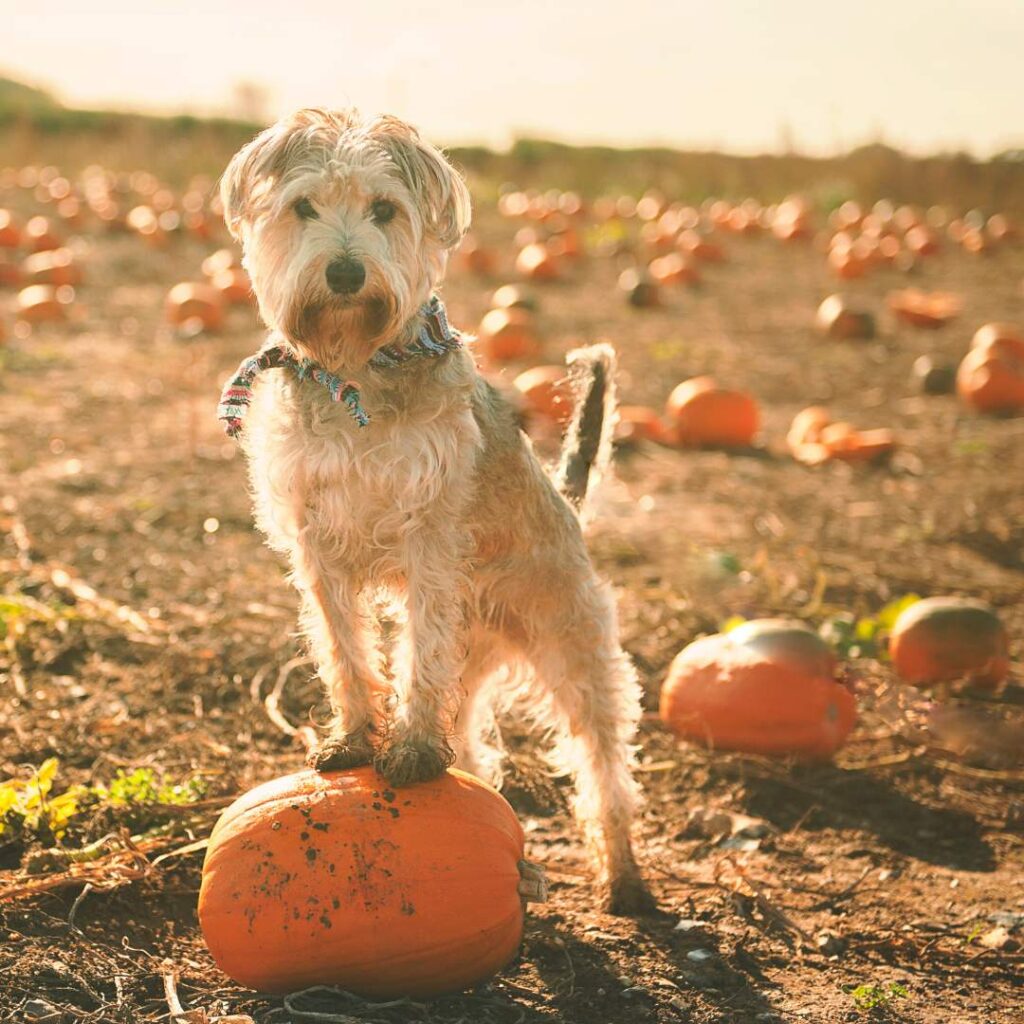 Sunrise and sunset snaps
The shorter days at this time of year can be a tricky adjustment, but it does mean your walks are often timed with gorgeous sunrises or sunsets. If your dog has good recall and you're in a safe place to let them off the lead, turn the exposure down on your camera to capture a colourful sunset/sunrise shot featuring your dog's silhouette.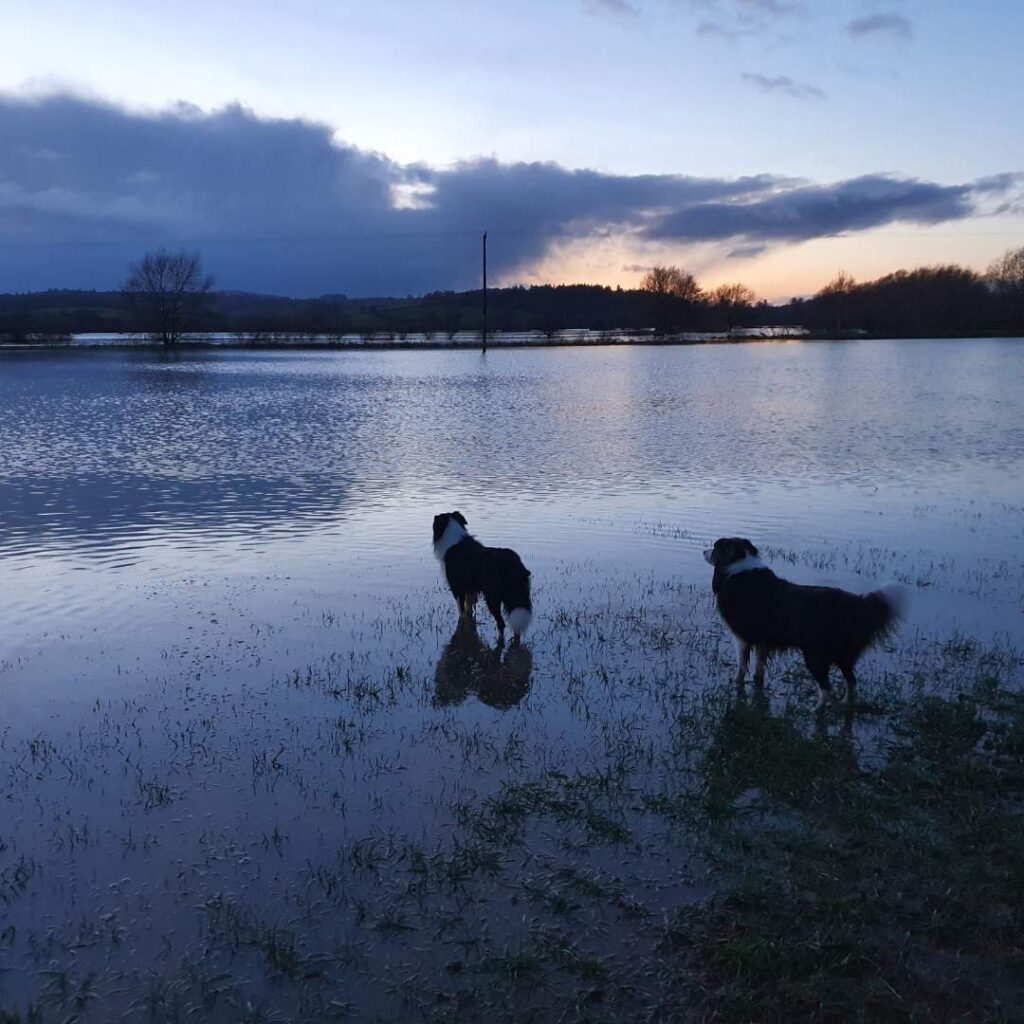 Stage a leaf shower
This is another idea which works best if you're with another person. Find a pile of brightly coloured leaves and encourage your dog to sit down. Frame up your photo, and get the other person to gather up a big bunch of leaves. One.. two.. three – your friend throws up the leaves, and you snap a fun photo of your dog in the middle of their very own leaf shower. Pro tip: this works best as an action shot (your dog will probably jump up at some point), so snap lots of photos one after another for the best chance of capturing that perfect picture.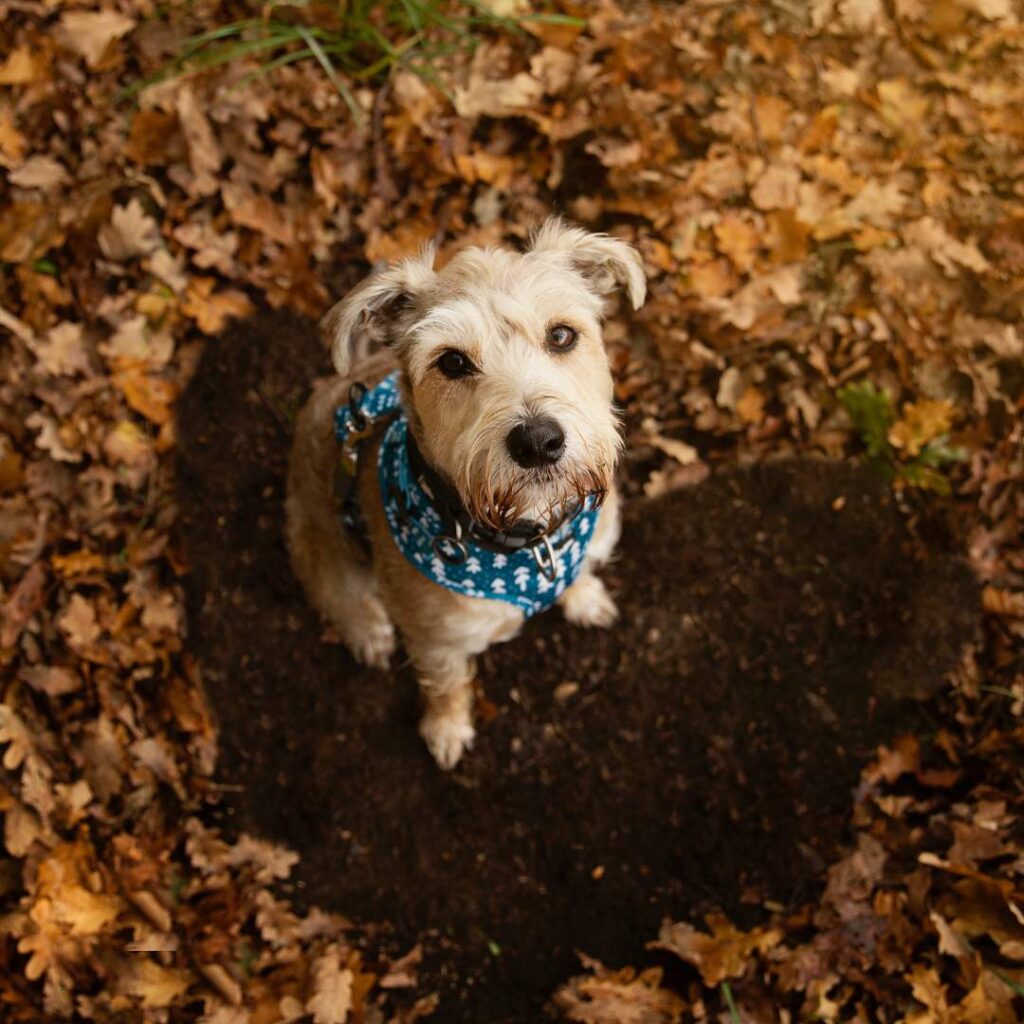 Funny dog photos
Most importantly, don't be afraid to fail on your autumnal dog photoshoot. Sometimes the photos of our dogs that we love the most are the ones that aren't quite perfect. Whether it's a snap where your dog is clearly distracted by a squirrel, or rolling around in a pile of colourful leaves, a photo fail can be a cause for celebration!
After all that sitting still for the perfect photo, your dog will deserve a treat or two. Then it's off home to share your cute dog photos this autumn on social media, or print them out and pop them in a frame for a longer-lasting memory of these golden days.