Summer's nearly here! If you're anything like us, you and your dog are looking forward to getting out to enjoy long walks or hiking in the countryside. There are a few considerations you need to take into account to make it a safe, enjoyable and fun activity for all involved.
Obviously, you both need to build up your endurance levels for regular hiking activities so start slow, gradually increasing the length and difficulty of your routes.
Tips to stay safe when hiking
We also need to be responsible dog owners and think about other countryside users, wildlife and farm animals. Here's our summary of top tips to keep safe during summer walks and hikes:
Your dog is required to be on a lead at all times in the countryside between March and July to protect vulnerable ground nesting birds and other wildlife.

At other times of the year dogs should either be on a lead or under your control nearby; this is a great reason to get working on your dog's obedience training, especially recall, to allow them freedom to exercise off lead responsibly and come back when there is a potential hazard.

A short lead is advisable around livestock on farmland, as even the most well behaved dogs can worry livestock if free roaming; sheep and lambs in particular are prone to stress from dogs.

Make sure your dog's vaccinations and worming are up to date to prevent risk of disease or transmission to wildlife and farm animals. 

Ticks are a big issue in the UK with Lyme's disease on the rise so check out our article on how to tackle ticks here.

Always clean up after your dog and dispose of waste responsibly to avoid spoiling natural areas or leaving behind an infection risk to other people and animals.

Keep to pathways, be road safe with your dog, close any gates behind you and always take litter home.
What to take hiking with your dog
In terms of supplies you might need for an enjoyable hiking experience, here's our list of items you should bring:
Collapsible food and water bowls.

An adequate supply of food; your dog may need extra calories in larger meals for long hikes. Be sure to allow at least an hour for your dog to rest and digest each meal after eating.

Clean water. Your dog may pick up infections and certain parasites if drinking from contaminated or soiled outdoor water sources so offer a clean supply regularly.

Basic first aid kit; your local vet clinic or dog training clubs may host local first aid courses. Antiseptic for small grazes or cuts, a tick remover tool and basic bandaging materials are excellent items to include.

Dog backpacks are available online and allow your dog to carry their own supplies; take care to get them used to this and build up the level gradually without overloading them.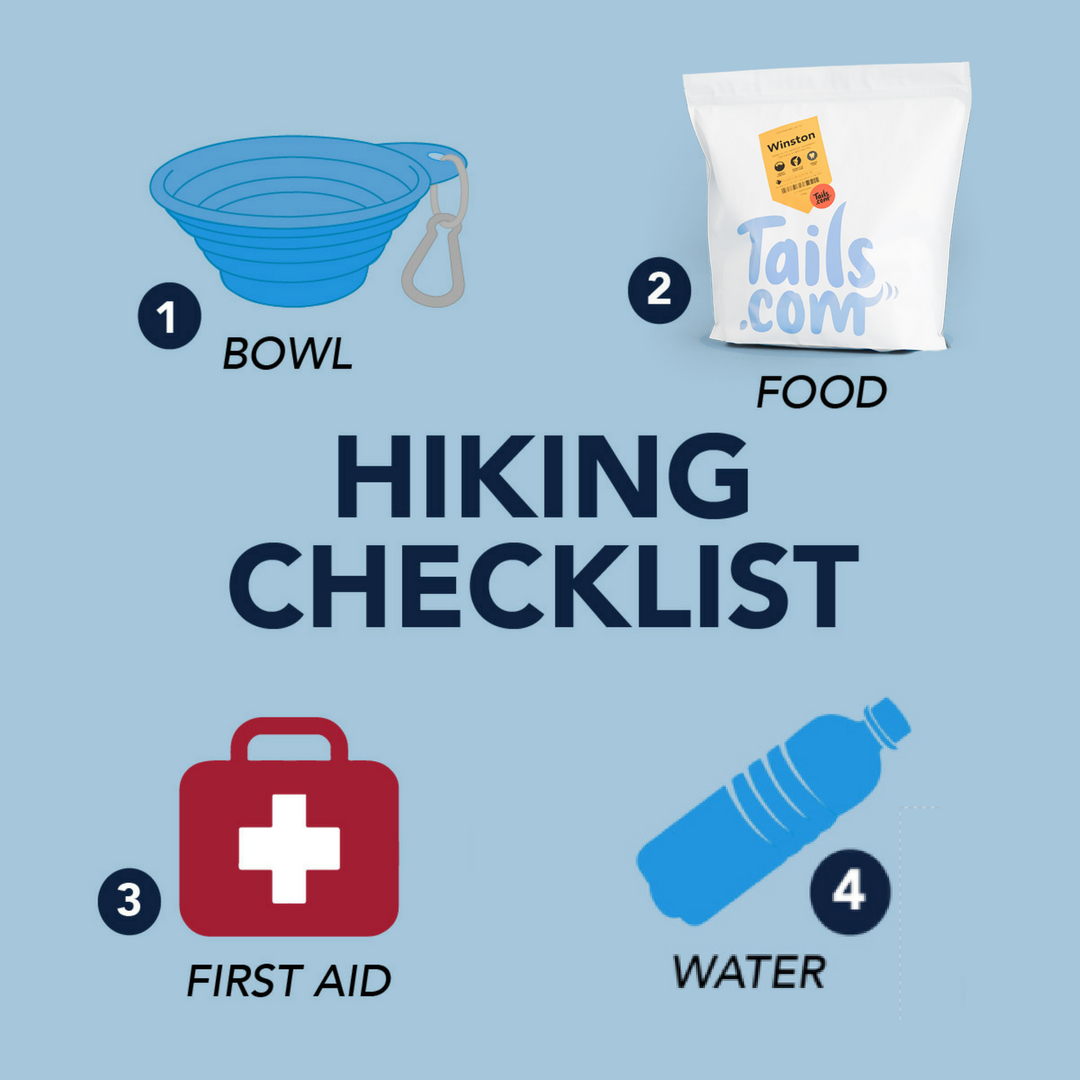 Happy hiking!