Sometimes as a dog owner it feels like you can't turn your back for a minute without them eating something they shouldn't. Plants can often be an easy target, but did you know many garden and houseplant varieties are harmful to dogs? Some, like the Lace fern (Asparagus densiflorus cv sprengeri) are actually quite poisonous.
Before you relegate your aspidistra to the compost heap, thankfully most of the harmful plant species do some of the work for you – they have an off-putting taste. Yet some dogs just can't help biting off more than they should chew, especially puppies who love to explore the world with their mouths.
We've rounded up a handy list of indoor and outdoor plants that are dangerous, poisonous or toxic to dogs, alongside some simple advice on what to do if your dog eats one.
Inside the home
Which common houseplants are poisonous to dogs?
Some of our favourite houseplants can be mildly irritant or even toxic to dogs – if eaten in big quantities. Others can be much lower risk if they're simply out of harm's way. We've broken them down into groups, ranging from zero to high risk for your dog.
Plants with zero risk to dogs:
Ferns (the exception is the Asparagus fern which is toxic to dogs)
Mother-in-law's Tongue or Snakeplant (Sanseveria)
Palms (the best species is probably Kentia Palm, but Sago Palm is very toxic so avoid)
Spider plants
Plants with some risk:
Weeping Fig (Ficus benjamina)
Rubber Tree (Ficus elastica) (a very low level irritant if consumed)
Pothos vine (a little more of an irritant and can cause vomiting if consumed but if placed high up it shouldn't be an issue for your dog)
Very dangerous plants for dogs:
Dumb Cane (Dieffenbachia)
Jade plants, Money plants or Rubber Plants (Crassula)
English Ivy (Hedera)
Dragon plants (Dracaena)
Aloe vera
Elephants Ears (Caladium)
Philodendron
Cacti that are spiny
In the garden
We haven't met a dog yet who doesn't love a good nose, dig or burrow, so it's good to know which common garden plants are poisonous to dogs. Sometimes the most surprising garden varieties are the biggest culprits – like unripe tomato plants and potato plants for example. We recommend avoiding these common garden plants in your own patch: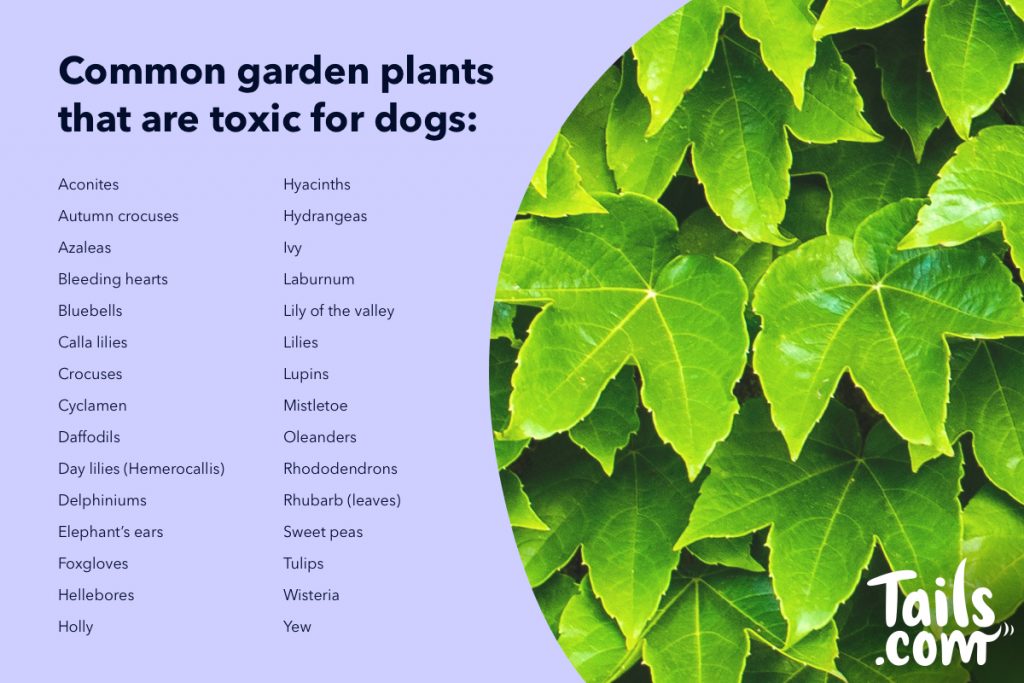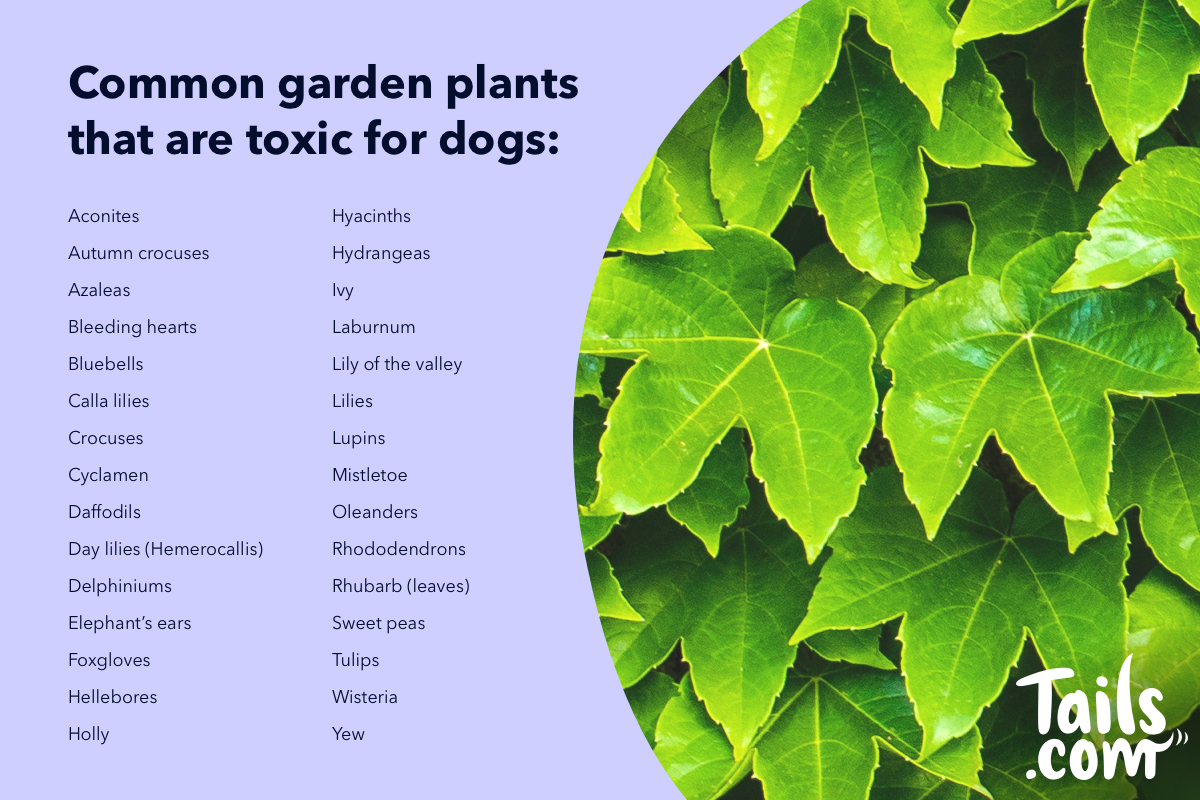 What part of the plant is harmful?
It really depends on the plant, and what part of the plant gets eaten. Some plant bits are more poisonous for dogs than others – for example, daffodil and crocus flowers can be harmful, but their bulbs are far more dangerous. This is because bulbs are more concentrated than leaves or flowers, plus their shape also makes them more tempting to eat if left lying around. This especially applies to onions and garlic bulbs and you should take your dog straight to the vet if you think they've eaten any of these.
Related blog: What foods are harmful to dogs?
What happens if my dog has eaten a poisonous plant?
Symptoms can range massively from an upset stomach with sickness or diarrhoea, to irritated skin. If they eat a foxglove – a plant very toxic to dogs – the impact can be much more dangerous and will require emergency veterinary care. Look out for:
Lethargy
Shivering or shaking
Vomiting
Diarrhoea
Itchy/irritated skin
Refusing food
What should I do if my dog eats a plant?
If they've simply munched on a few leaves that will make them sick (we've all seen dogs eat grass occasionally) a little TLC is probably all that's needed.
But at the same time we don't expect you to be a horticultural expert and identify every plant or how much of one has been eaten by your dog. If you're in any doubt about whether they've ingested part of a dangerous plant, you should visit your vet as soon as possible. .
If you can, take the plant with you to help your vet identify what your dog's eaten. Common names for plants can vary (for example, there are three different plants commonly known as bleeding hearts), so having the plant to hand will help your vet correctly diagnose your dog. Treatments can range from simply making your dog sick to treating them for toxicity, even surgery if necessary.
How can I stop my dog eating dangerous plants?
At home, prevention is the best course of action. It's better to not have any houseplants that are harmful to dogs. And if you do, just pop them in places where the dog can't get at them.
Outside, the trick is to be a bit more observant and ready to intervene if you see a snout heading where it shouldn't. Whether in the garden or out for a walk, if your dog starts sniffing a harmful plant, a quick, sharp 'no' should do the job. But keep in mind you might have to physically remove your dog from the plant – or indeed a part of the plant from your dog's mouth.