We love sharing a treat with our dog – and the good news is that when it comes to treat-time, you've got plenty of foods to choose from. We've even put together a handy guide on everything they can safely enjoy here.
But this blog is all about the bad stuff. If you're a seasoned dog owner or a brand new one, use this blog as a handy guide to all the foods you should keep well out of reach. Some will make your dog feel a little unwell, whilst others are seriously harmful, toxic – and can potentially kill them.
Some food you might already know like chocolate and alcohol. But what about nuts or dairy? There might be a surprise or two in the list below…
Alcohol
Alcohol affects dogs more intensely than humans and is really damaging to lots of your dog's organs – including the kidneys, liver, and stomach. Be extra careful if sweet alcoholic drinks are around, as the sugar can cover up the alcohol flavour that normally puts dogs off.
Chocolate
Another big no-no is chocolate. It contains theobromine – a substance similar to caffeine that's poisonous for dogs. Dark chocolate can be especially dangerous as it contains much more theobromine than regular milk choc.
Caffeine
Coffee (and tea) is a stimulant – it can make dogs anxious, hyperactive, and affect their heart. It can even cause them to collapse or have a seizure if they have too much. It's best to keep that morning brew out of reach.
Apple pips
Apple pips contain cyanide – so ditch the core, and serve tasty pip-free slices instead.
Blue cheese
Dairy is best avoided altogether, but blue cheese can be especially dangerous. It releases roquefortine C – a toxin that, in severe cases, can cause tremors and seizures.
Grapes, raisins, and currants
These are all highly toxic, causing serious problems – including kidney failure. If your dog gets hold of these, it's best to get them to the vet quickly.
Onions, garlic, and leeks
These all contain thiosulphate which causes gastrointestinal problems and severe anemia. Lots of dishes contain any one of these, so keep anything risky out of reach.
Xylitol
A common artificial sweetener, xylitol is toxic for dogs – and it's often in things you wouldn't expect (like peanut butter).
Avocado
This brunch staple contains persin – a chemical that can upset your dog's stomach.
Milk and cheese
Dogs can't digest lactose properly, so it's best to avoid feeding them milk, cheese, or any other high-lactose dairy products.
Shellfish
See what fish is fine here – but shellfish like crab, prawns, and crayfish contain pathogens that can make your dog very unwell. Shellfish also has high levels of an amino acid called histidine, which can cause an allergic reaction.
Most nuts
When it comes to nuts, avoid everything except xylitol-free peanut butter. Most nuts can leave your dog very poorly – and macadamia nuts are particularly dangerous, as they can cause vomiting, fever, and muscle weakness.
Bones
Cooked bones are brittle, meaning pieces can break off and get stuck in your dog's throat or digestive system. Raw bones must be stored properly, as they can carry nasty bacteria that will upset your dog's stomach.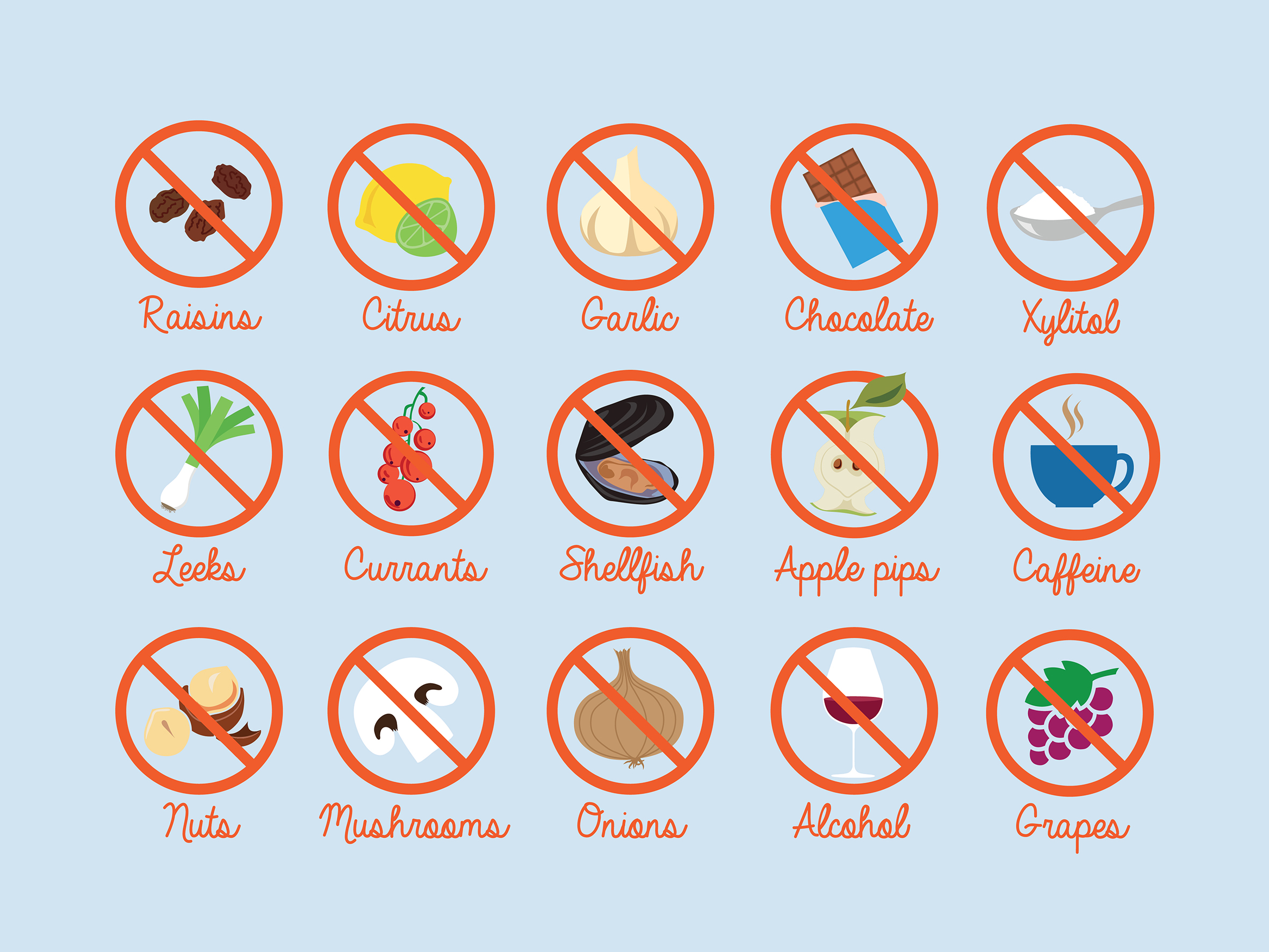 How can I tell if my dog has eaten something that's bad for them?
It depends on what they've eaten, but if you notice anything off – or if there's vomiting, diarrhoea, or even seizures – get them straight down to the vet for a check up. Stick to regular mealtimes to keep track of your dog's digestive health and help you spot anything out of the ordinary.
How can I stop my dog eating something that's bad for them?
Keep anything dangerous out of reach. And if your dog is a bit of a scavenger, keep temptation at bay by feeding a delicious and nutritionally complete food at mealtimes.