Office dog Bear loves any type of celebration, especially if it means his mum Kim will be cooking some dog friendly treats in the kitchen!
Luckily for Bear and the other office dogs, we'll be celebrating pancake day together – it's not just for humans anymore – with Bear's Peanut Butter Pancakes! This dog-friendly recipe is easy to make and lets dogs join in the fun with pancakes that are just as tasty as the ones for you and me. They've been Bear tested and approved with two paws up and an enthusiastically wagging tail – just don't mix them up with your own pancake batter!
Ingredients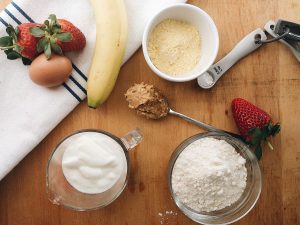 1 medium egg

1/2 cup (120ml) + 2 tbsps lactose-free buttermilk
Or a homemade alternative: 1/2 cup (120ml) +2 tbsp of lactose-free milk with 1/2 tbsp of apple cider vinegar

2 tbsps natural peanut butter (xylitol and palm oil free)

1/2 cup (64g) buckwheat flour

2 tbsps quick-cook polenta

1/2 tsp baking powder

2-3 tbsps water, as needed

Oil for cooking, as needed
Related blog: Dogs and peanut butter  – what you need to know
Instructions
In a medium sized bowl, beat the egg, then mix in the buttermilk and peanut butter. Add in the buckwheat flour, polenta and baking powder, mixing it until it forms a thick batter. Add water if the batter is too thick. Once mixed, let sit for 10 minutes.
Drizzle a little oil in your pan and cook the pancakes on one side until the underside is golden brown then flip and cook until both sides are golden brown.
Once cooked, mix together 2 tbsps of peanut butter with 1 tbsp of warm water and drizzle over the pancakes. Add fresh, hulled strawberries and serve!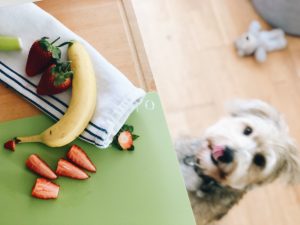 TIP: You could also use an apple, banana or one of your dog's favourite fruit instead of strawberries
If you make this delicious pancake recipe, share your experience with us on social media using our hashtag #tailsdotcom
You can find us on:
Facebook: @tailsuk
Instagram: @tails.com_uk
Remember that all treats count, so if you do serve up these pooch-friendly pancakes, balance the extra calories out with a longer walk or a bit more play.
Want another delicious peanut butter-based recipe? Try Bear's Peanut Butter Cookies