That look on their faces when it's treat time? Just wait until they've tried Sean's Orchard Fruit Flapjacks from The Happy Dog Cookbook – a collection of 24 healthy, nutritious and tasty recipes, featuring family food expert and dog lover Annabel Karmel.
This is one of our absolute faves – a fruity take on the traditional flapjack that's howlingly good for humans and hounds alike. These flapjacks are the ultimate treat to take on long walks, a delicious and slow-release energy hit that your dog will work hard for. There's a zingy bit of ginger too, which can help sensitive tummies.
Ingredients:
200g rolled oats
1 apple, core and grated
20 ripe blackberries
1½ tbsp honey
3 tbsp sunflower oil
1 tbsp ground cinnamon
1 tbsp ground ginger
1 egg, beaten
Equipment:
A 20-cm square baking tin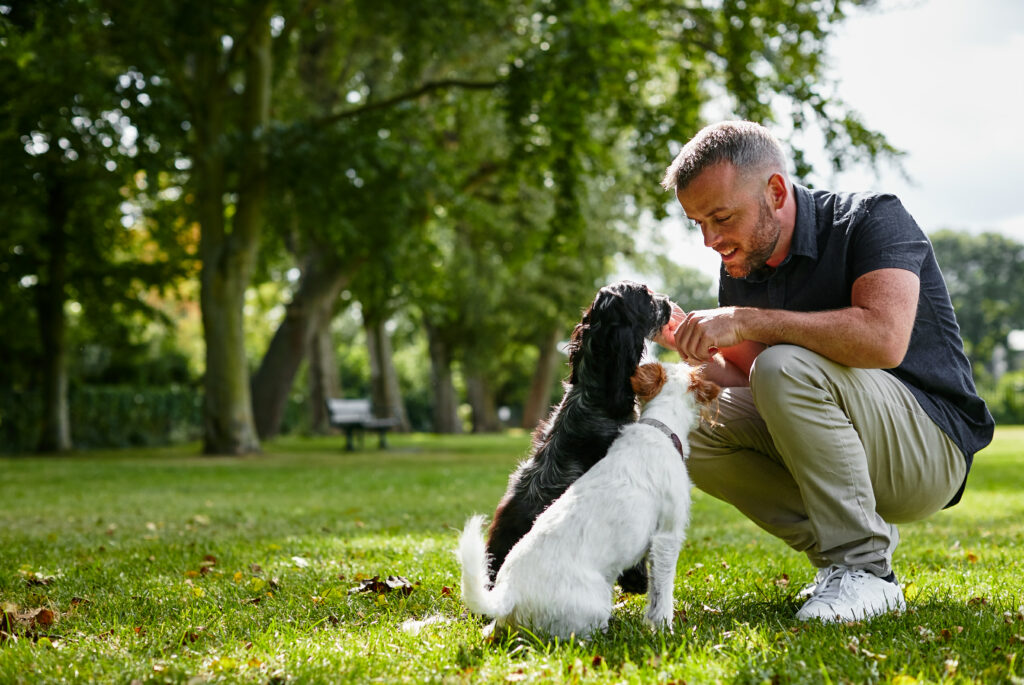 Method:
Preheat the oven to 180°C (fan)/gas 6 and line the baking tin with non-stick baking paper.
Place all of the ingredients in a saucepan and stir over a low heat for 3 minutes to melt the honey and combine everything well.
Tip the mixture into the prepared baking tray. Smooth roughly level, then press the oats down firmly with the back of the spoon or a spatula.
Bake the flapjacks in the preheated oven for 20 minutes, or until a light golden brown. Leave to cool, then remove from the tin and cut into bite-sized chunks.
Serve sparingly as a high-reward treat.
Store the flapjacks in an airtight container for up to a week, but if you taste one for yourself, chances are they won't last that long.
We'd like to raise a paw to the amazing charity StreetVet, which helps homeless people and their dogs with free vet care. StreetVet will receive all the profits from The Happy Dog Cookbook. If you'd like to buy a copy, they're available at Amazon, Foyles.co.uk, and Waterstones.com (Pssst! They make great stocking fillers!)
We've loved seeing all your bakes – and hope you agree there's so much joy baking for your dog. Tell us if they've enjoyed a taste of Guilt-Free Breakfast Bakes, Cleo's Chicken and Apple Balls and our Good Boy Beetroot and Cheese Bone Biscuits – pop #happydogcookbook and #tailsdotcom on your post if you'd like to share.
Happy cooking from all of us at tails.com
You can find us at:
Facebook: @tailsUK
Instagram: @tails.com_uk
Ready for more deliciousness? Treat your dog to 50% off tailored dog food!