We're planning a good old-fashioned Easter egg hunt around our homes and gardens this year and wanted to get our pups involved, so we've put together this quick and easy recipe for doggy Easter eggs!
The smell of you making them will definitely have your dog sniffing out where that delicious scent is coming from and hoping it's for them.
To make them, you will need:
Ingredients
140g of xylitol-free peanut butter
140g of coconut oil
Optional extras for crunch: Good Dog Treats, apple chunks, carrot pieces
Equipment
Tip: you could also use a small ice cube tray
Ready, set, bake!
Add the xylitol-free peanut butter and coconut oil to a microwave-safe bowl
Then microwave for 45 seconds or until completely melted
Stir the mixture to get rid of any lumps, then pour it into the egg mould or ice cube tray until nearly full
Add any optional extras into the moulds now as a crunchy surprise for your pooch!
Put the moulds or trays in the fridge for 2 hours or until the eggs have hardened
When your eggs have solidified, take one out and give it to your dog as a treat or make them their own Easter egg hunt!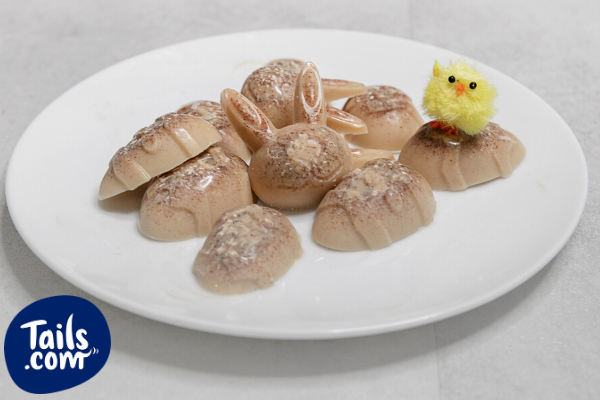 Our doggy Easter eggs aren't made with gluten or grain, so are perfect for pups who may have wheat allergies – don't forget to check the ingredients of any optional extras if your pup does have allergies.
Our office dogs have tried and tested them, and they give them a paws up! Don't forget to give them to your pooch in moderation and reduce their dinner size slightly to keep them happy and healthy.

We hope your pup enjoys our doggy Easter eggs as much as our office dogs did! If you're planning on giving them a go, don't forget to share your pictures and videos with us on social media! You can find us on Facebook or Instagram.
If you're in the mood to make even more delicious homemade treats for you pooch, take a look at The Happy Dog Cookbook by our Head Vet Sean featuring family food expert and dog lover Annabel Karmel – it's packed with 24 tasty and nutritious recipes, plus tips and advice!
All profits from the book go to our friends at StreetVet, a charity close to our hearts which provides free vet care to the homeless and their pets.