Back in April we shared our Dog Difference Study with you; the largest ever study into the impact that our pets have on our lives. The report explored how dogs in particular have become attuned to our emotions and have been helping us cope with the stresses and strains of lockdown living.
You already know how much fun and affection a pet can bring into your life, but did you know that pets have some powerful physical and mental health benefits too?
Dogs can help to reduce stress, anxiety as well as encourage social contact and physical activity – but most importantly – dogs bring unconditional love and happiness into our lives without even knowing it.
The report highlighted that dog owners in the UK are much better equipped to deal with the stresses and strains of post-lockdown life, with certain breeds (such as lurchers) topping the dog therapy charts.
From the surprising to the heartwarming, discover the highlights from the dog difference report below.
Lurchers are the UK's top therapy dog according to 83% of their owners
Lurchers are the perfect companion. At times quite lazy, super affectionate and loving nothing more than getting up close for a cuddle. But with a manic energy burst every now and again to put a smile on your face with their comical antics.
Top 10 Four-Legged Dog Therapists Revealed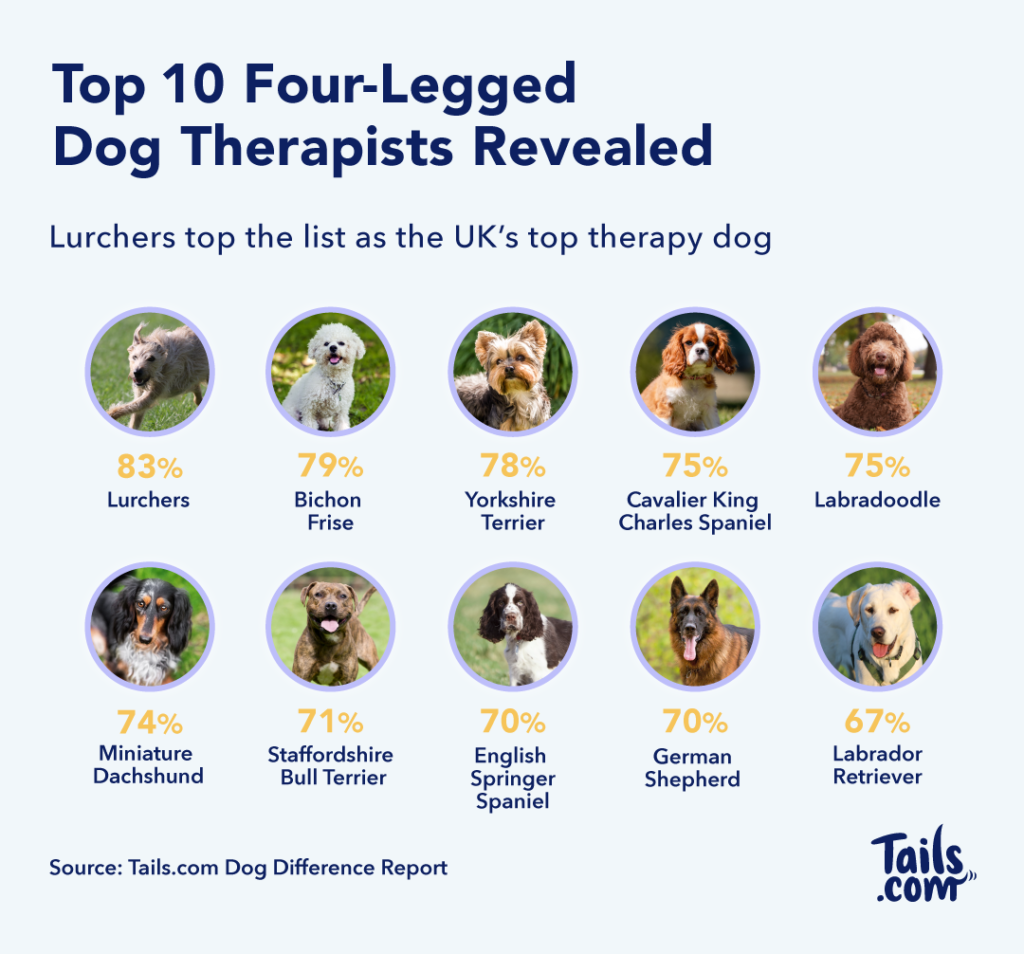 The mood-boosting power of pets revealed
Feeling a bit overwhelmed at the moment? Then turn to your four-legged friend to experience some of the therapeutic effects they can bring.
Almost three-quarters (71%) of the dog owners we asked said that their pooch had cheered them up when times were tough during lockdown.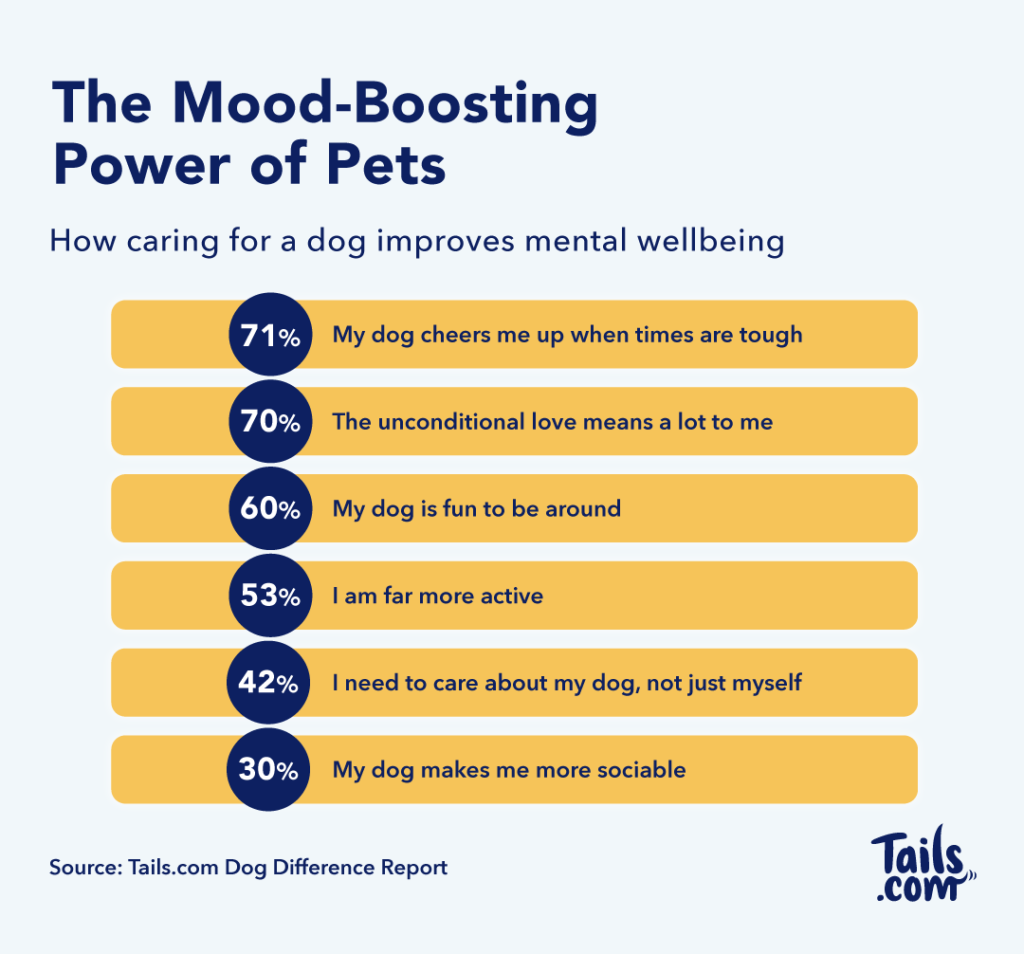 For one in three (30%) dog owners, companionship was the top reason for owning a dog, with a further third saying it's made them more sociable during the lockdown period.
Over half (53%) said the health benefits of owning a dog during lockdown were important as gyms, swimming pools and other fitness facilities were closed.
Dogs fulfill the basic human need for touch, which explains why we feel better after a hands-on play session with our pooches. And a scientific study from Washington State University backs this up. They found that a 10-minute hands-on interaction with dogs significantly lowered levels of the stress hormone cortisol in their human test subjects.
66% would describe their dog as a 'four-legged therapist'
The report found that two-thirds (66%) of dog owners would call their dog a 'four-legged therapist', with more women (68%) than men (59%) likely to say this.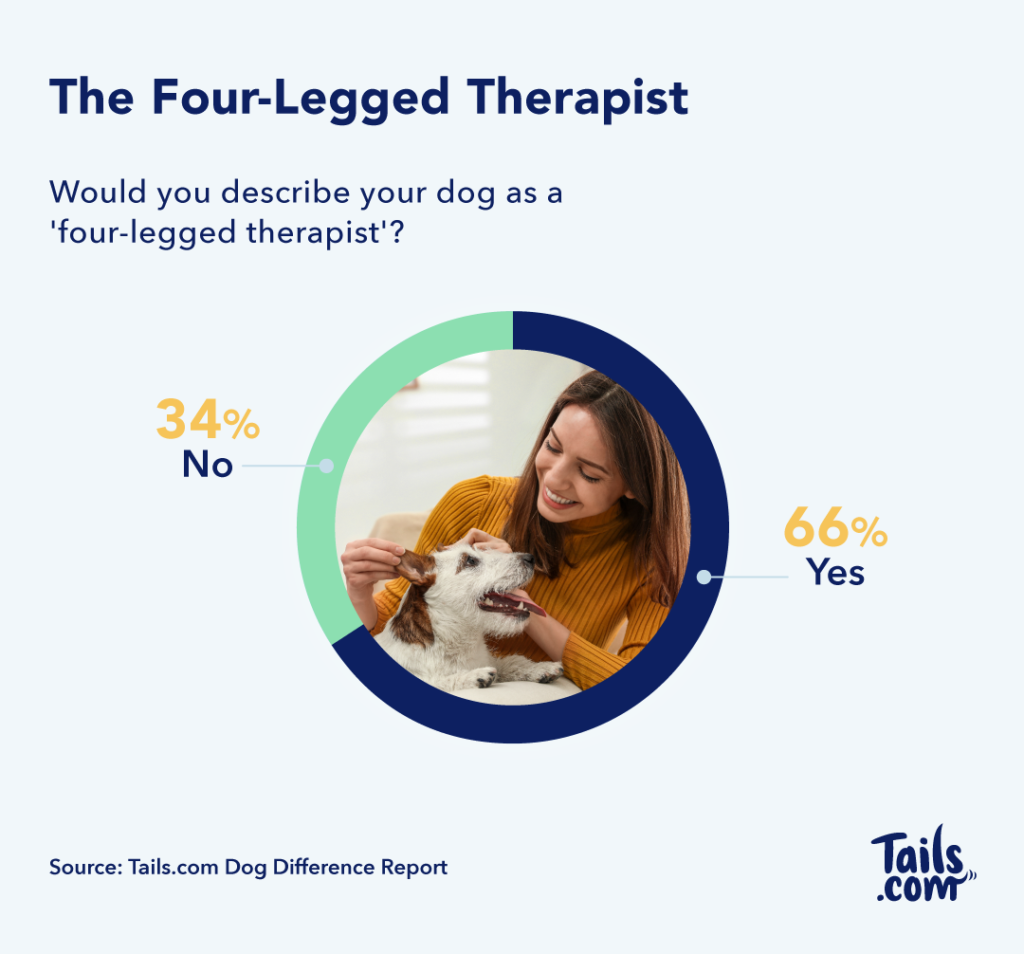 Top reasons for getting a dog revealed
In June, the Dogs Trust reported an overwhelming response from dog-lovers wanting to volunteer, foster and rehome a dog during lockdown – one day in June saw a 48% increase in requests.
While we're not advocating rushing out to adopt a dog during this time, the report revealed our top reasons for wanting to become a paw-rent.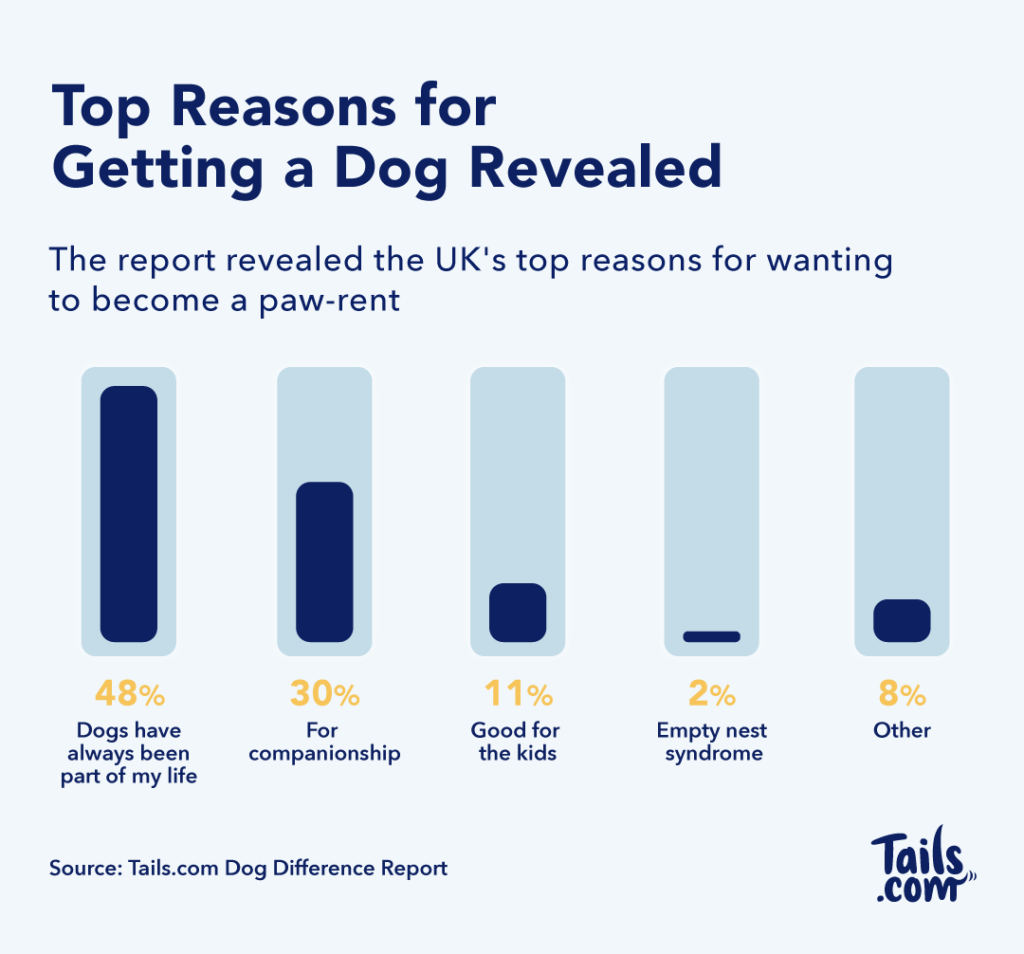 It's good to talk (to your dog)
Have you ever found yourself telling your pooch that you'll "be home soon?" or saying "goodnight" as you head upstairs? Well, you're not alone!
Our Dog Difference Report found that 85% women surveyed chat all day to their dog when they're in the house together and interestingly 79% of men do the same.
Two in five (40%) admit telling their dog a secret or confiding in their dog before telling their partner or best friend!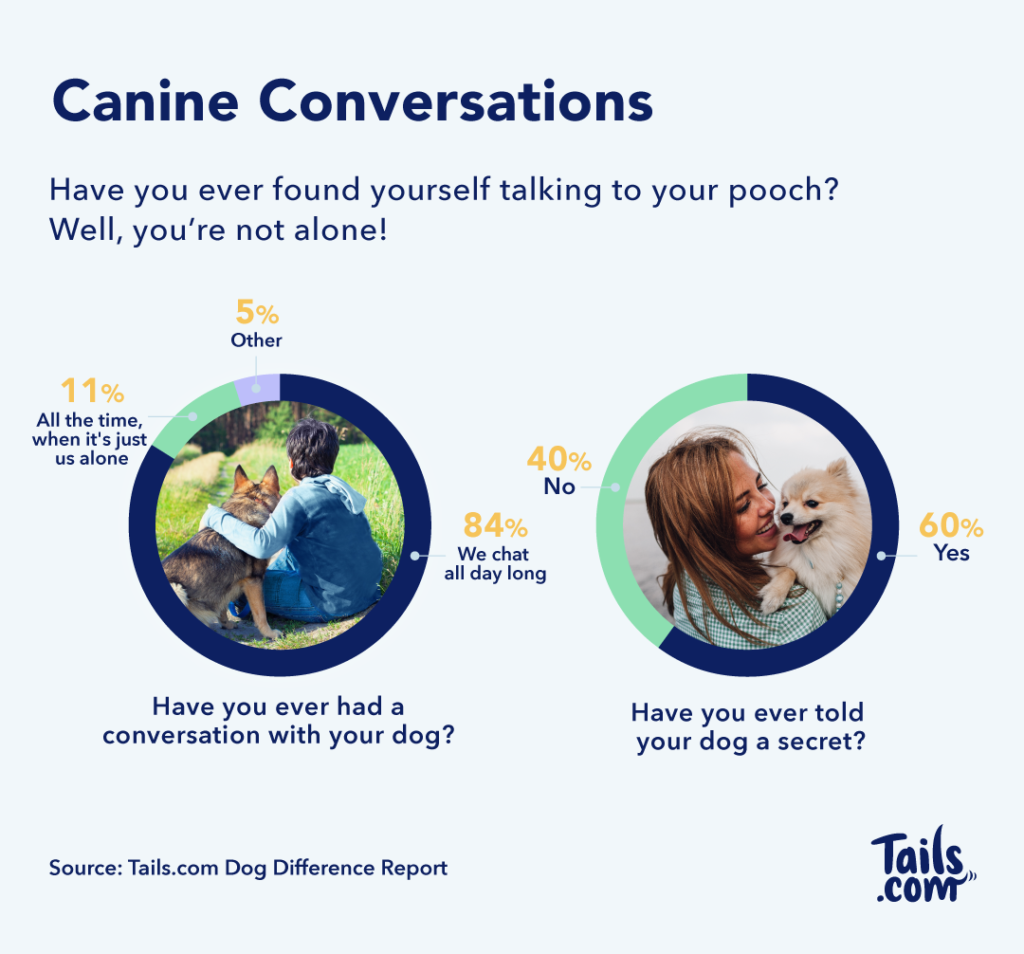 But what do we get out of these canine conversations? Anthrozoologist and professor of psychology at Western Carolina University Hal Herzog spoke to The Atlantic about this:
"Talking to our pets is absolutely natural. Human beings are natural anthropomorphizers, meaning we naturally tend to ascribe all kinds of thoughts and meanings to other things in our lives.
"When it comes to pets, people often think of them as little members of the family. So of course people talk to them."
Herzog went on to explain that dogs do understand us, but not in the way we might expect
"They give us a lot back! When you talk to them, they respond. Your dog might cock his head, give you a sort of quizzical look, like, Huh? I say 'Do you wanna go outside?' and my cat will come up to me and she'll meow.
"I don't think she's processing words the same way we process words, but we have this communication system based on language."
5 ways dogs shape our children's personalities
We asked dog owners who were also parents to tell us how they felt dogs had shaped their children's personalities.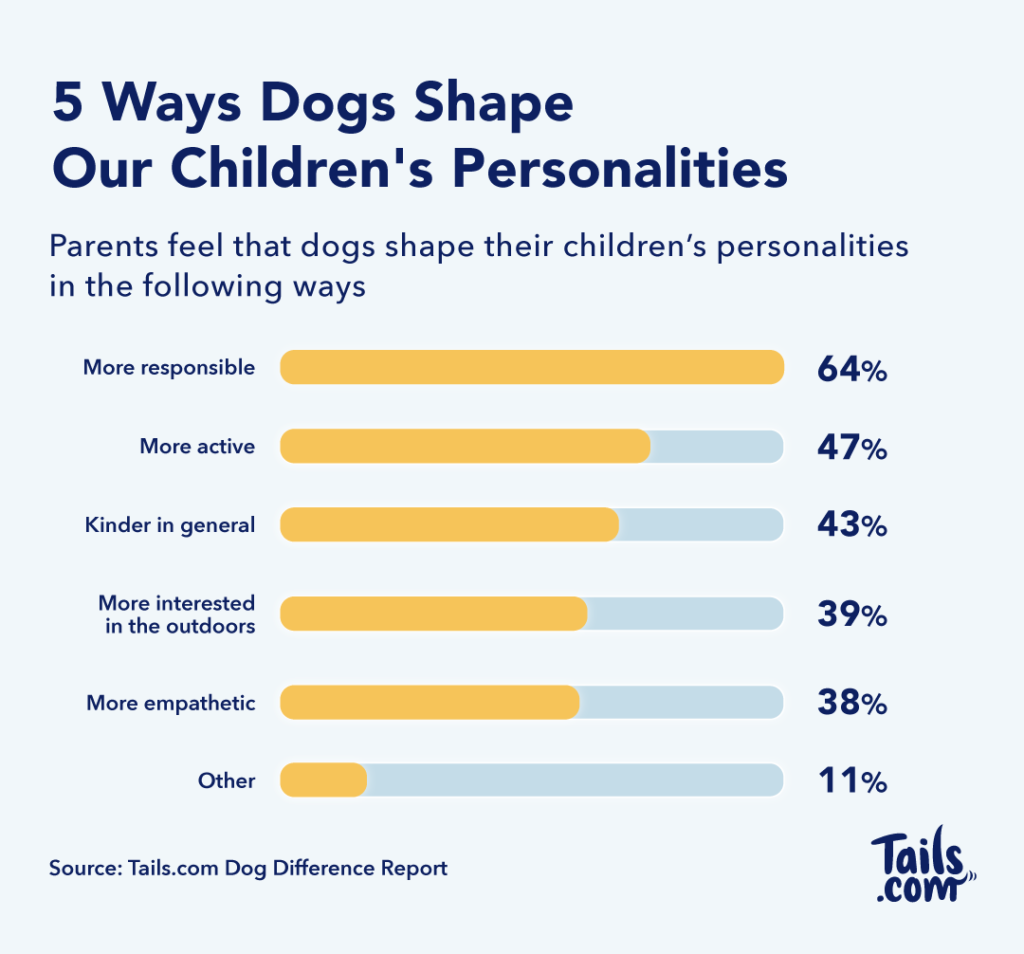 Two thirds (64%) of parents said it made their kids more responsible and over a third said it made their kids more empathetic.
Tails.com Head Vet Sean McCormack explains why dogs are great for teaching kids responsibility and has some tips on how they can help out in a safe way:
"As kids get older, they can take on more responsibility for care of the family dog, but it's worth remembering to lead by example and set appropriate tasks for their age.
"You can encourage kids to assist with simple tasks such as grooming by placing their hand over yours on the brush, or getting them to pour the right amount of dry dog food into the bowl. If your child is young, you might want to put the bowl down for the dog, just in case your dog gets too excited for mealtimes.
"Supervise them until you're happy that they can perform these tasks on their own and always think of 'dog duty' as a fun and exciting thing to do – then your child will eagerly take on the responsibility!"
The study also found that boys were more likely to demonstrate increased kindness and empathy as a result of dog ownership while girls were more likely to be interested in nature and be more active.