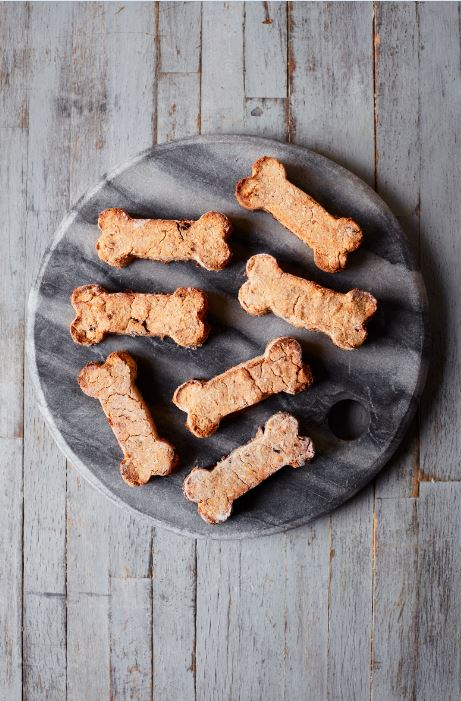 We know you love treating your dogs, so Head Vet Sean has created The Happy Dog Cookbook with Annabel Karmel, leading children's cookery author and family food expert. It's a collection of 24 delicious recipes to reward your dog in a healthier and nutritious way, plus there are plenty of tips on nutrition, health and weight control.
To give both you and your pup a taste of The Happy Dog Cookbook, check out our apple, cranberry & peanut butter oat cookies which are made with antioxidant-rich cranberries and irresistible peanut butter, yum!
Ingredients
165g coconut flour, plus extra for dusting
40g porridge oats
25g desiccated coconut
40g dried cranberries, chopped
40g dried apple, chopped into small pieces
1 tbsp ground cinnamon
4 heaped tbsp xylitol-free peanut butter
3 eggs, beaten
Equipment
Bone-shaped cookie cutters
Method
Preheat the oven to 140°C (fan)/gas 3 and line two baking trays with non-stick baking paper.
Put the flour, oats, coconut, cranberries, apple and cinnamon into a food processor and whiz until finely chopped. Add the peanut butter, eggs and 6 tablespoons or water and whiz again until mixture comes together into a dough.
Dust a work surface with a little coconut flour. Lightly knead the dough until workable, then roll out to 1½ cm thick.
Cut out shapes using doggy cookie cutters to make bones or paws, and lay them on the prepared baking trays. Bake in the preheated oven for 30-35 minutes, or until lightly browned.
Transfer to a wire rack to cool before treating your tail-wagging sidekick.
Store the cookies in an airtight container for up to 3 days, or freeze for up to 3 months.
We hope your pup enjoys these tasty treats and we'd love to see a picture or video if you bake your own! Don't forget to share your pictures on social media using our hashtag #tailsdotcom
You can find us at:
Facebook: @tailsUK
Instagram: @tails.com_uk
Ready for more deliciousness? Treat your dog to 2 weeks free tailored dog food!