Did someone say party? Let's celebrate together with a no-bake pupcake. It's made with dog-friendly peanut butter (which means no xylitol sweetener) and healthy oats, and just needs a little ping in the microwave to get things popping.
We admit it, we love frosting ours with this rather novel way to make icing. Don't forget to have a pack of Good Dog treats on hand too to add a little je ne sais quoi at the end.
Tip: we like offering recipes you can eat as well as your dog but this one is more the just for your dog variety (you probably don't want to try potato frosting.)
Looking for the perfect gift for your dog's birthday, adoption day or just 'cause? Our brand new Party Pack is bursting with fun, including a tasty biscuit bone ready for you to decorate, a lovable chew toy called Ollie the Octopus, two packs of tasty treats and an extra special party animal bandana
No-bake pupcakes
Serves:
1 – 2 depending on your dog
What you'll need:
Mug Cake (divide batter in half for smaller dogs):
2 teaspoons of xylitol-free peanut butter
4 tablespoons oats
1 egg
100ml of low salt chicken stock
Coconut or flaxseed oil, for greasing the mould or mug
Frosting:
1 small potato
1 teaspoon of dairy-free yoghurt
1 teaspoon of coconut oil (optional)
Good Dog Treats
Method:
Mix together the oats, egg and all of the chicken stock. Allow to rest for an hour or until the oats are nice and soft.
While you're waiting for the pupcake mixture to soften, peel the small potato (for your frosting) and pop it in a pan of boiling water and boil until it's soft and mashable
When your oats are ready, heat the peanut butter in a microwaveable bowl for 30 seconds or until it starts to melt.
Add it to your oat mixture and stir until well combined.
Transfer the mixture to a greased mug or silicone cupcake mould.
Heat in the microwave on HIGH for 90 seconds.
Now, take your cooked potato and mash it in a separate bowl with the coconut oil (if you're using) until smooth.
When it's at room temperature, add the yoghurt and mix well
Spread or pipe onto the pupcake
Decorate with a Good Dog Treat sprinkle
Watch how to make the pupcakes here.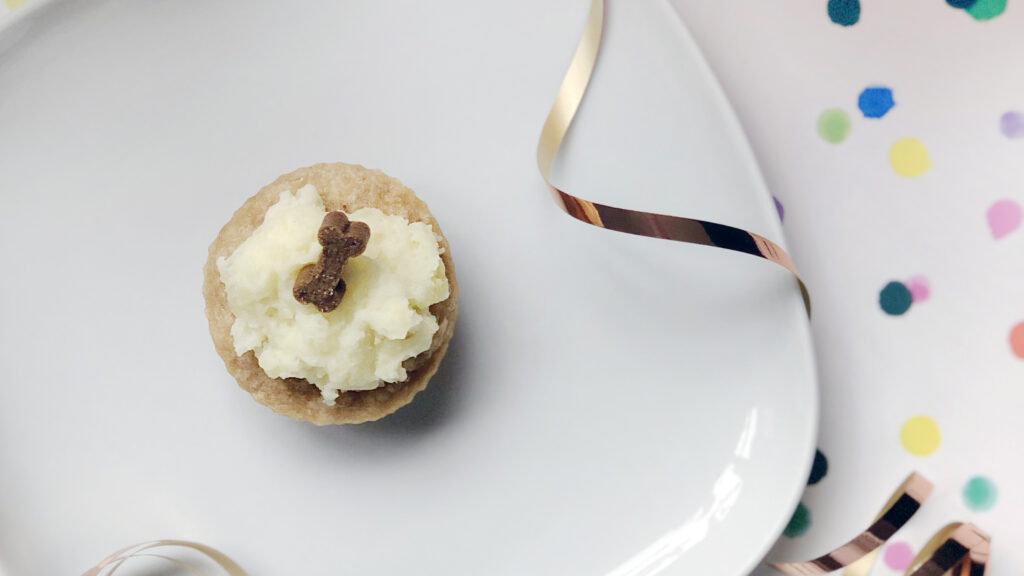 Our top tips:
To add some colour, beetroot juice to the potato frosting gives a healthy candy pink spin, without the sugar!
Or you can add a small handful of their tails.com kibble for extra crunch.
Here's to another year of healthy dogs, and good times. Happy birthday to us and all the tails.com dogs across the land.
Let us know if you make a pupcake for your dog, we love seeing all your baking and birthday photos on Instagram – just tag us with #tailsdotcom so we can find you.