From colourful beach huts to the smell of sun cream, and fish and chips on the beach – there's nothing quite like the British seaside. While we might enjoy an ice cream or stick of rock as a tasty treat, it's not so good for our four legged friends. New research reveals almost half (49%) of dog owners regularly catch their dog trying to eat their favourite meals when out and about during summertime activities.
That's why we launched 'Fetch of the Day' – a beachside food van giving your dog the chance to try some seaside snacks made just for them.
What's 'Fetch of the Day'?
Introducing the UK's first beachside food van, serving up doggie versions of favourite seaside meals at Brighton Beach!
Our three delicious treats to choose from include rich-in-protein tails.com meaty Barking Burgers with a sweet potato bun, which is high in fibre and packed full of essential vitamins and minerals. While the Seaside Salmon Cones are a tasty treat which help keep your dog's coat and teeth in top condition.
To finish, dogs can enjoy refreshing frozen Watermelon Bites – perfect for a hot, sunny day. Not to mention, they're also quick and easy to make at home.
How do our dog's eating habits change in the summer?
A survey of 2,000 British dog owners found 55% admit their dog is more likely to end up eating human food at an informal gathering, such as at a barbeque or the beach. 1 in 5 people admitted they've had their sausage roll eaten by a dog, and 17% lost out on some fish and chips.
42% of you told us this problem increases during the summer due to more casual outdoor eating, with many Brits admitting their dog steals from their plate up to three times a week.
"Too much human food can be really harmful," says Head Vet Sean McCormack.
"It's often full of fat and sugar, meaning calories galore and from our studies we've found that weight gain in dogs will reduce their lifespan.
"A little snack to us might be the same as half a small dog's daily allowance – it all adds up. Some foods can also cause serious harm, inflaming the pancreas or causing toxicity."
Over half (56%) of British dog owners admitted to feeling worried about the impact of this on their dog's health and nutrition.
Try our dog-friendly fish and chips recipe
Don't worry if you couldn't make it on the day, you can try some of our seaside snacks for your dog at home.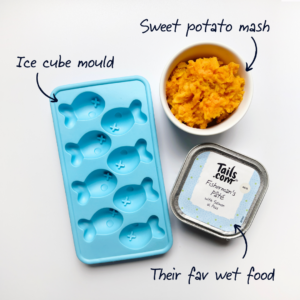 What you'll need:
Fish-shaped mould or ice cube tray
1 small sweet potato
Fisherman's Pâté with Salmon & Peas
Method:
Peel the sweet potato and chop into chunks
Then steam until soft and mash until smooth, without butter or seasoning
Spoon into your fish-shaped mould or ice cube tray
Top with the Fisherman's Pâté with Salmon & Peas until full
Pop in the freezer overnight or until frozen
Serve on top of your dog's tailor-made kibble blend, or as a cooling treat
Don't forget to adjust your dog's daily portions to allow for this special treat.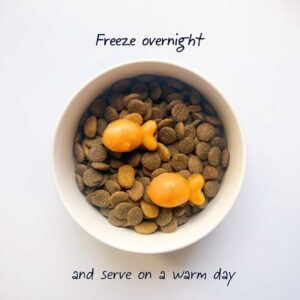 If you give this recipe a go, we'd love to see. Tag us in your pictures on Facebook, Instagram or Twitter using the hashtag #tailsdotcom or send them into our Facebook group, the tails.com Wet Nose Nation.
Where can I go to the beach with my dog?
We know that finding an accessible dog-friendly beach can make your summer.
Our research team did some digging, and have put together a list of the top 10 dog-friendly beaches in the UK, as mentioned by you.