Oh Christmas tree, oh Christmas tree – how delicious you look to me! The festive season is finally upon us, and there are plenty of ways for your canine companions to join in the fun. Including our festive LickiMat recipe for dogs! This is one Christmas tree you won't mind your dog attacking from all angles….
Why make your dog a homemade treat this Christmas?
Sharing treats from the table isn't ideal, as many of our Christmas dishes aren't suitable for dogs (they're often too fatty or salty) – but homemade dog treats and LickiMats are a great way to use up suitable festive leftovers. 
As a much-loved member of your family, there's no reason for your dog to miss out this Christmas. Be sure to check out our Christmas treat guide for more delicious dog-friendly options.
Why are LickiMats good for dogs?
LickiMats are a smart way to stimulate your dog as they eat – like playtime and dinner time combined! Designed so you can spread soft food over the top, with clever grooves and ridges to encourage licking rather than biting. 
This helps your dog eat a little slower, and hopefully avoid the hiccups! LickiMats can also help your dog relax and ease any anxiety – because when your dog licks, it releases calming endorphins. Just what you need to encourage those silent nights…
Read more about how to use a LickiMat.
What can I put on a LickiMat?
You can use a whole host of ingredients on a LickiMat, just as long as they're dog-friendly and spreadable – this is the perfect excuse to get out your blender. 
With Christmas ingredients in mind, you can try using veggies like carrots, parsnips and spinach, all of which are packed with vitamins and fibre. That's right, your dog can eat parsnips – within these helpful guidelines.
You can also experiment with roasted and mashed sweet potato, which is rich in fibre, potassium and riboflavins. Just remember to avoid butter, milk and seasoning, as they're best saved for human food only.
Our personal favourite? The spinach Christmas tree! This showstopper is packed full of tasty dog-friendly ingredients – and it's a real beauty too.
Homemade Christmas tree LickiMat recipe
Ingredients:
1 x small carrot
Leftover raw parsnip
2 x small handfuls of spinach
2 x teaspoons of your dog's favourite tails.com wet food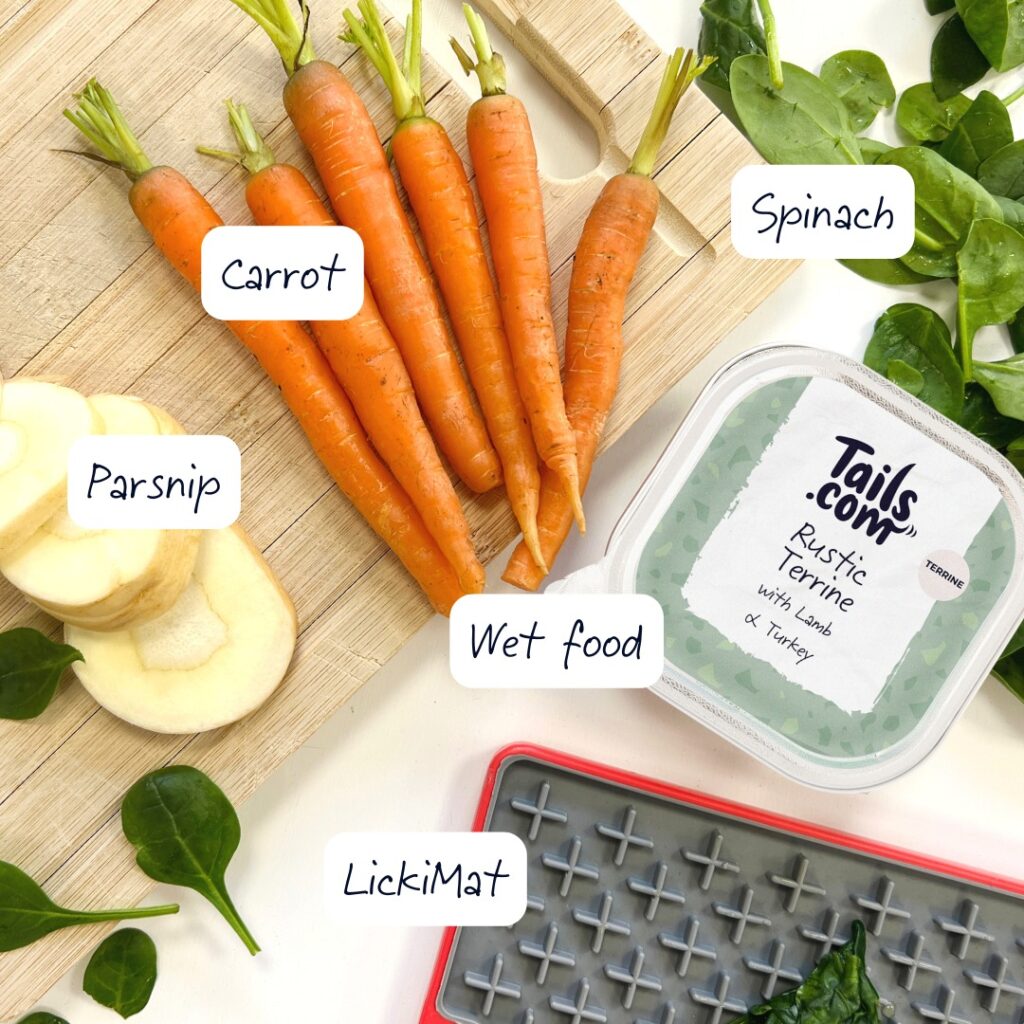 Method:
Wash the spinach and keep slightly damp.
Then steam the leaves in a pan over a low heat for approx 2 minutes until wilted. You can also steam them in the microwave for about 30 seconds.
Add the wilted spinach to the wet food and mix thoroughly.
Arrange the mixture on your dog's LickiMat in a festive Christmas tree shape. Be as creative as you like!
Decorate the tree with circles of raw carrot, and add a parsnip cut into a star shape on top.
Dog-friendly decoration suggestions
Add a couple of chewy treats to the Christmas tree branches for texture (our Cold-Pressed Rewards come in a variety of flavours and shapes)
Blueberries
Banana slices
A dab or two of dairy-free yoghurt to look like snow
Remember to adjust your dog's daily portions to allow for this special treat!
Top tip: Pop a Slomo LickiMat and a pouch of your dog's favourite wet food in their Christmas stocking for a gift they'll enjoy again and again.
Feeling festively inspired? If you make this Christmas treat, or have your own LickiMat recipe for dogs to share, we'd love to see it! Tag us in your Facebook or Instagram pictures and use the hashtag #tailsdotcom.
And don't forget to join our Facebook group the tails.com Wet Nose Nation for more recipe ideas from us and our members.