Autumn has much more to offer than just pumpkin spice lattes. It's also apple season! The good news? They're a delicious dog-friendly snack and great source of fibre – provided you remove the pips first.
Our range of seasonal recipes will help you use up any excess apples, whether you're a keen baker or you just have a few minutes to make a homemade treat. The best part? You already know who'll lick the bowl clean…
Are apples good for dogs?
Absolutely! Whilst they certainly don't need an apple a day, as an occasional extra they're a great way to treat your dog. 
It's important to remember apple pips are dangerous for dogs if they're eaten. So make sure to remove all pips before you use apples in any dog recipe. And while you're there, check you've taken off any stickers or labels too. 
Quick and easy apple ideas
These low-effort ideas only use a few ingredients, and they're great for adding to feeding accessories.
Grated apple for dogs
Try combining grated apple with a few other ingredients in a fillable toy or freezing them in an ice cube tray for a longer-lasting tasty treat. Our occupier recipes are ideal if you need to keep your dog busy while washing up – or help them settle if there's an autumn storm brewing. 
While you've got the grater out, grated apple also works well spread on a LickiMat. Add to wet food, dairy-free yoghurt or peanut butter and other fruit or veg (we really rate a carrot and apple combo). Don't forget you can also freeze this mixture, depending on how long you want the treat to last.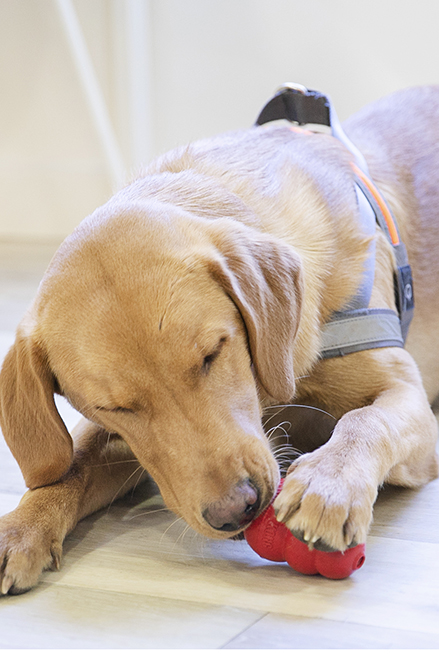 Dog-friendly apple puree
Apple puree is super easy to prepare and can be used as a tasty topper for your dog's tailor-made kibble. You could even freeze into ice cube treats for a long-lasting occupier.
Just boil chopped apples for 15-20 minutes until soft, then mash or puree to get a smooth consistency. You can even add a tiny amount of cinnamon as a seasonal spice.
Remember to serve this one sparingly, and don't add any sugar or sweetener.
Apple crisp recipe for dogs
Apple crisps are a clever one-ingredient way to treat your dog. Just wash and core your apples, then cut them into thin slices and line them on a non-stick baking tray.
Bake at 95C until golden brown and crispy for an occasional reward or wet food topper – yum!
Apple recipes for keen bakers
Has anyone else been keenly awaiting the new series of Bake Off? Then dust off your oven mitts and try these baking challenges.
These recipes use a few more ingredients, and they take a bit longer to prepare – but they're also super fun to try out.
Dog-friendly gingerbread recipe
Our tried-and-tested apple gingerbread recipe uses brown rice flour, apple, a little bit of coconut yoghurt and a pinch of ginger for a seasonal treat. They also make great gifts, should you welcome any four-legged trick-or-treaters this spooky season.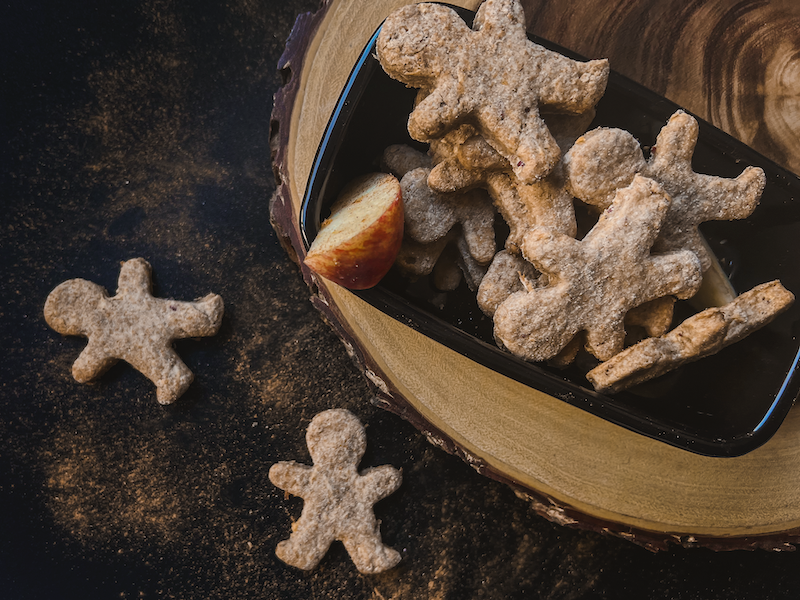 What about a crumble?
At this time of year, everyone reaches for an apple crumble recipe. Sadly our dogs can't enjoy the buttery, sugary versions we love.
But this oaty, fruity dog-friendly flapjack recipe is very close!
Fancy something savoury?
For a savoury way to use up apples, why not try Cleo's chicken and apple balls from The Happy Dog Cookbook – written by our very own Head Vet Sean! A delicious recipe they'll come running for.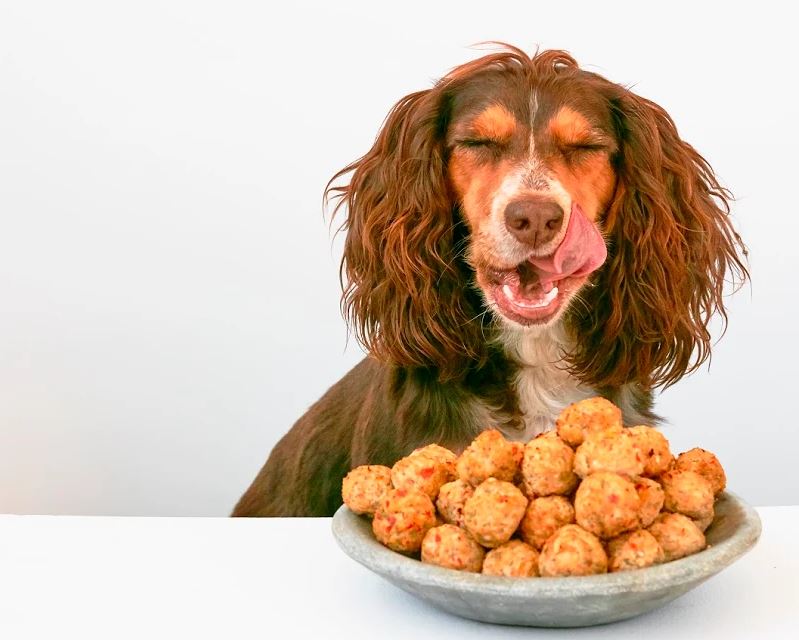 Dog-friendly cookies
Or experiment with sugar-free cookies made with grated apple, oats and unsalted peanut butter (make sure it's xylitol-free). Once you've made a batch, they can be stored in an air-tight container for 3 days, or frozen for up to 3 months. 
The dog apple recipe wrap-up
These apple-themed snacks shouldn't replace your dog's main meals and should be given in moderation, but they make a fantastic autumnal treat on a cold, cosy day. 
Not feeling like getting your mixing bowl out? Then our selection of treats and chews are always on hand to reward your dog in tasty and healthy ways – we just do all the hard work for you!
Whether you enjoy an in-depth apple recipe or a quick snack hack, these autumnal apple treats should keep your dog happy all the way through to winter. Don't forget to share your creations – tag us on Facebook, Instagram or Twitter using #tailsdotcom. Or send them to our Facebook group – the tails.com Wet Nose Nation.