Sean McCormack, Head Vet, BSc (Hons), MVB, MRCVS
It's upsetting to see your dog scratching constantly – not to mention how unpleasant and uncomfortable it is for them. You're not in this alone; we're here to help. Read on for our veterinary and nutritional teams' advice on easing your dog's itchiness and soothing their sensitive skin.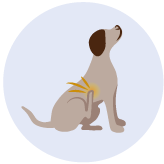 What's causing the itch?                                                                  
In the dark about what's behind their scratching? Things that can give your dog itchy skin include fleas, environmental factors like pollen and dust mites, and food or skin allergies. That means the cause isn't always obvious – especially as dogs can be affected by more than one at a time. If you think food could be a culprit, we can help. Here's how...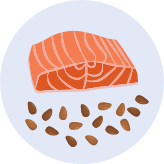 Friendly ingredients and nutrients for healthy skin
Regular servings of naturally skin-boosting ingredients and nutrients can go a long way to tackling itchy or dry skin on dogs. We often recommend nutrients like omega-3 and 6 from high-quality ingredients like fish oils and linseed. We'll ask whether your dog has dry skin before we create their tailor-made blend  –  if you tick the box to tell us they do, we can include kibbles containing higher  levels of the relevant fatty acids to help.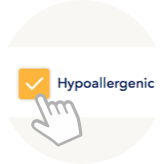 Is it an allergy?
Suspect a food allergy, but don't know what's behind it? Our hypoallergenic blends exclude the ingredients most commonly thought to cause food intolerances: beef, dairy, soya, egg and wheat. A good starting point when looking for a dog food for sensitive skin.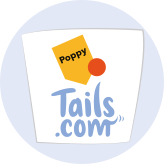 Exclude known offenders
Taking action is just as easy if you know which foods are giving your dog skin problems. Tell us what triggers their reaction, and we'll blend their recipe using other healthy, nutritious ingredients.  Serving up food that's suitable for your dog's food allergies or intolerances has never been easier.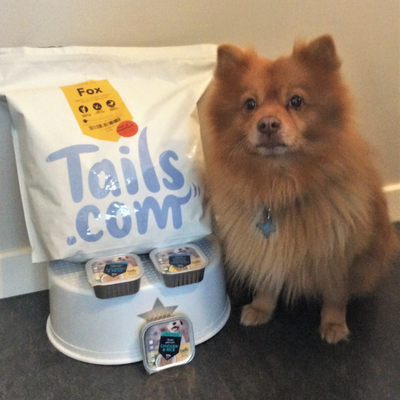 No more scratching!
"Fox is a rescue dog. I had loads of problems with his diet. He had dry, horrible skin, was constantly scratching and pulling his fur out. I tried all sorts and vet bills were through the roof. Since he's been on Tails.com - it has all stopped. He looks great, has stopped scratching - has lots of energy and his tummy is fine. Deliveries are spot on, the food is varied, and he likes it. Absolutely brilliant!! We are both very  happy!! Thank you, Barbara and Fox."
Barbara and Fox from Eastbourne
Get the best effects
It takes a little time for the offending food to completely leave your dog's system, so tackling a food allergy or intolerance is a gradual process. You should see a difference in six to eight weeks.
Our top tip for the best results: constant vigilance. Get everyone – family, friends, dog walkers – on board with the new diet. And stay firm, even when faced with the most doleful of puppy dog eyes. Even a few scraps can trigger a reaction and undo the benefits of their new skin-friendly diet, so it's important to only feed them what's on their feeding plan. If your dog sneaks something they shouldn't, start the six-week count again.
Help is at hand
Continual scratching isn't something you and your dog should have to suffer –  we're here to make sure you don't have to endure it for long. If their irritation doesn't clear up as expected, give us a call or drop us a line hello@tails.com. Our nutritionists and veterinary team are here to help, and can give you lots of advice on what to try next. Together, we'll get your dog back to their glossy, bouncy self.
Create your dog's skin-friendly blend today!
Our customers rate us five stars