Tails.com update: Coronavirus (COVID-19)
We're here for you and your dog and are still proudly delivering our delicious, nutritious food nationwide. We've made changes to protect the safety of our team, ensuring everyone who possibly can is working from home and also adhering to the vital restrictions from the Government for our essential workers.
If you have any questions about your dog's food, nutrition or your order, we're here for you: you can log in to change or check your dog's delivery, or ask us a question - our help centre is the best place to start.
*deliveries to certain postcodes (including "remote" postcodes, Northern Ireland, the Isle of Man and outside the UK) may be subject to a delivery charge
Dental dog chews for healthy teeth and gums
Pumice helps reduce the build-up of plaque and tartar
Star shape means your dog's teeth get a good scrub
No artificial colours, flavours or added sugars
Tough on the causes of gum disease
Made with pumice and star-shaped for cleaner teeth and gums, our Dental Dailies help reduce  the kind of plaque and tartar build-up that causes gum disease. Add them to your monthly delivery, and that's the easiest part of your dog's dental routine done.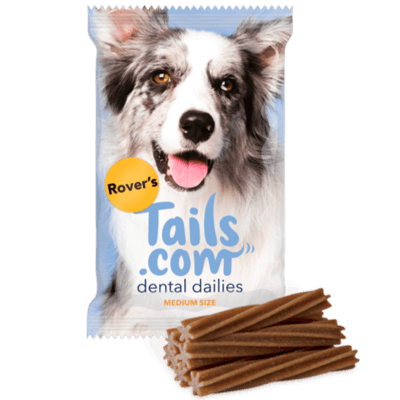 One-a-day dental care
We make Dental Dailies in packs of seven, with three different sizes to choose from – small, medium and large. A few packs in your box each month means easy one-a-day dental care for Shih Tzus, Staffies and St. Bernards alike.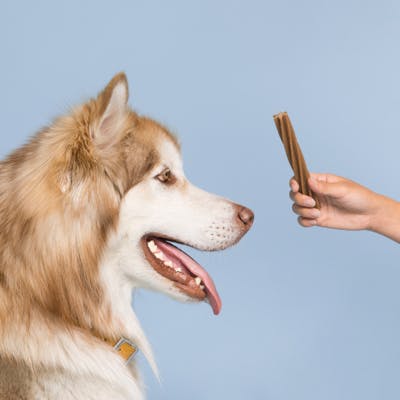 Fresh and tasty
Made with tasty chicken and enriched with vitamins, Dental Dailies are a delicious and healthy treat for your dog. Add them to your deliveries and we'll make them part of your dog's feeding plan. Healthy teeth, healthy dog.