Sean McCormack, Head Vet, BSc (Hons), MVB, MRCVS
With almost half of our dogs classed as overweight or obese, dog weight management is a really important topic to understand. "How much should I feed my dog?" sounds like a simple question, but the answer can be quite difficult to figure out. Whether you have an overweight dog or an underweight dog, it can be confusing knowing how much to feed. At tails.com, our tailor-made feeding plans take the confusion away, as we calculate your dog's calorie requirements and provide you with a Perfect Portion scoop so that you can be sure you're feeding the right amount.
How Tails.com helps you stay in control of your dog's weight
At tails.com we not only design a tailor-made diet for a dog's specific nutritional and health needs, but also carefully work out how much to feed to keep your dog at a healthy weight.
We calculate your dog's daily calorie allowance based on several factors:
Weight
Body condition
Activity level
Neutering status
Age
By asking you for these details during our easy nutritional consultation, we work out exactly how much you need to feed. For example we reduce their calorie requirement slightly if you tell us your dog is neutered or spayed as this can slow metabolism and lead to weight gain. Similarly, if you tell us they have reduced mobility and can't exercise very much, their calorie needs would be less than a more active dog.
Portion control
We take the guesswork out of portion control by providing our unique Perfect Portion scoop so you know exactly how much to feed each day. Your online dashboard is easy to use, allowing you to update your dog's weight and condition so we can update their feeding plan.
Overweight dogs
For overweight dogs, we may provide a high fibre, low calorie blend so your dog still feels full after meal times but experiences slow, steady and healthy weight loss. Slow-release carbohydrate sources are often used to help control hunger. The naturally occurring amino acid compound L-carnitine which we include in some of our kibbles can also have a beneficial effect on fat metabolism.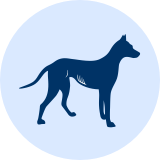 Underweight dogs
Underweight dogs may receive a higher calorie blend, with easily digestible proteins to encourage weight gain. Certain ingredients may be added to their blend to support a healthy digestive system, allowing them to get the best from their diet.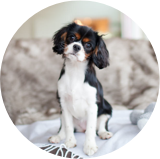 Weight management for puppies
Working out how much to feed a puppy can be a real challenge. Because puppies grow so rapidly their calorie requirements are constantly changing. Large and giant breeds mature slower than smaller breeds, so need careful calorie control and diet formulations for healthy growth. At tails.com, our tailor-made diets, bespoke feeding plan and Perfect Portion scoop ensures puppies of all breeds, shapes and sizes grow at the correct rate for healthy development.
Supporting Weight Management Over Time
Our Blend Evolution process gradually and automatically adjusts your dog's blend over time as their metabolism changes and activity levels slow down, so you know their diet is optimised to keep them fit and healthy into old age.
Our customers rate us five stars